Privazer vs. CCleaner – Comparison review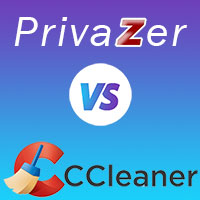 All PCs store thousands of old, unused, junk files that slow down performance. The new computer works smoothly, but you can recognize some changes after a while. For example, if you watch a video, download or remove a file, or make an update – the computer stores traces of your activity.
Unfortunately, you lose a significantly large amount of free space and allow third parties to recover everything even without your knowledge. CCleaner and Privazer are among the best cleaners, developed to protect your privacy and ensure your PCs' fast and stable performance.
Privazer vs. CCleaner – Comparison table
| | | |
| --- | --- | --- |
| | | |
| Purpose | PC cleaner and privacy tool | PC performance optimization and disc cleaner |
| Operating system | Windows 11 / Windows 10 / Windows 8 / Windows 7 / Vista / XP | Windows, MacOS, Android (separate home and business versions) |
| Download file size | 24 MB | 26 MB |
| Additional programs | | Kamo, Recuva, Speccy, CCleaner Cloud, Defraggler |
| Additional security for PC | | |
| File recovery | | Separate app – Recuva* |
| Browser cache removal | Internet Explorer, Firefox, Microsoft Edge (Chromium-based), Pale Moon, Brave, Vivaldi, Opera, Safari, Brave, and Chrome | Microsoft Edge, Firefox, Google Chrome, Safari, Internet Explorer, Opera |
| Driver Booster | | |
| File shredder | | |
| Price | The price is not determined - contributions | Free / paid professional version |
| Trial period | | 14 days |
| Money back guarantee | | |
| Language availability | 27 languages | 60+ languages |
| Updates | Only in paid version / regular | Regular |
| Technical support | Email / Video tutorials and guides | Email/ Video tutorials / Community forum / FAQs |
| Installation required | | |
| Portable versions (without installation) | | |
| Mobile version | | |
| LINK | Check Price | Check Price |
Main differences between Privazer and CCleaner
Even though both programs were designed for cleaning PCs, there are many differences between them:

Privazer proposes detailed choices for users regarding what information can be deleted and how.
Privazer cleans the PC more carefully than CCleaner, providing more space after all.
Privazer does not have a lot of separate tools and features such as drive booster, software update, startup manager, recovery, or defragmentation tools as
CCleaner has, but Privazer protects your identity on the Internet better. There are some scandals with CCleaner about the loss of personal data.
Privazer professional version is paid by donations, while CCleaner has set product prices.
Privazer has several speeds for analyzing and cleaning PCs, while CCleaner has only one speed for custom and health checks.
CCleaner supports Windows and Mac PCs, while Privazer supports only Windows. Also, Privazer does not have a mobile version.
In summary, Privazer focuses only on perfectly cleaning the privacy files and removing temporary and junk files. At the same time, CCleaner has additional tools for boosting your drivers, recovering mistakenly deleted files, and transferring valuable files to the cloud. For more details about each application, please read the review below.
Privazer vs. CCleaner – Overview
In this part of the article, we will compare overall information about the capabilities of two cleaners. Using these small summaries, you can already conclude the first impressions of this software.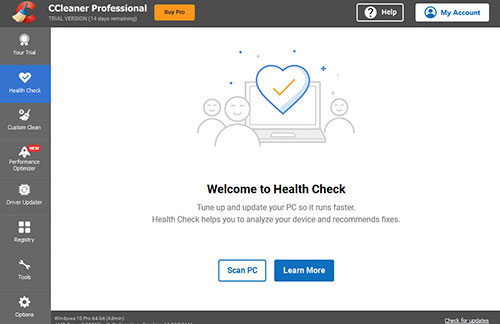 CCleaner is a multifunctional program with tools to speed up and optimize your PC. CCleaner has become popular since 2004 as it
can clean all unnecessary files simultaneously
; it is already downloaded 2.5 billion times. This program has numerous options for cleaning and improving the performance of your device. In addition to standard cleaning of the PC and deleting junk and unused files, cache, history, register, and temporary files; CCleaner helps to improve the startup speed, analyze the disk to find which programs occupy the space or are duplicated, securely erasing content from the drives and drive wiper.
As with Privazer, in the drive wiper option, you can choose how many times on your disc the information will be cleaned and overwritten (from 1 pass to 35 passes). The program allows running CCleaner per a set schedule (only for the paid version). As a precaution, CCleaner can create a restore point before all cleaning procedures. CCleaner shows the visualization of the occupied space on your hard drives and portable devices. For example, it shows how much space is occupied by pictures, music, documents, etc.
The program is free but only with standard privacy protection, cleaning, and a complete set of tools for $40. The paid version can be updated automatically for safe and smooth work on any system. With the paid version of CCleaner Professional Plus, you receive access to separate tools (Recuva and Speccy). Kamo with VPN protocol is purchased separately.
verdict

Privazer gives more possibilities for cleaning and optimizing PC performance in the free version. The small donation allows you to increase control. While CCleaner's free version is minimal, and the paid version is much more expensive. So, Privazer is a winner.
Privazer vs. CCleaner – Face-to-Face comparison
To withstand intense competition in the software sphere, most programs nowadays include additional tools in the standard list of features to attract more Customers. In this part of the article, we will check the two programs' standard cleaning and optimization features and whether they propose additional features.
Cleaning options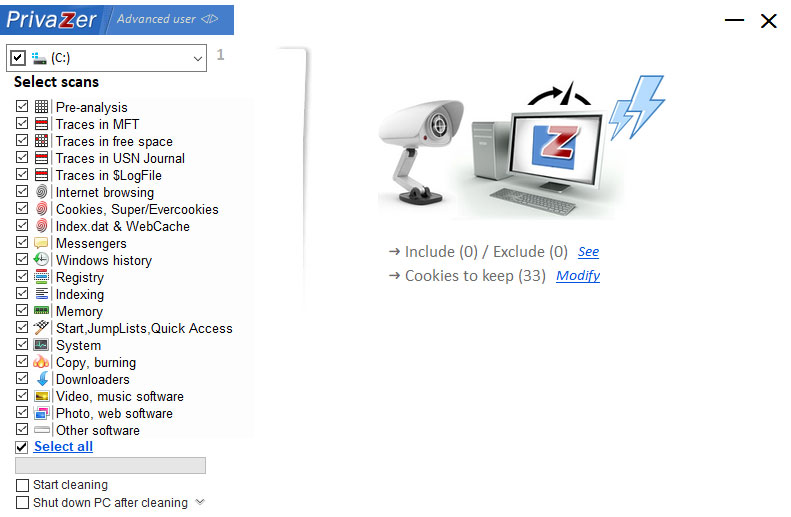 During the installation of Privazer, you can choose what type of actions the program will perform. You can choose out of the fourteen following options to remove:

invalid shortcuts (in Start Menu, on the desktop, Quick Launch menu),
software history (Privazer is compatible with Microsoft Office, LibreOffice, and OpenOffice),
photo/image history (without personal documents),
thumbnails cache (without personal images/photos),
history in Internet browsers (typed and visited websites, inserted personal information – address, email, name, etc.),
cookies (in automatic mode, all passwords will be kept),
site thumbnails,
a web cache (you can choose to remove all to increase privacy or keep some),
shellbags (remove all data stored on your PC without your knowledge),
games history,
previous versions of Microsoft (it is strongly recommended as old versions keep tons of space),
updates (unnecessary downloaded installation files or old files for update),
and finally, you can disable hibernation of your PC to save some stores as well.
Some parameters (like cookies) can be cleaned manually, but the action is recommended only for advanced users. You can line by line choose cookies that you want to keep. All control parameters are also available in the menu – Advanced options.
After you choose the required cleaning parameters, the program performs pre-analysis. You will see a visualization or residual traces of junk files on your PC. During the estimation process, you can create a restore point and save the registry to be safe. At the end of estimation, you can clean with three speeds – normal, quick, and turbo. The most detailed cleaning with high-security protection is executed at normal speed.
Privazer promises to delete all traces without possible recovery, even by dedicated professional software, for example, the CCleaner tool Recuva. By request, the shredder function can be enabled for definite files. If you want to sell your PC and delete all traces in the advanced options, you can choose six passes cleaning.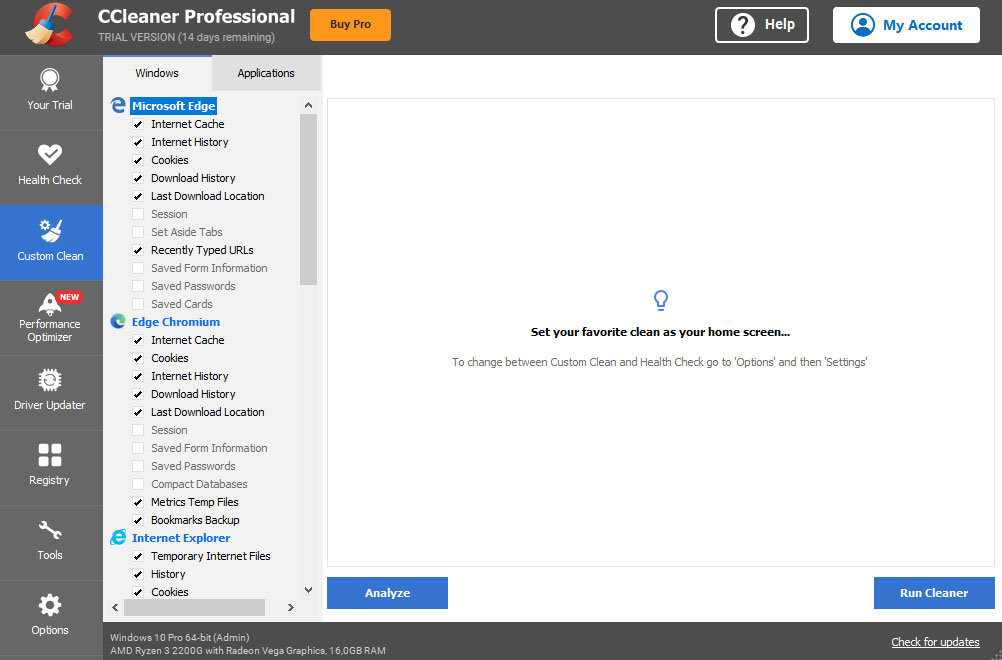 In the CCleaner menu, the user has an opportunity to choose which cache to delete as well. In the new version of CCleaner, you have two options for cleaning: custom and easy cleaning. The easy clean feature will first analyze your computer in the presence of trackers and junk files. Then, you can review all the presented data and clean it all. Another solution is to start a custom scan with more control functions.
The following options can be chosen in the context menu during the custom scan:

Browser clean. For each browser, CCleaner can provide unique cleaning options. For example, in Microsoft Edge could be deleted: Internet cache, Internet history, cookies, download history, last downloaded location, and recently typed URLs.
Cookies clean. You can choose which cookies to keep, including the Internet browser and Flash plugin's cookies.

Any additional file for removal. You can choose any files or fodders for secure removal.

Smart cleaning. This option is available only in the advanced paid version. The program automatically provides information when new junk files appear, and you can set further actions.
Temp files cleaning. You can set automatic cleaning of Windows Temp files after 24 hours.

Recycle bin cleaning. The bin will be cleaned after 24 hours.

Register cleaning. The program scans for issues in the registry, informs about any problems, and provides solutions to fix them.
Cleaning junk files on any program installed on your PC. You will see two different tabs for Windows and other applications. It could be Google Chrome, Skype, or Adobe Flash Player – any programs will be scanned for issues and old files. After analyzing, you will see how much space can be obtained after deleting junk files, but you can exclude programs as nothing has been deleted yet.
Before deleting any files, CCleaner analyzes which files will be deleted; in this step, you need to cancel cleaning. It is not recommended to choose for deletion the grey highlighted lines of each application.
verdict

The cleaning options of both programs are very similar. Both programs provide a possibility for detailed control of deleted files. So, there is a winner in the cleaning abilities.
Scanning options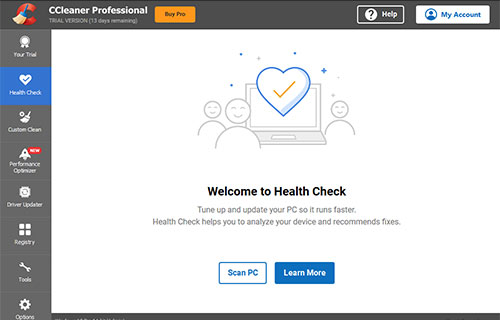 CCleaner can scan not only C disc, but also individual files and folders. The scanning function is called
PC Health Check
, during which CCleaner analyzes your PC and gives you recommendations for fixing problems. In the tab Health Check, the most popular tools of
CCleaner
are combined: you can delete their tracking data from browsers to improve your privacy or clean hard drive space.
For professional users, the available functions are speeding up the PC (disabling automatically launching apps) and improving your security (updating all outdated software to decrease your vulnerability). With one click, "Make it better" you can improve all categories. The customization of cleaning options is available in a separate category.
A cloud image visualizes the necessity of scanning in the Health Check tab. It is recommended to do a scan every week. For custom cleaning, it is better to use the "custom clean" tab, where you can choose the required program or browser for scanning and further cleaning. Unfortunately, all customized options that were set should be reentered each time with a new check.
If required, you may turn on in settings browser real-time monitoring. The program will automatically turn on and delete junk files.
verdict

There Privazer is more flexible in choosing the scanning options. You can choose the speed and the required scanning accuracy and further cleaning process. Also, it automatically recognizes the type of storage device. But CCleaner can scan the overall PC and fix it in one click. That is why calling the winner in this part of the comparison Privazer vs. CCleaner is impossible.
Startup optimization
Unfortunately, Privazer does not have a separate tool responsible for program management during startup.
With CCleaner, you can enable, disable or delete any program set to run when your computer starts working. It also has a browser plugin manager to control all items set to run when you start your browser. Using a startup tab, you can enable, disable and delete all programs running during startup or in the background. The access to startup optimization is located as stated above in the tab "Health Check/Speed" the CCleaner can automatically optimize the startup process, or you can manually do it.
verdict

CCleaner can automatically or manually increase startup speed. So, it is the winner.
Privacy protection
CCleaner proposes several layers of privacy protection. First, it informs all users that it collects only non-personal and anonymous data. Secondly, the same as Privazer, it deletes all traces of Internet activity, including temporary files, cookies, and login information. When you close the Browser, you can set the deletion in automatic mode.
Thirdly, you can also download for free CCleaner's new Browser for Windows for fast and private access to the Internet. There are no ads, tracking, or junk, and it already has built-in security. The user's fingerprint is masked by the anti-fingerprinting tool v. 2.2. Moreover, CCleaner has a separate paid tool Kamo to stop online tracking with integrated VPN technology ($33).
verdict

CCleaner is a preferable solution for users' value privacy protection. CCleaner browser provides additional anonymity, while other functions of Privazer and CCleaner are the same. CCleaner is the winner.
OS support
The most significant disadvantage of Privazer is that it only supports different versions of Windows, from 7 to 11, Vista, and XP. While CCleaner has two separate apps for Windows and Mac users. But, unfortunately, the Mac version is limited compared to Windows. It allows for cleaning the Safari browser, system, and applications; optimize startup.
verdict

CCleaner is definitely the winner, as it may be used for Mac, not only for Windows.
Additional features
Privazer offers no other features or tools besides optimizing and cleaning PCs from unnecessary files.
Whereas CCleaner has a lot of separate tools that Privazer does not have.

You can securely uninstall/repair or rename any program from your PC.
You can update all software installed on your PC. Most of the programs automatically update themselves, and you can in this verification tab, as updates are required for security reasons.
You can split large files to improve disc usage.
You can optimize not only your PC, but also your mobile device. The free app with core features, such as the PC version, is available for Androids. It can delete an uninstalled application, old logs, cache, and browser history, monitor the system, and provide safe browsing.
Also, CCleaner has separate tools for business and personal usage:

Kamo – tool for the protection of digital fingerprint;
Recuva – tool for recovering deleted or corrupted files from recycle bin, camera card, etc.;
Speccy – tool to produce detailed reports about PC hardware;
Defraggler – tool for disc defragmentation.
A subscription to Recuva and Speccy is included in the Professional Plus version for three devices. Defraggler is downloaded for free, for Kamo is an available separate subscription.
verdict

Definitely, CCleaner has more tools and features in addition to standard ones. So, CCleaner is the winner.
Price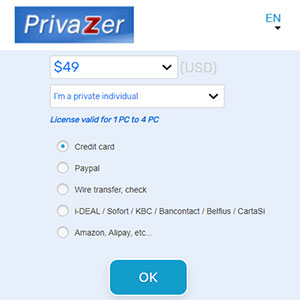 CCleaner has a free version as well. The payment for CCleaner Professional is more straightforward. The product has a defined price for 1 PC and 3 PCs. You can pay with Visa, Mastercard, American Express, Discover, and Paypal. If you purchase the version for two years for 3 PCs, the most attractive is proposed – $59.95. There is no difference in price for applications for Mac or Windows. Free versions have a trial 14-day period. CCleaner is available as a desktop ($40 per PC) or cloud-based solution ($25 per PC) for business.
Privazer
CCleaner
Free version
Yes
Yes
Professional version
1 year – donations start from $10
1 year - $24.95 (1 PC)
Professional Plus
No
$39.95
For 3 devices, including separate licenses for Mac Pro, Recuva, Speccy, and Android Pro
verdict

Privazer has a more flexible price per quantity of subscriptions. But if you want to purchase in addition to the cleaning tool, Recuva, or mobile version, then CCleaner is a better solution. So, there is no winner.
Conclusion
Privazer is a straightforward PC cleaner with a user-friendly interface and a limited number of parameters for control. It is free and is available in the advanced version with a small donation.
Privazer is widely used as the free version of CCleaner, especially after scandals of breaching users' personal data. CCleaner fixed all privacy issues and is still a powerful player in the cleaning application market. Even though the free version has only limited features, the professional version has all the required instruments for privacy protection and performance optimization.
Also, CCleaner has additional tools that are included in the professional version. You should choose the product based on your needs; if you need only a cleaning tool for junk, old and unused files, then Privazer is the best solution. For more functionality, including safe browsing with VPN and the possibility to recover files from recycle bin, then CCleaner is a recommended solution. There is no clear winner in comparison to Privazer vs. CCleaner.