Bitdefender vs. AVG – Comparison review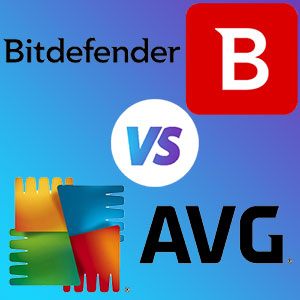 The Internet has become a required tool for communication, fun, business, study, and all other activities. The number of Internet users is constantly growing, and not all users come there with good thoughts. Hackers constantly develop new malware that attacks your Internet devices (PCs, tablets, smartphones, etc.) to steal your personal data, money, or other valuable information.
To protect from possible and real threats, antiviruses were developed. Antiviruses detect the malware and malicious software, put them in quarantine, and delete at the end. Modern antiviruses automatically update themselves to protect from fresh worms and viruses.
So, how to choose the best antiviruses is a constant problem for residential PC users. In this article, two antiviruses will be compared in detail – Bitdefender vs. AVG.
Bitdefender vs. AVG – Comparison table
| | | |
| --- | --- | --- |
| | | |
| Purpose | Antivirus | Antivirus |
| Supported OS | Windows, macOS, Android, iOS | Windows, Mac, Android, iOS |
| Mobile/ Tablet version | | |
| Internet protection | Ransome, Adware, Spyware, Hacking, Phishing, Rootkits, Trojans, Worms | Ransomware, Adware, Spyware, Hacking, Phishing, |
| Real-time protection | | |
| VPN | | |
| System optimizer | | |
| Password Manager | | |
| Automatic Software Updates | | |
| Safe Browser | | |
| Web cab/microphone monitor | | |
| Gaming mode | | |
| Firewall | | |
| Parental control | | |
| Business version | | |
| Free version | | |
| Dark Web Monitoring | | |
| Money-back guarantee | 30 days | 30 days |
| Free trial | 30 days | 30 days |
| Technical support | Phone / email / chat | Community help / FAQs/ phone /chat |
| Additional features | File shredder, Safepay, Antispam, Credit Card Monitoring, and many more | AntiTrack / Driver Updater |
| LINK | Check Price | Check Price |
Main differences between Bitdefender and AVG
Bitdefender and AVG are strong programs for antivirus protection with a long history and users. Both programs have numerous additional features and tools, but they are not all the same. Below, the main differences are presented:

Bitdefender provides Premium users insurance, allowing them to charge the Company if a virus attacks their software during usage of Bitdefender. AVG does not have this option, only a money-back guarantee in case of unhealed damage caused by the attack.
Bitdefender does have parental control and a password manager, but AVG does not.
AVG has a free antivirus for Windows, Mac, Android, and iOS, while Bitdefender is only for Windows, Android, and iOS.
Bitdefender has more built-in features, and AVG has the same features in separate programs which are not for free.
Bitdefender has several profiles to choose from depending on your current activities; AVG does not have this feature.
The other differences are presented in detail further.
Bitdefender vs. AVG – Overview
In this part of the comparison, we provide a short overview of the most vital features of these programs, as the list of capabilities of both programs is quite impressive.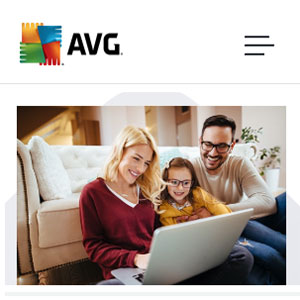 AVG is one of the best-in-class antiviruses with numerous additional features for privacy protection and faster performance. AVG started its history in 1992 as a separate company; now, it is part of Avast Company. This antivirus
has all the latest AI achievements
to guard against all zero-day threats in real time; all viruses are caught before they can do any harm. In case of any hacking or suspicious actions, you will receive an alert immediately, but on guard, you have improved firewall protection against the invasion of your network.
AVG has also enhanced ransomware protection for the most critical files on your device and webcam protection to avoid any third-party access. The software does not slow down the PC's performance; its unique tool even improves the performance and obtains more storage space. Meanwhile, you can browse privately and securely using a secure VPN (available only with AVG ultimate and as a separate proposal) without advertising and online tracking. Also, the software has an exclusive tool – a Wi-Fi inspector to check the networks for intruders.
The antivirus supports Windows, MacOS, Android, and iOS. Windows, iOS, and Android versions are available in numerous languages, while the Mac version is limited only to English. If you need help with how to install AVG or are lost in different tariff plans, AVG has an Express Install service available for English-speaking users. Using remote access, AVG experts connect to the PC anytime and optimize the required product to your needs. The service is paid ($19.99). For other questions/problems, you can contact technical support by phone, email, or using the FAQs section.
At first glance, it is impossible to call the winner in comparing Bitdefender vs. AVG, as both programs have all the required tools and features to protect from the most severe known and zero-day threats.
Bitdefender vs. AVG – Face-to-Face Comparison
The overview chapter showed many similar features of these antiviruses. Let's compare in detail the most important parameters to find differences.
Security


According to all tests performed by different websites, Bitdefender provides advanced plus security protection from malware. As a result, it received a 5 times a year award from AV comparatives, more than any other competitors in the antivirus market. It is executed using several protection layers – advanced threat defense, vulnerability scan, online threat prevention, and ransomware remediation.
This antivirus has advanced threat defense which is actually a real-time protection tool. In the background, this tool is able to catch worms, Trojans, rootkits, viruses, ransomware, etc. For this first line of defense, you can manually set the settings:

enable/disable device monitoring used to protect from the most advanced threats;
enable/disable exploit protection by scanning the installed application for exploits;
make exceptions for files/applications;
delete/restore threats in quarantine.
For advanced users (paid version), you can choose the scan depth that you can enable/disable: accessed applications, unwanted applications, process memory (scanning for malicious activity there), command line, and scripts. In addition, you can turn on or off the Bitdefender shield in this tab to protect from malicious software.
Another powerful tool that should be regularly started is a scan of vulnerabilities. It is responsible for finding:

weak passwords;
outdated applications;
outdated drives;
outdated system (Windows).
The ransomware remediation tool is used to create backups of the most critical files. With this tool, you can restore sensitive data if damage is done.

The nice feature is that the free and paid version finds the malware with the same speed and quality. And even in the free version, Bitdefender provides online threat prevention. This includes web attack prevention, search advisor, encrypted web scan, fraud protection, etc.

For all plans, including the free plan, you have real-time protection blocking any threats from running on your PC.

AVG has 6 layers of security to stop all malware, viruses, spyware, and other possible Internet threats. It protects your PC; secures your online experience, including payments; protects from all hacker attacks; secures your mobile devices; and safeguards your privacy, including webcam protection. And lastly, users of AVG Internet Security subscription (included in all antivirus packages except AVG free) receive Stay Safe Virus Guarantee. If the antivirus cannot fix the threat damage, you need to call AVG experts, who will solve the problem or refund the antivirus package.
The most advanced protection (AVG ultimate) is based on four programs AVG Internet Security, AVG Secure VPN, AVG TuneUp, and AVG AntiTrack. The main features of the three last tools will be provided in other chapters of this review.
The core defense of AVG Internet Security for blocking threats is based on the following features in real-time:

PC scan for viruses, malware, and other threats;
AI detection of malware samples;
PUA scanner for scanning unwanted installed application;
File shield scanning all added files or open files;
Behavior shield to warn you about all unusual activity of your applications;
Folders and personal files and photos ransomware protection;
Password protection to secure safely storage of passwords in your browsers;
Real-time updates and fixing bugs;
Network inspector.
During Internet surfing, AVG automatically scans all links and downloaded files, blocks dangerous email attachments, guards the PC during unsecure Wi-Fi work, and removes unwanted toolbars and extensions from the used Browser. In addition, you will receive an immediate alert in case of any hack attack on your password or email.
All parameters can be enabled/disabled in the main dashboard. Unfortunately, AVG does not have a change of profiles (work, game, or video) that Bitdefender has for convenient use.
verdict

Both antiviruses have numerous protection layers from all possible threats. The tests from independent laboratories show the same advanced results as the two top products.
Scanning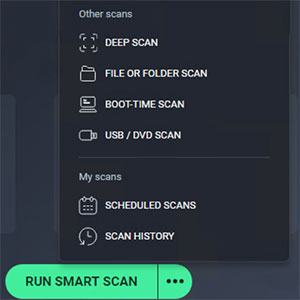 AVG has various scanning options: deep, turbo, smart, file or folder, USB/DVD, performance, and boot-time.
The antivirus is extremely user-friendly. It has a big button below on the dashboard to start a smart scan. Turbo scan allows skipping the already known safe files and takes about 30 seconds. As Bitdefender, AVG allows scanning the whole system, or only files or particularly folders.
You can schedule all types of scans and check further on the history. However, all dangers that will be found are not removed during scanning; you have to purchase AVG Ultimate or AVG TuneUp separately.
verdict

AVG has more options for scanning, including performance and boot-time scans. It is one step ahead of Bitdefender.
System optimization
AVG is close to Bitdefender
and even has a separate program for system optimization. AVG TuneUp is responsible for cleaning junk files, cleaning registers, improving performance by putting applications slowing down the PC in sleep mode, removing bloatware (old toolbars, trials, unnecessary programs), boosting your browsers, obtaining more disc space, checking updates of installed software.
It is available as a separate paid product and part of the AVG Ultimate Package.
verdict

While Bitdefender has only basic optimization features, AVG provides not only system optimization features but also can boost the browser and clean all unused apps and toolbars. So, AVG is the winner in this part.
Supported OS
There is no significant difference in system requirements between Bitdefender vs. AVG. They have software versions for Mac, iPhone, Android, and Windows in each category of tariff plans. For some programs, please purchase software per your OS.

Bitdefender
AVG
Operating System
Windows 7, 8.1, 10,11
macOS 10.10 or later
Windows 7, 8, 10,11
macOS 10.10 or later
Memory (RAM)
2 GB
None
None
None
Available free space on hard disc:
2.5 GB
1 GB
None
None
Software requirements
Internet Explorer version 11
Safari, Firefox, Google Chrome
None
None
Mobile requirements
iOS 11.2 or later
Android 5.0 or later
iOS 10 or later
Android 6.0 or later
verdict

Bitdefender has stricter requirements of supported OS, so AVG is the winner.
Mobile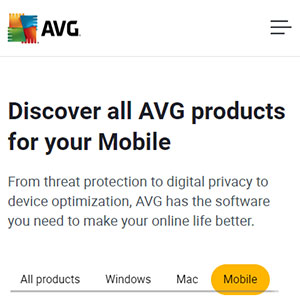 AVG has a separate iPhone and iPad application, one of the best available on the market. It checks Wi-Fi connections, provides access to VPN, protects passwords in real-time, and protects from malware. For Android and iOS available free and paid applications with better functionality.
The Android mobile app also has anti-theft features, application lock, and camera protection.
verdict

AVG mobile applications are more functional than from Bitdefender. So, AVG is the winner.
Additional tools
Bitdefender does not limit the antivirus functionality with standard protection features. It also proposes advanced tools.
The password manager is helpful for users who prefer to safeguard all login information in one place. The manager is a reliable program but only with standard features.
The VPN also is not the best proposal on the market, especially compared to the stand-alone products. It successfully hides a real IP address and prevents tracking an actual location.
The video and audio protection tool should constantly be on if you want to protect your privacy by stopping hackers from recording your private life. This tool is very good at this.
The anti-tracker tool protection from malicious scripts can be installed in your Browser as an extension (Microsoft Edge, Internet Explorer, Mozilla Firefox, Google Chrome).
The file shredder can permanently delete selected files or folders with all traces without the possibility of recovering them from the hard drive. The tool has a special algorithm to overwrite data to hide all previous files. Especially helpful tool if you want to sell or pass the PC to another person.
The anti-theft protection can be activated if your device is stolen or lost (also available in the utilities).
The antispam tool scanning all emails (works only with Outlook and Thunderbird) for spam.
The safepay protects your financial data during online shopping.
The Parental Control allows the filtering of all inappropriate content for children online and limits screen time.
Separately, you can purchase Password Manager ($19.99/year), Premium VPN ($29.99), and Identity Theft and Digital Protection (from $34.99/year).
AVG also has many valuable tools that minimize the necessity for other PC cleaning tools.
The data shredder deletes without the possibility of restoring unnecessary files and data.
The fake website shield helps to avoid clones of real websites where hackers redirect for payments and the provision of personal data.
The AVG Secure VPN changes IP to 50 different locations and provides an encrypted connection. It is recommended to use public Wi-Fi.
The AVG AntiTrack stops tracking, provides fake digital fingerprints, stops advertising, and cleans cookies and browsing history.
The AVG Driver Updater is a separate program that updates your drivers from 35 million databases, check the drivers for vulnerabilities and malware. It also makes the sound and graphics better by improving corresponding drivers. It is downloaded and paid separately (only for Windows).
The free AVG secure browser is an additional step for privacy protection. In this browser, you surf four times faster than regular browsers in private mode with a masked fingerprint, without ads, with HTTPS encryption, and protected from tracking scripts.
The new program AVG BreachGuard monitors leaked personal data in the dark web, checks for data breaches, and fully controls all your private data and settings.
The price for VPN starts from $53.88/year, AntiTrack – $53.99/year, BreachGuard – $43.99 / year, and Driver Updates – $43.99/year.
verdict

In this part of the comparison Bitdefender vs. AVG, wins Bitdefender. It has more built-in features, so you do not need to install or pay for separate programs. Also, it has parental control, a password manager, and all other AVG features and tools, while AVG has only a safe browser.
Price
AVG has different tariffs based on the programs included in the protection plan. All programs have a 30-day free trial version. As always the free version is limited to protection from ransomware and blockage of viruses, other functions are available only for money. The maximum protection is executed with AVG Ultimate.
Bitdefender
AVG
Free
No
Yes
First package
Antivirus Plus
for 3 devices / 1 year
(Windows PC)
$24.99
Antivirus
for 3 devices / 1 year
(Mac)
$34.99
Internet Security
1 PC (Windows only)
(46.68$ per year)
devices (Windows, Mac, Android, iOS)

(59.88$ per year)
Second package
Internet Security
(Windows PC)
for 3 devices / 1 year
$34.99
Ultimate for 10 devices
(Windows, Mac, Android, iOS)
(79.99$ per year)
Third package
Total Security
(Windows, Mac, iOS, Android)
for 5 devices / 1 year
$39.98
No
Fourth package
Family Pack
(Windows, Mac, iOS, Android)
for 15 devices / 1 year
$49.99
No
Fifth package
Premium Security
(Windows, Mac, iOS, Android)
for 10 devices / 1 year
$59.99
No
Sixth package
Ultimate Security
(Windows, Mac, iOS, Android)
for 10 devices / 1 year
$89.99
No
Seventh package
Small Office Security
(Windows, Mac, iOS, Android)
for 10 devices / 1 year
$89.99
No
Mobile versions for iOS
$14.99/ 1 year
1 device
Free / Paid
Mobile versions for Android
$14.99/ 1 year
1 Device
Free / Paid
verdict

Bitdefender is the winner, as it has more tariff plans.
Conclusion
Likely, we can't make a choice for you which antivirus is the best in the comparison of Bitdefender vs. AVG; only your online habits give you a clue about that. We provided a detailed review of both antiviruses.
Bitdefender and AVG are good, even in a free version for removing malware, and are accessible in use, while premium versions give more possibilities for ransomware protection and PC optimization. Both perfectly protect even from zero-day threats! Antiviruses do not impact PC performance and have numerous tools for further PC improvements and security.
Bitdefender is slightly better than AVG for more tariff options and built-in features, while AVG is better in more scanning options and system optimization. Nevertheless, the main characteristics are the same. So, your choice should be based on your preferences and budget.