OpenVPN vs NordVPN – Comparison review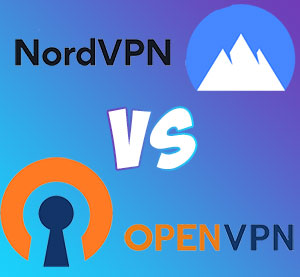 It is always good to surf the Internet without concerns and leave your private information unattended. One of the widely used protection methods is Virtual Private Network (VPN), which creates the intermediate network layer between the user and the Internet.
All users' requests and the received information (traffic) encrypt in this network and protect the personal and business data in such a way. Such a VPN could be created per any need; it is crucial for multinational companies to allow their employees access to it from any place. With VPN, you are independent of your Internet provider, who can store your logs and other data (a requirement by Law in some countries) with further provision or sell it to Third Parties.
VPN gives another significant advantage for its users – to change their country of origin to access censored websites, marketplaces, and forbidden resources. VPNs differ per type (cloud-based or on-premises servers), per VPN protocol (PPTP, SSTP, IKEv2, etc.), per number of supported servers, and many other technical characteristics. In this article, two VPNs will be compared, OpenVPN and NordVPN. You will find out if these two are VPN services or not and what the difference is between them.

Table comparison
| | | |
| --- | --- | --- |
| | | |
| VPN type | VPN protocol | VPN Service |
| Open source | | |
| Number or servers | | 5400 servers in 50+ countries |
| Number of supported devices per one license | Unlimited | 6.0 |
| Kill switch | | |
| Streaming | | |
| Torrenting | | |
| Log-in recordings | | |
| Price | Free and Paid | Three price options |
| Multi-factor account protection | | |
| OS Support | Mac, Android, Windows, Linux, iOS | Mac, Android, Windows, Linux, iOS, Chromebook |
| Mobile support | | |
| Password manager | | |
| Cloud storage | | |
| Choice of protocols | | NordLynx, OpenVPN UDP or OpenVPN TCP |
| Additional features | Two options: Access Server and Cloud | Different types of servers (double, onion, P2P, dedicated) |
| Based in country | US | Panama |
| Support | Ticket system and community blogs | Ticket system, online chat, and guides |
| LINK | Check Price | Check Price |
Main Differences Between OpenVPN and NordVPN
The comparison table above already shows some differences between OpenVPN and NordVPN; below are listed the main differences:

OpenVPN is a VPN protocol, while NordVPN is a VPN service that also uses the OpenVPN protocol.
OpenVPN is free and open source software; NordVPN has only paid versions to use, including light ads to Browsers. OpenVPN protocol can be used as a basis for private VPN service.
OpenVPN Access Server does not have its own servers, and OpenVPN Cloud does not require a server. NordVPN has more than 5500 own servers to use worldwide.
OpenVPN is complex for installation and use and works well only after being set by professionals, while NordVPN is friendly in use.
NordVPN is considered the fastest VPN service, while OpenVPN has average speed.
Further there is a more detailed review of all technical parameters and face-to-face comparisons of differences (speed, support, speed, servers, etc.).
Overview: OpenVPN vs NordVPN
It is essential to double mention that OpenVPN is not a VPN service; it is a protocol that many other VPN services may use. While NordVPN is a standard service with over 5000 servers worldwide that uses OpenVPN as a protocol. Please see below for a more detailed explanation of the difference between VPN protocol and VPN service.
NordVPN Features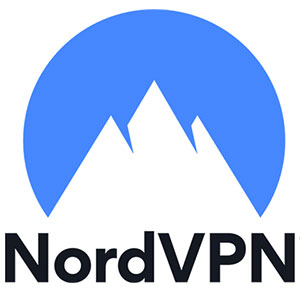 NordVPN is one of the best VPN services available on the market nowadays. Its primary function, as always, is to send all users' traffic through their network with encryption and to hide the original IP address. NordVPN uses two encryption protocols– OpenVPN and Internet Key Exchange. NordVPN not only gives you anonymity on the Internet by masking your IP address during surfing but also has a threat protection feature that immediately informs you about data leakage. With more than 5500 servers in 60 countries, you can access all Internet resources without geo-restrictions and censorship. For extra protection, NordVPN double encrypts the traffic to be absolutely sure about safety.
It is one of the best services for torrenting, among other VPNs, with fast performance even in countries where it is forbidden. It is also suitable for streaming almost all websites; the case is only to choose the proper server. Furthermore, as NordVPN has a separate tunneling function, you can stream and, simultaneously, check other content.
NordVPN can be downloaded in three packages: Standard (VPN service, threats protection, ads blockage), Plus (Standard options plus password manager and scanner from data breach), and Complete (Plus options and 1 TB of Encrypted Cloud Service).
Below you can see the comparison of OpenVPN vs NordVPN with the determination of the winner in each category.
OS support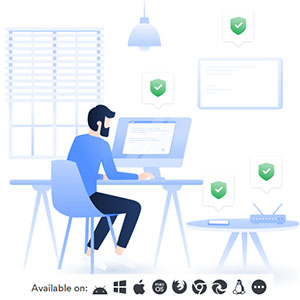 The choice of OS for
NordVPN
is similar to OpenVPN – Windows, Mac, Android, iOS, Chromebook, and Linux. It is also suitable for mobile devices that support Android and iOS and has proxies (a light version of VPN service for Chrome, Edge, and Firefox). And the significant advantage is that it can be used for Android TV, Kindle fire, and other Internet access devices.
verdict

NordVPN is a winner as it supports better mobile devices (iOS and Android) and Chromebook. Also, NordVPN is available in a light version for Browsers without installation.
Speed

NordVPN
is the fastest VPN service that was proven by a lot of technical specialists. There is no impact from your Internet provider speed, server location, used VPN protocol (NordLynx, OpenVPN UDP, or OpenVPN TCP),
antivirus software
, or number of users, and it does not impact on encryption quality. You will experience the best VPN service speed for all purposes of Internet surfing.
verdict

NordVPN again is the winner. As OpenVPN focuses mainly on security and does not have a wide range of own servers, while NordVPN automatically connects to the fastest available server and can use the fast NordLynx protocol for torrenting or gaming.
Servers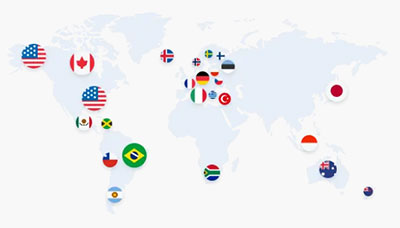 The number of servers is the significant advantage of
NordVPN
. As it has more than 5000 servers all over the world and the function on the website of server suggestion based on the required country and required action to do, NordVPN is a top-rated VPN product. You will see for each country the list of servers per their properties – P2P, hidden, dedicated IP, or double VPN.
verdict

NordVPN, by determination, is the winner in this competition, as it has its own wide choice of servers of a different kind.
Security
The maximum security protection is executed with multiple encryption levels, 256-bit OpenSSL encryption, SSL and TLS encryption protocol for information transfer, data transfer UDP and TCP protocols, IPv6 and IPv4 support authentication certificate, and protection of IP and DNS leakage. As a result, the encrypted traffic looks like regular traffic, which prevents it from blocking. Furthermore, it has a kill switch to turn off the connection to the Internet in case of its failure or instability; this prevents data leakage.
In comparison to OpenVPN vs NordVPN, there is no obvious winner. NordVPN also has many reliable functions: Advanced Encryption Standard, Threat Protection, Dark Web Monitor, protection of DNS and IP leakage, Double and Onion Over VPN. NordVPN has a kill switch option as well to secure your computer even during connection abruption.
verdict

No VPN service can stand close to the security level of OpenVPN even if it uses this protocol. So, OpenVPN is the winner.
Privacy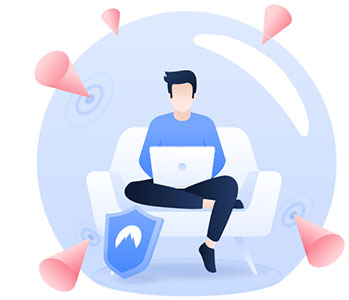 NordVPN
, as an OpenVPN protocol, does not ask for any personal data for registrations and has no log policy. No recordings for IP address, the number of transferred files, or surfing duration. Also, as it is registered in Panama, storing this data is no legal requirement. You can pay by crypto currency to decrease personal data information to a minimum. With a dedicated IP address option, you can achieve the highest level of privacy. The multi-factor authentication for NordVPN account with another device, temporary code, or particular application ensures that nobody can log in beside you.
verdict

NordVPN is better than OpenVPN because it has its own servers and is not registered in any of the 14 Eyes countries. OpenVPN cannot guarantee total security.
User Experience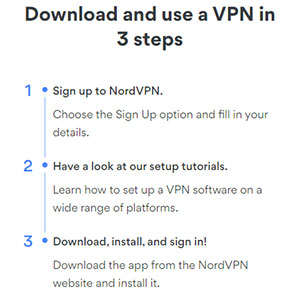 NordVPN
shows significant simplicity in installation and managing the VPN service. It has fast installation in one click with proper default settings to start surfing immediately after. This service can also be downloaded as an extension for Chrome, Firefox, and Edge; the disadvantage is that you will not be able to choose the country of connection. However, still, your HTTP traffic will be fully encrypted. The only minus is that the Linux version does not have a graphic design and should be run by commands only, but this is a typical way of software working for Linux users.
verdict

NordVPN as a service provider and it has a friendlier user experience. So, in the comparison of OpenVPN vs NordVPN, it is a winner.
Technical support
The technical support for NordVPN users is better than for OpenVPN and provides more options. For example, you can write an email (ticket system), use online chat, or check the guides on the official websites.
verdict

It is difficult to insist that NordVPN has better technical support because OpenVPN Community is a powerful source of information and support for any questions. But NordVPN provides a possibility to use online chats, and for users who prefer a standard way of communication, NordVPN is the winner.
Price and Plans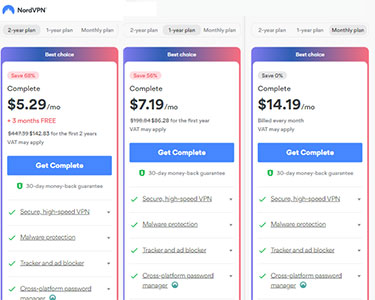 NordVPN
has simple pricing plans for home users: Standard, Plus, and Complete. The standard price is 5% per month (60$ per year), and the complete price is about 7$ per month (86$ per year). Within each plan, you can connect up to 6 devices.
verdict

OpenVPN is far behind NordVPN as it is open-source and free software. But it is worth mentioning that NordVPN has flexible and not expensive tariff plans.
Frequently Asked Questions
Can OpenVPN and NordVPN hide and change my IP address?
Yes. This is one of the most outstanding features of all VPN services to mask user IP addresses and prevent it from tracking. It is crucial for threats protections in public Wi-Fi networks and when you want to change your geolocation.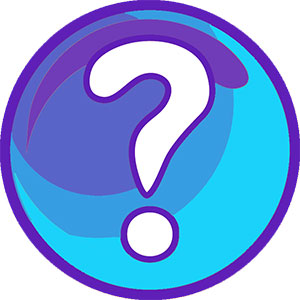 Can OpenVPN replace an Antivirus program?
Unfortunately, no. None VPN services can detect, heal and provide real-time protection from cyber-attacks. Instead, the VPN service redirects the user traffic and encrypts it to prevent from tracking and hiding identity. Meanwhile, it is a perfect combination –
Antivirus
and VPN services – for your PC security.
Can I use one license of NordVPN for the whole family?
Yes. Each NordVPN package supports six devices so that you can spread the license among your family members for PC, tablets, or mobile devices. Please see the supported software to understand the limitations.
What IP address has NordVPN user – dynamic or static?
For the onion VPN server, the user will have the dynamic IP address changing every five minutes; for other types of servers, it is the static IP address (constant).
Conclusion
Clearly stating the verdict for comparison of OpenVPN vs NordVPN is impossible because it depends on the user's purpose and qualification. If you are searching for a reliable, highly protected VPN service with the possibility of streaming and gaming, then NordVPN is a perfect choice. It has the latest and safest VPN protocol – OpenVPN, the highest speed and a wide choice of servers. You easily bypass all geo-restrictions and hide your actual IP address. Many useful features such as kill switch and password manager allow safe use of one license for six devices.
OpenVPN is the perfect open-source software if you need more flexibility in settings and want to organize your VPN service, like programming. It even has free subscriptions for a limited amount of connections to test all features in advance, but you need to choose reliable servers on your own, as OpenVPN does not have any. OpenVPN is a well-trusted VPN protocol. If security is the most essential for you, then you need to sacrifice the speed of using OpenVPN. So, depending on your needs, both OpenVPN and NordVPN are excellent products but with some limitations.