Malwarebytes vs. Spybot: Anti-Malware Software Review and Comparison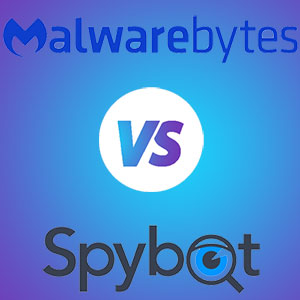 Is it possible to imagine the modern world without the Internet? Everyone is ready to give a negative answer. The Internet is the best way to communicate quickly and effectively and share information. However, is it safe? The answer is also negative. By continuously using the Web, we increase our digital fingerprints daily. We cannot feel protected anymore because malicious software can infect the computer whenever we enter the Net. It gets unauthorized access to all your data or changes the program files.
Thus, you must protect your safety and privacy with the most brand-new and efficient anti-malware software. The choice of antiviruses is pretty comprehensive these days. Here we have considered and compared only two of them – Malwarebytes vs. Spybot. We have tested the main components of both anti-malware programs and can provide you with helpful recommendations.
Comparison Table
| | | |
| --- | --- | --- |
| | | |
| Purpose | anti-spyware, anti-warm, anti-Trojan, anti-rootkit, anti-phishing, anti-spam | anti-spyware, anti-worm, anti-Trojan, anti-rootkit, anti-phishing, anti-spam |
| Free Version | | Yes (limited) |
| Compatibility | Windows, Mac, Android, iOS, Chromebook | Windows |
| Real-Time Scanning | | |
| Scanning | hyper-scanning mode, manual virus scanning, startup scan, audio virus scanning, scheduled scan | automated scans, manual virus scanning, USB virus scan, registry-startup scan, auto virus scan, scheduled scan |
| Portable Device Scanning | Mac | N/A |
| Threats Protection | prevents and blocks web-based threats | no real-time threat detection |
| Email protection | | N/A |
| Adware Protection | | |
| Mobile Protection | Android, Mac | iPhone Apps scanner, it does not have a mobile app |
| Webcam Protection | | N/A |
| Fast Scans | lightning-fast scans | advanced and fast scanning |
| Multi-Device Protection | Yes: across devices and the cloud services | N/A |
| Performance Optimizer | No smartphone optimizer, adjusts the settings to the purposes | No smartphone optimizer, Startup Program manager |
| Firewall | No personal firewall | No personal firewall |
| Password Manager | | |
| Trial + Period | Yes (14-day Premium trial) | N/A |
| Support | email and ticketing, live help over chats | email and ticketing, no live help |
| | Check Price | Check Price |
Main Differences Between Malwarebytes and Spybot
Despite undoubtful similarities in functioning, Malwarebytes and Spybot differ in their origin, features, compatibility, and popularity. So let's have a closer look at these features and differences.
Patrick Venne was the author of the idea related to Spybot Search & Destroy software. His computer caught malware in 1999 and was severely affected. Therefore, Patrick developed an antivirus that could eradicate viruses and dangerous programs automatically. The idea was further developed and found its implementation in Safer-Networking Ltd., which has already released several cutting-edge and award-winning anti-spyware programs. So far, this software has remained the main product of the company.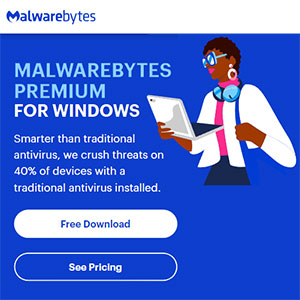 MalwareBytes Inc. is a company with headquarters in the United States that offers Internet security and complete malware protection. The products are powered by AI and can work across devices and cloud services. Researchers, analysts, and developers have participated in the company's product releases and updates.
Malwarebytes antiviruses are very popular. More than 60 thousand people install them on their computers every day. As a result, over 95 million daily threats are stopped and eliminated. The latest updates allow for both malware removal and threat prevention.
The software scans threats, customizes their lists, and monitors new malware infections. Boot scanning is a specific feature that allows searching the entire hard drive and marking the suspicious files to remove threats or completely delete them automatically. The software is compatible with Windows, Mac, Android, IOS (partially), and Chromebook.
It supports the protection of multiple devices, including mobile phones. The program uses powerful malware detection algorithms and is very effective against spyware, ransomware, and other threats.
Malwarebytes Features

Malwarebytes offers a lot of advanced scanning options. Its interface is pretty user-friendly and easy to navigate. It allows for direct and flexible customization under your needs. The full-featured functionality is available for free.
The program uses AI-based multiple scans, anti-rootkit, and anti-spyware technologies that extend the range of protection against various threats. It can automatically detect and eliminate Trojans, viruses, worms, and harmful software.
You can run Malwarebytes in two different modes – real-time and on-demand. The real-time mode is helpful when you need continuous scanning of your system. The program will inform you about possible threats via email. When running it on-demand mode, Malwarebytes can execute deep scans and deliver the results to you. In addition, you can make a schedule for these scans to be performed automatically.
The software also offers extended protection with customized backups to secure your sensitive data against intrusions. Such backups can be created and stored in separate locations, for example, on external USB devices or the cloud. Once you have completed the backup formation, you can entirely clean or reinstall your computer's hardware and software if needed.
Pros and Cons of Malwarebytes
The following benefits and drawbacks complete the overall characteristics of this software.

Pros
detects and captures any malicious website;
detects any dangerous activity either on the browser or your device;
protects against ransomware;
complements the Microsoft operating system efficiently;
delivers good value for the price;
lives up to all marketing promises;
implements all the features as expected.
Cons
updates too often without any instructions on how to use new features;
the customer and technical support service should be more user-friendly.
Spybot Features


Spybot offers the chance to scan all parts of the hard drive, including the login area, settings, a taskbar, hidden files, and the system tray. It provides detailed reports on all detected threats and real-time protection against hackers who may access your PC from a browser. You will also be secured against malicious downloads, scams, and pop-ups. You will see an online scanner if there is a threat, so you must choose what to do with it – remove, send to quarantine, or entirely delete.
The program's free version includes an extensive threat database to inform you about Trojans, worms, viruses, and keyloggers. All the infections can also be cleaned automatically in real-time. You just have to install an entry to automatic scanning. In addition, the Startup Program Manager lets you specify what functions you want to start automatically.
The software can also create customized definitions for the parameters and features of the PC you want to scan. You may also choose what specific threats you want your program to detect.
Other advanced characteristics represent the online dictionary updates in real-time, stealth detection, daily malware logs, and others. You can also load updated files or websites via the program. Finally, the software can wipe any traces of browser utilization from your computer.
Pros and Cons of Spybot
Here, the customers' views of the program diverge. Many users like the software for its simplicity and straightforwardness, while others criticize it for the lack of many features they need.

Pros
easy to use with its clear and intuitive interface design;
prevents access to potentially dangerous websites;
provides the choice between business and home versions;
immunizes against the threats coming from such browsers as Opera, Explorer, Chrome, or Firefox;
scans deeply against rootkit infections;
offers protection against phishing and adware;
both free and paid versions are available;
protects against Trojans, worms, and spyware;
can be downloaded and installed quickly and without any effort.
Cons
only available and compatible with Windows platforms and devices;
does not provide immediate malware detection;
the free version has a limited set of features;
scanning can take a lot of time.
Face-to-Face Comparison: Malwarebytes vs. Spybot
We have also done research based on the users' review websites and forums and looked at the characteristic features that are especially important for consumers. It helped compare Malwarebytes vs. Spybot as users see them.
Pricing
If we compare Malwarebytes and Spybot by pricing policies to other competitors, we will see that both options are relatively cheap. Moreover, both software providers offer free versions.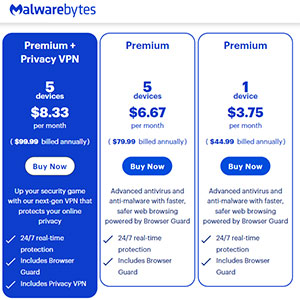 Malwarebytes comes in three plans – Free, Premium, and Premium Plus Privacy. The good news is that the Free plan preserves all the main qualities of a good antivirus program. The Premium plan costs $40 annually. Premium + Privacy is much more expensive – you will pay $99.99 annually.
You can also opt for Malwarebytes' software for small businesses, which costs about $50 per device yearly, or you can contact technical support and ask them for a customized plan.
verdict

The pricing policy of Spybot is more affordable and convenient for users, while Malwarebytes offers more varied plans and customization to your needs. Spybot is your best choice for business and multiple devices if your budget requires some savings.
Supported OS and Browsers
As for Spybot, it supports Mozilla Firefox, Opera, and Internet Explorer. You can adjust settings to each of these browsers to ensure more protection against any malware coming from them that tracks your digital fingerprint. It also immunizes from Chrome tracking cookies and browser plugins.
As for OS, Spybot is compatible with the Windows operating system only. It can work efficiently with all the versions starting with Windows 95 and up to Windows 10. However, users complain that if utilized for Windows 10, the software can slow down the Windows Defender.
Spybot works equally effectively for 32-bit and 64-bit OS. The space it occupies on the hard drive depends on the edition: Free edition takes only 200 MB, while Licensed Editions will take up to 5750 MB. The latest version of the program, updated to 2.9, can also support Windows 11.
verdict

Malwarebytes works better for different types of OS – it is compatible with Windows. Mac, Android, and, to some extent, iOS. It can even work with Chromebooks. However, Spybot is compatible with Windows only. So, if you need more variety or work on different types of operating systems, Malwarebytes is preferable.
Technical Support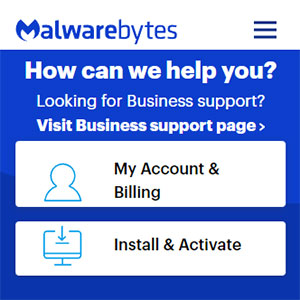 As for Malwarebytes, they offer both live chat and a substantial knowledge base on the site. You can find answers to many essential questions there. The email answers are also beneficial, and they use a ticketing system.
The live chatbot's name is Zero, and it is helpful when you need to solve a complicated and immediate issue. In addition, you will receive a link to the knowledge base to troubleshoot the problem.
verdict

If you are not pretty technology-savvy, Malwarebytes is a better option for you because you can entirely rely on them in the case of any technical issue. If you do not care about any additional support, Spybot is OK. However, you should not require immediate assistance from them.
Frequently Asked Questions
Does Spybot remove malware?
Yes, Spybot removes malware with its Search & Destroy software. You can even use it for free. The program has many features that help detect and eliminate malware of any type. You can find a free version on the company's website or pay for the subscription and use it without any additional fees with various extended options.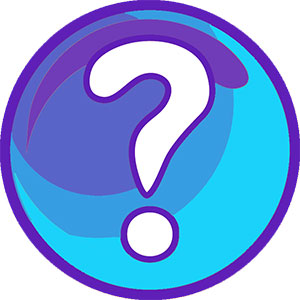 Is Spybot trustworthy?
In common, it is. However, it is not recommended to rely entirely on this anti-malware program. Its free version offers only basic features so that it can be helpless against some more serious threats. On the other hand, paid Search & Destroy packages are more reliable because they offer a set of premium features. Nevertheless, you can find some other alternatives on the market with superior efficiency at approximately the same price.
Is Malwarebytes blocking Google?
Sometimes, Malwarebytes can block Google Chrome or YouTube because the program sees them as malware. As a result, you won't be able to use certain websites, either. The company is working now on ways to improve this malfunction. However, if you have faced the issue, you can fix it yourself. Add Chrome or any other website or browser blocked to the Malwarebytes Ignore List.
Is Malwarebytes a Chinese company?
Malwarebytes is an Internet security company based in the United States. It is not Chinese. Its founder, Marcin Kleczynski, is from Poland, and he started as a technician in a computer repair parlor in Chicago. The company was founded in 2004, and since then, it has specialized in protecting computers and other devices from malware and threats coming from the Net.
Is it OK to have Spybot and Malwarebytes at the same time?
The standard recommendation is not to install two
antivirus
or anti-malware programs for concurrent running. However, since Spybot cannot sometimes cope with the latest threats, it is better to use it together with another type of
antivirus software
to be on the safe side. Therefore, only make one of the programs the 'main' antivirus in the adjustments. In addition, do not use Windows Defender while running both programs together – they may severely interfere with each other or slow down your computer's performance.
Final Thoughts
Both programs, Malwarebytes and Spybot, are effective antivirus and anti-malware installations with many powerful features that protect your device against spyware, adware, Trojans, dialers, viruses, and worms of any kind.
However, if we compare Malwarebytes vs. Spybot, we notice that Malwarebytes can remove a more extensive database of malware types. In addition, it has more various tracking sensors and provides powerful web protection. No doubt, it is a leader if you are looking for a reliable anti-malware program. However, remember that its premium plans and editions are more expensive than Spybot's.
Spybot Search & Destroy is a cutting-edge anti-malware software that is very effective against different threats. It offers more speed and a variety of virus-detecting and removal features. Nevertheless, this software can only work with Windows, so it is the most upsetting drawback if you need such a program for your company's multiple devices with different operating systems.
While choosing an anti-malware program, you should consider your purposes and requirements first. If they are various, think about Malwarebytes because its functionality is more diverse.