Avast vs. Malwarebytes – Comparison review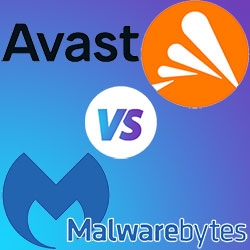 If you want to secure your PC or mobile device from online threats like malware, ransomware, or viruses, consider installing an antivirus program. Only last year, 8 million computers were infected in the USA, and every 39 seconds, one computer experiences a hacker attack. You can find hundreds of free and paid proposals for home and business purposes on the market.
It is recommended to use paid versions, as they usually consist of the best packages of cybersecurity that this particular antivirus can propose. Avast and Malwarebytes are two antivirus software programs with many valuable features and several tariff plans.
Their detailed characteristics are presented as a comparison of Avast vs. Malwarebytes.
Avast vs. Malwarebytes – Comparison Table
| | | |
| --- | --- | --- |
| | | |
| Purpose | Antivirus | Antivirus |
| Free Version | | |
| Compatibility | Windows, macOS, Android, Linux, iPhone/iPad | Windows, Mac, Android, iOS, Chromebook |
| Real-time scanning | | |
| Scanning | Smart / rescue disc | Automatic / Scheduled / Customized |
| Portable devices scanning | | |
| Threats protection | Ransomware, spyware, adware, worms, Trojans, Bots, Keyloggers, rootkits, fieless malware | Spyware, worms, Trojans, rootkit, phishing, spam, adware, spyware |
| Email protection | | |
| Mobile protection | Android, iOS | Android, iOS |
| Webcam protection | Webcam shield | |
| Safe browser | | |
| Automatic Software Updates | | |
| Fast scans | | Less than a minute |
| VPN | | |
| Real-time protection | | |
| Performance optimizer | | |
| Firewall | Advanced firewall | |
| Password manager | | |
| Trial-period | 30 days / 30 days guaranteed money to return | 14 days / 60 days guaranteed money to return |
| Support | Chat, email, phone | Online, email |
| Additional features | Network inspector, Password Premium, File shredder | |
| LINK | Check Price | Check Price |
Main Differences Between Avast and Malwarebytes
Avast and Malwarebytes are both antivirus software. Their basic protection features are similar, and the main differences are connected with additional features:
Malwarebytes does not have many additional features that Avast has: a password manager, webcam protection, automatic updates of software, and a file shredder.
Malwarebytes also does not have an advanced firewall, which makes Avast antivirus preferable.
Malwarebytes has more scanning options, including fast scans for less than one minute. Also, it can scan portable devices. Unfortunately, Avast does not propose this.
Avast protects from more types of malware and online attacks than Malwarebytes.
If you are a user of the Avast Premium package, you can talk with technical support by phone, while Malwarebytes Premium Package clients are limited by chat and email tickets.
For a more detailed review of the differences and advantages of each antivirus program, please check the other parts of this review.
Avast vs. Malwarebytes – Overview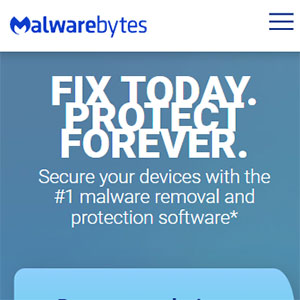 Malwarebytes has given cyber protection to everyone
since 2006
– home devices and businesses. All malware and privacy protection proposals are behavior-based, powered by AI and the latest technical achievements. This antivirus is available in
30 languages
and is installed on Windows, macOS, Android, ChromeOS, and iOS.
From a safety point of view, Malwarebytes is now top-rated among other popular competitors and receives top scores for performance and protection from independent laboratories. It can protect with effectiveness 99.4% from zero-day threats and 100% from 4-weeks old malware. In the last 30 days, Malwarebytes stopped more than 44 malware attacks.
Malwarebytes has quite a significant number of features: real-time protection, phishing protection, anti-malware, intuitive dashboard, monthly health reports, exploits protection, protection from unnecessary advertisement, trackers blockage, blockage of malicious web pages, no-log VPN, and Wi-Fi security. Unfortunately, some features are available only for Windows users.
One of the significant advantages is that the antivirus uses minimal system resources without affecting the CPU. The free version includes only basic protective features, advanced protection is provided for premium users and users with a premium + privacy VPN package.
verdict

Avast has a more extended history and is more popular, even though current Malwarebytes protection is not worse. Also, Avast has more features, such as an advanced firewall and a password manager. So, Avast is the winner.
Avast vs. Malwarebytes – Face-to-Face Comparison
In this section, we will review all features that both Antivirus can propose. Keep in mind some of them are available only in the paid versions.
Antivirus Scanner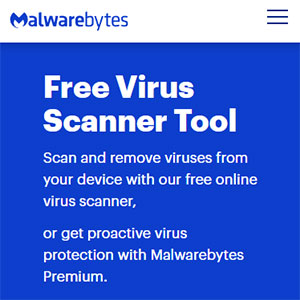 Malwarebytes has more intuitive scans options: quick scan (searching for active infections in memory and start-up objects and takes only a minute), threat scan (a recommended scan method to find threats in the most common system locations), and customs scam (you can set what to scan and how to handle the suspicious objects, can be used for external devices). Moreover, in the settings, what kind of threats should be disabled or turned on.
verdict

Malwarebytes can perform quick scans, scan remote devices and customize all options; these options are not available for Avast. So, Malwarebytes is the winner.
Protection Options
Malwarebytes offers real-time protection for Premium users (not included in the free version). In the background, all suspicious processes are stopped even before they can be a threat to your device.
It has several protection layers:

Web protection – blocks infected and fake websites,
Malware and PUP protection – blocks from hackers, malicious websites, infected and potentially unwanted programs,
Ransomware protection – protects files, documents, PC, and photos from unpatched software,
Exploit protection.
Malwarebytes also secures from brute force login attacks, and the application itself is protected from uninstall by hackers. The user can check in the application dashboard his current security status and receive advice on how to improve it if required. During game and video watching, Malwarebytes suspends notifications and leaves only emergency alerts.
verdict

Avast has more shields and protection options, so it is the winner.
Supported OS
Avast and Malwarebytes are easily installed in three steps: download from the official website (or app store for mobile apps and Chromebook), open the file and install with the wizard's guidance. All features and packages of Avast are compatible with Windows and macOS. Malwarebytes has some functions exclusively for Windows users. Mobile applications of both antiviruses are limited for iOS devices.
Avast
Malwarebytes
Windows
7, 8, 8.1,10,11 (32 and 64-bit versions) / 1 GB RAM / 2 GB Hard disk space
7 and higher (34/64 bit) / 2048 MB RAM/250 MB Hard disc drive space
MacOS
10.12 (Sierra) or later
10.12 or higher
Android
Android 6.0 or higher
Android 6.0 or later
iOS
12.0 or higher
14.0 or higher
Chrome
None
Supporting Google Play Store
Installation file size
N/a
Windows – 68.61 MB
Android – 31.13 MB
verdict

The system and hardware requirements for Malwarebytes and Avast are close. Only Malwarebytes can additionally be used on Chromebooks. Therefore, there is no winner for this parameter.
User Interface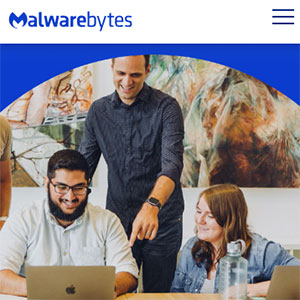 Malwarebytes has a simple and intuitive user interface as well. The application is designed in two colors – white and blue. The application in the center has the current protection status and occurred problems. Below are three buttons – detection story (here you can see quarantined files), scanner (you can schedule the scan here), and real-time protection status. All customized features should be set in the title bar in the upper part.
verdict

Both programs are very well-designed and have friendly interfaces. There is no winner between Avast vs. Malwarebytes in this regard.
VPN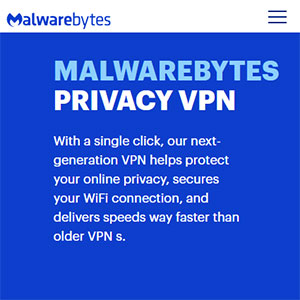 The user can obtain Malwarebytes VPN inside the Premium + Privacy VPN or as a separate tool (from $3.33 per month for one device). You will
get next-generation VPN service
without logins to protect the user's digital fingerprint. It has more than 500 servers in more than 30 countries. The VPN can be used for all devices supported by Malwarebytes Antivirus.
The service masks your actual IP address and location, encrypts the connection (256-bit), and gives the opportunity to choose any of the available services. It uses WireGuard Protocol ensuring fast connection speeds without lags. The VPN users can connect to unsafe Wi-FI but still feel secure about their sensitive files as the VPN offers a protected tunnel between the user and the Internet.
Premium Malwarebytes subscribers can add VPN to their plans by adding this option to their website accounts. The user will receive an email with activation instructions. If you download this tool separately, you have a 7-day trial.
verdict

Avast and Malwarebytes have close VPN services with a similar number of features, encryption characteristics, number of servers, and price. There is no winner.
System Optimizer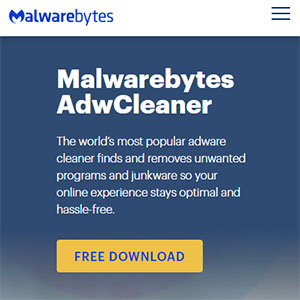 Malwarebytes AdwCleaner which can be downloaded for free but separately, helps to clean the PC from unwanted programs, adware, and junk files. This program does not use any memory or CPU; it optimizes its performance. You can also scan using this tool PC for adware, spyware, unwanted browser toolbars, unwanted programs (PUPs), and other content slowing down your PC.
Attention
Unfortunately, this tool does not protect users from installing programs without consent or aggressive advertisements.
For that, you need to install Malwarebytes Premium, but you can delete all traces of this software with this tool. This tool is available only for Windows 7,8,10, and 11. To start using the tool, you need to download it from the official website, open the program and start the scanning.
verdict

Avast Cleaning tool has more features than Malwarebytes, especially regarding software updates and fixes broken shortcuts and discs. Avast is the winner in this category.
Privacy Optimization
Avast has several separate tools to protect user's identities. Secure Browser and Online Security & Guard are available for free. Other tools, including Secure Browser Pro, have several tariff plans.
AntiTrack (to check when you are tracked, hide your real identity, and stop targeted advertising).
Secure Browser (safely banking, works in pair with Avast Antivirus, blockage malicious websites, personal data encryption).
Secure identity (advanced identity protection with $1 million reimbursement in case identity is compromised).
BreachGuard (online protection against sensitive data loss, leaks, and breaches).
Online Security & Guard (privacy extension for Opera, Avast Browser, Edge, and Firefox to secure browser data).
To protect user privacy, Malwarebytes can propose only Browser Guard. Its primary purpose is to block unwanted Internet content and give the user a safe and uninterrupted browsing experience.
With this extension, you can browse four times faster as all ads and other slow-downloading unwanted content will be blocked. This tool also blocks third-party tracers and blocks web pages with malware.
It works only with Chrome, Edge, Firefox, and Safari browsers. For Safari, the extension is available in the App Store, and for other browsers, in the Chrome Web Store.
verdict

Malwarebytes provides fewer privacy tools than Avast, so Avast is the winner.
Password Manager
Avast offers all Premium Security package users a Password Manager to protect passwords and login information for your multiple accounts on different websites. In addition, you will receive an immediate alert if your password has been hacked or leaked.
verdict

As Malwarebytes does not have a solution for managing passwords, Avast is the winner.
Mobile version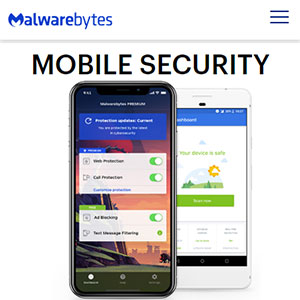 IPhone application, due to the limitations of iOS, has fewer features: Wi-Fi advisor, passwords and photos protection, and VPN.
Malwarebytes mobile app for Android has already been downloaded more than 10 million times.
Even though the number of features is limited, it still provides robust protection for mobile phones:
detects dangerous threats;
removes malware and ransomware;
detects aggressive adware and PUPs;
makes privacy audit checking apps tracking user's activities;
real-time protection;
scanning URLs to provide a safe browsing experience;
checks privacy privileges for applications.
The application for iPhone has different features: protection from online threats, blocking spam calls and messages, safe browsing, and protection from online scams.
verdict

The number of features for both Avast and Malwarebytes mobile apps (for Android) is impressive, and they both protect perfectly well. For iPhone users, the possibilities are significantly lower. So, there is no winner.
Additional tools
Avast, like many other premium antiviruses, has a file shredder. In the paid version, you can permanently delete all files, including junk files, to clean your system memory.
Avast One package proposes an additional Password Premium feature that allows quick login into websites.
verdict

As there are no other additional tools despite mentioned earlier for Malwarebytes, Avast is the winner in this comparison.
Price
Price has a significant impact on a purchase decision.
So, Avast has several proposals based on the number of features and supported devices. Paid plans have a 30-day money-back guarantee.
Malwarebytes also has several proposals based on features (with VPN or without) and on a number of devices, but limited only to 5 devices. Paid plans have a 60-day money-back guarantee.
All antiviruses have special proposals for businesses of all sizes.
Avast
Malwarebytes
Free
Yes
Yes
Option 1
Premium
$69.99 / year for 1 device
Premium
$44.99 / year for 1 device
Option 2
Premium
$89.99 / year for 10 devices
Premium
$79.99 / year for 5 devices
Option 3
One
$99.99 / year for 1 device
Premium + Privacy VPN
$99.99 / year for 5 devices
Option 4
One
$119.99/ year for 10 devices
No
verdict

The Premium package for one is cheaper for Malwarebytes, but for more devices, the Avast proposal is more reasonable. Also, the ultra-premium proposal from Malwarebytes is more attractive, as five devices will be protected at the same price. So, Malwarebytes is the winner.
Conclusion
Avast and Malwarebytes are top-rated antivirus programs. They provide perfect security for PC and Android devices. Avast, in addition to real-time protection, has numerous additional features in privacy optimization, a password manager, and a file shredder. But Malwarebytes is better organized for quick scans and is cheaper. If you do not want to pay more for additional tools, then Malwarebytes is a perfect choice. Avast is a perfect solution for those who prefer to receive all in one package.