Macrium vs. Acronis – Comparison review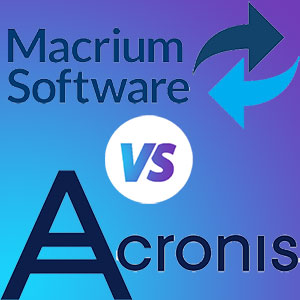 Data protection has become an essential issue for individuals and enterprises, as data has become the most valuable resource in the digital era. The amount of data is increasing every day, and the primary protection strategy is to store it safely to eliminate the possibility of corruption or loss. Furthermore, nowadays, many people work remotely, connecting to enterprise networks from public Wi-Fi.
Important
Therefore, the critical issue is finding tools for safeguarding vital information to minimize business loss with high-level data integration and availability.
Data protection of most tools consists of data backup, recovery, cybersecurity management, and malware protection of data storage. It is also crucial to have the possibility to eliminate data loss in case of software or hardware corruption. With all these tasks, successfully work such programs as Macrium and Acronis. After a detailed evaluation of Macrium vs. Acronis, we will find the most trustful tool for data protection.
Macrium vs. Acronis – Comparison Table
Purpose
Data backup and recovery tool
Data backup and recovery tool
Supported OS
Windows
Windows, macOS
Mobile/ Tablet version
No
iOS, Android
Backup cyber protection

Real-time protection

Cloud backup

Backup encryption

Backup scheduling

Full disc image

Selective backup

System recovery tool
WinPE
Survival Kit / WinPE
Business version

Free version

Automatic Software Updates
No, only paid updates

Money-back guarantee
30 days
90 days
Free trial
30 days
30 days
Technical support
Standard (email ticketing, forum, video tutorials)
Premium (live chat, phone support)
Phone, email, and chat support
Additional features

LINK

Check Price




Check Price



Main differences between Macrium and Acronis
Even though the primary purpose of this software is the same – data protection, there are many differences between Macrium and Acronis. The main are:

Acronis proposes cloud storage for backups, while Macrium has options only for external and local drive backups.
Macrium has a lifetime subscription but without updates, while Acronis has an annual subscription with automatic regular updates.
Macrium can be used only for PCs with Windows, while Acronis supports Windows and macOS, PCs, and mobile devices.
Acronis has various additional tools and features, while Macrium is straightforward software.
Even though both programs have encryption, Macrium encrypts only the data, while Acronis additionally to data also encrypts the storage.
See other parts of the article for a more detailed description of programs and their differences.
Macrium vs. Acronis – Overview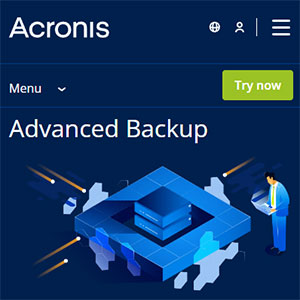 Acronis is an IT company headquartered in Singapore and Switzerland that protects data from cyberattacks, hardware failure, human mistakes, and other disasters. Acronis was founded in 2003 and has expanded to
20.000 service providers in more than 150 countries
.
Its award-winning solutions are already translated into 26 languages. Acronis has products for businesses, individuals, and service providers, free and commercial packages.
The Acronis Cyber Protect Home Office (formerly Acronis True Image) is a backup, quick recovery, and anti-malware protection solution. For business, there is Acronis Cyber Protect, which offers disaster recovery and endpoint management in addition to backup and cybersecurity tools. There are some other tools available from Acronis that will be highlighted later.
verdict

Both Companies have been producing data protection software for twenty years. Both received many positive reviews, but Acronis is expanding its business more widely. So, Acronis is the winner.
Macrium vs. Acronis – Face-to-Face comparison
If you have problems with your PC, it might be already too late to install any data protection tools, so it is better to prevent all accidents beforehand. So, let's investigate all the advantages of Macrium and Acronis programs, their main features, and their advantages for personal PCs. All solutions are scalable for small and big enterprises.
Backup tool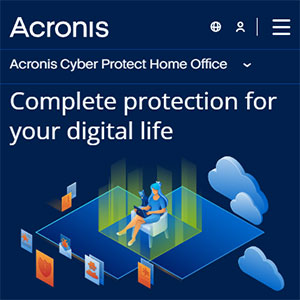 Acronis proposes a solution –
Acronis Cyber Protect Home Office
helps to recover your computer with backup software. It
automatically captures all changes on your PC
, including hidden files; the backup process is easy and much more efficient than manual copying. You can back up with Acronis files, folders, applications, OS, and full system images to a local hard disk or Acronis cloud.
Acronis cloud is located in Acronis data centers with the highest security level. You can select individual files or folders for a replica to speed up the backup process. All backups are available in Microsoft 365 accounts, including Outlook and OneDrive backups.
All backup files are automatically synchronized on the computer and cloud to receive up-to-date versions on all devices. You can store the backup files on several storage devices and in the cloud with enhanced speed, stability, and reliability following the 3-2-1 backup rule. The Acronis controls all up to 999 file versions and manages replicas. All backups can be scheduled.
All incremental or differential backups with Change-Block Tracker are performed every five minutes in the background without slowing down the PC performance (the same idea as for Macrium). You can set an automatic backup process when you insert a USB device into your computer. If the backup process is interrupted, it will automatically resume when the files and storage device become available. You can make images of the system as a virtual machine.
The Acronis solution allows making a disc clone of a Windows or macOS system to a larger and faster disk while it is still in use without unnecessary reboots.
verdict

There is no significant difference between Acronis vs Macrium for backup tools. These programs can quickly back up all required data with schedules or not, the whole image, or selective files. But Acronis is slightly ahead in this competition, as you can store backup files in the Acronis cloud (part of the subscription). At the same time, Macrium proposes only hard drives external and local.
Data recovery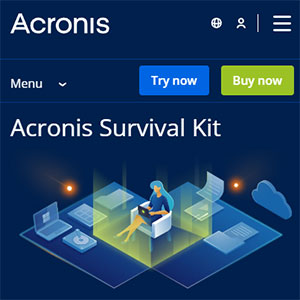 Acronis has an all-in-one recovery tool to recover any data from backups:
Survival Kit
. This tool includes a full backup of the whole system and boot media. All recovered data should be stored on an external hard drive with the option "Make bootable option." During the recovery process, you need to adjust your BIOS or UEFI so that the rescue disk is the first option for the computer to check. After proper backup on the external disk, in case of disaster, this tool will analyze and troubleshoot the system issues and restore files and the system from backup using the latest image.
You can also create WinPE boot media to recover when the system doesn't boot. You can select compatible drivers in the Acronis WinPE media builder for flawless recovery.
If individual files are stored in the cloud, the enhanced stable speed of restoring is ensured. In addition, you can download a copy anytime if you have a local file on your computer, even though your Internet connection is compromised.
verdict

The recovery process proposed by Acronis is better organized, and the recovery tool takes care of all problems that may occur if your computer won't boot. So, it is the winner.
Ransomware protection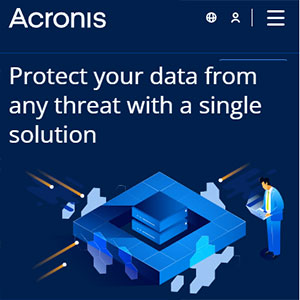 Acronis cybersecurity protection is not only for backup files but also
can be used for the whole device
. It proposes special attention to backup files and must be used in addition to the
antivirus
, firewall, and other PC protection software.
The device and files are protected in real-time from known and unknown malicious activities, including ransomware, Trojans, worms, crypto jackers, and other attacks. You can start a full or quick antivirus scan whenever you want. If files are affected by some threat, they will automatically recover from backup.
Acronis protection is compatible with the most common anti-malware solutions. The additional features of advanced cybersecurity are vulnerability assessment for your computer or mobile weakness, filtration of malicious URLs, protection of data during most popular video conference platforms (Zoom, Microsoft Teams, Cisco), encryption of backups (AES-256 encryption), checking of threat database updates.
verdict

Acronis has a more interesting and challenging proposal for known and unknown threats of backup files. You can control threats for the backup and analyze vulnerabilities for the whole PC or mobile. Additional protection features make Acronis the winner in this part of the comparison of Macrium vs. Acronis.
Supported OS
The Macrium and Acronis minimal requirements for Home subscriptions are presented in the table. For more detailed information, you can visit official websites.

Macrium
Acronis
OS
Windows 11 back to XP only
Windows 11, 10, 8+, 7 SP1, Home Server 2011
macOS 10.14, 10.15, 11m 12, 13
RAM
512 MB
512 MB and more
Supported file systems
Microsoft:
FAT16, FAT32, NTFS, exFAT, ReFS, Ext 2/3/4 file systems
Microsoft:
NTFS, Ext. 2/3/7, ReiserFS(3), Linux SWAP, HFS+/HFSX, FAT16, FAT32, exFAT
macOS:
APFS, HFS+, Core Storage, FAT32, NTFS
Other requirements
CD/DVD writing drive or USB drive
Not defined
Mobile OS
No
iOS 12.0 or later
Android 7.0 or later
verdict

Acronis is definitely the winner, as it supports PCs with Windows and macOS and mobile devices.
Other Tools
The functionality of Macrium Reflect is limited to PC data backup, recovery, and cyber protection. At the same time, Acronis proposes many other tools included in Acronis Cyber Protect Home Office and in other programs purchased separately.

Mobile data protection.
Acronis proposes remote backup management, end-to-end encryption, automatic backup to the cloud or local computer (wireless), access from anywhere to the backup data, and control of versions. The unlimited Android and iOS device subscription is included in standard tariff options.
Multi-optional management of the back-up process.
For easy managing backups, Acronis proposes a valuable dashboard. You can set a backup by selecting the preferred Wi-Fi network, avoiding public ones. Also, you can balance the CPU during backup giving priority to other applications. You can set a minimum battery level for backups. And many other essential procedures can be done for data management.
Cloud storage upgrade.
You can always upgrade any tariff plan with increasing storage space up to 5 TB.
Safe test of new software, drivers, and updates.
The Try and Decide tool in the management dashboard allows doing so.
Backup cleanup utility.
You can free disc space by manual selection of unnecessary backup files.
verdict

Here again, Acronis is the winner with a significant number of additional helpful tools and programs.
Price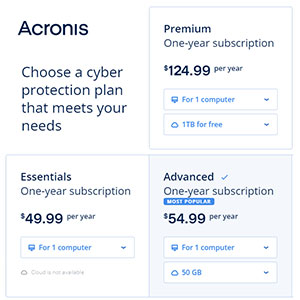 Acronis is also available in several tariff plans for individuals and businesses. The subscriptions differ by functionality and number of licenses inside one subscription. The individual basic (essential) subscription includes only backup, cloning, quick recovery, and ransomware protection tools. The advanced package (the most popular option) adds antivirus protection for backups, cloud backup (50 GB included in the plan), automatic replication into the plan, and Microsoft 365 automatic backup. Finally, the premium package provides 1 TB of cloud storage for backup, blockchain file certification, and electronic signatures.
The license upgrade is executed under a special fee. All subscriptions have phone, email, and chat support; a premium plan in addition to having a priority phone line.
Acronis can protect any business workload: workstation, server, virtual host, or Microsoft 365. Google workspace, Windows Server Essentials. All plans include 50 GB and more of Acronis Cloud Storage.
Macrium*
Acronis**
Free version
Yes
No
Single license for home PC
$69.95
$49.99 – essential
$54.99 – advanced
$124.99- premium
Multi-pack licenses for home PCs
4-pack - $139.95
5-pack $99.99 – essential
$104.99 – advanced
$209.99- premium
Business workstation
Starts from $75
Starts from $85 – standard
$129 – advanced
Business server
Starts from $299
Starts from $595 – standard
$925 – advanced
Business server plus
Starts from $599
No
*-all Macrium subscriptions are valid forever
** -all Acronis subscriptions are valid for one year
verdict

Even though the prices are comparable, it should be reflected that Acronis proposes an annual subscription, and Macrium proposes a lifetime, but all updates should be paid additionally. Moreover, you can protect unlimited mobile devices with any Acronis subscription. So, Acronis is the winner of the price challenge as well.
Installation
To install the Acronis Cyber Protect Home Office, you need to download the installation file (500 MB) from your Acronis account or from a confirmation email about your purchase. The installation should be performed in the account with administrative privileges. On Windows, the program is installed on the system disk without options. The installation process is easy and guided by the wizard.
If you have installed Acronis True Image 2020/2021(the former product name until 2021), the software will be upgraded automatically with a new subscription that you have purchased. You do not need to delete the old version. However, for older versions, please remove the program.
verdict

The installation process for both programs is easy and does not require any professional knowledge. There is no winner in this aspect.
Conclusion
The winner in the Macrium vs. Acronis competition is obvious; it is Acronis. Acronis has more data protection and storage features, even with similar backup characteristics, to Macrium. But it supports not only Windows but also macOS and mobile devices. Also, it has a user-friendly interface and easy management dashboard. But if you want to pay only once, do not interest in updates, and need only straightforward backup tools, then Macrium is also a perfect solution.