OurPact vs. Bark: Comparison of Most Popular Parental Control App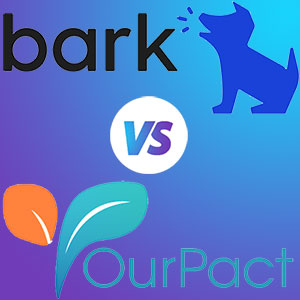 Nowadays, most kids have access to the Internet from a very young age. But unfortunately, alongside the helpful educational, resourceful, and entertaining content, they can reach dangerous websites and apps with many violent, adult, or inappropriate offers and interactions. That is why parental control apps have been created to monitor and block harmful activities children can be engaged in.
You may know something about a parental control router that allows parents to monitor the websites their children can access from their home wi-fi network. Unlike them, control apps help parents follow their kids' online activities on any device, no matter where the child is. Caregivers can track locations, monitor calls, and text messages, and receive real-time alerts. So they can ensure the kids' safety when at home, school, or outside.
As a parent, you may need clarification when looking for the best control app for your family and individual needs. Therefore, we have compiled this comparison review of OurPact vs. Bark to make your choice-making easier.
Comparison Table
Number of Devices
1 to 20
Unlimited
Web Portal for Parents

Text Logging

Text Blocking

Location Tracking

Web Monitoring

Time Limits

App Management

Price
Free to $100
$6 - $100
Platforms
Android, iOS
iOS, Android, Chromebook,
Amazon Fire, Windows, Mac OS
Call Logging

Call Blocking

Geofencing

Location History

Web Filter

Scheduling

App Blocker

Activity Reports

Free Trial
Yes - 14 days
Yes - 7 days
LINK

Check Price

Check Price
OurPact vs. Bark: Overall Comparison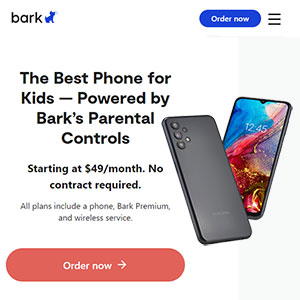 Bark as a parental control app was launched in 2015 by the company's SEO and father of two kids, Brian Bason. It provides an excellent chance for parents to
manage every aspect of their kids' online activities
in the digital world.
The Bark is a state-of-the-art application that uses advanced machine learning algorithms and AI to monitor emails, texts, social media, and images for harmful content. It can monitor text messages, iOS and Android photos and videos, six email hosts, social media, and doc-sharing apps.
The app can scan sent and received emails and their image attachments on such email hosts as AOL Mail, Yahoo! Mail, Comcast, Outlook, Gmail, and iCloud Email. The company offers a 7-day free trial before subscribing to one of its plans.
Bark can monitor texts on most social media apps in direct messages. But, unfortunately, it means your teenager can still find inappropriate content in other people's posts. So, you will have to talk to your child about the healthy use of the Internet and social media.
Pricing Plans Comparison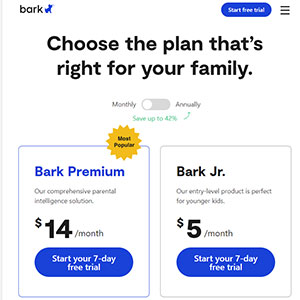 Bark has two pricing plans:
Bark Junior. It is cheaper and meant for younger kids. Bark Junior costs $5.99 per month and $49.99 per year. It works perfectly for monitoring younger kids who do not have accounts on social media and do not spend much time texting. Here, you can set up schedules for screen time, filter websites, and check-in locations. However, as with Bark Premium, you cannot monitor messages and get parental alerts about the content.
Bark Premium. It includes everything you may need for monitoring and controlling your child. It is actually one of the market's most expensive parental control apps. However, it's a good value for money because it offers many of the best-quality features. It does not limit the number of kids' profiles you may want to open and the number of devices you need to control. Bark premium is $14.99 per month and $99.99 per year.
You can opt for Bark Junior if you do not need the complete set of monitoring features. Even if you are offered a 7-day trial, you need to fill in your payment information before you get access to it. You can cancel the trial at any time in the app's settings for the subscription.
OurPact and Its Features

OurPact has many advanced functions and abilities, including the following:

App Blocker. Parents can block apps related to games and social media.
Schedule Screen Time. If you schedule screen time per day, the app blocks everything that does not comply with this schedule.
View. Parents can get a gallery view of their kids' online activities in real-time automatically when on-demand.
Internet Blocker. The app can block entire browsers, like Safari or Chrome.
App Rules. The software allows for blocking distractive games or apps only while leaving chosen educational apps carefully and actively.
Family Locator. The app can locate family members and their devices, send instant alerts, and set geofences.
Block Texting. It is the only software of this type on the market that can block iOS or Android texting.
Screen Time Allowance. Parents can form healthy habits for using the Internet with their children by setting screen time limits per day.
Web Filter. You can block adult content on iOS with the help of OurPact.
OurPact works from any place on iOS and Android on any device belonging to the family members – both children and adults – on wi-fi on mobile networks. It is meant for busy parents to ensure their peace of mind. It can manage up to 20 devices. Moreover, you can customize your control preferences for children or devices for one child.

Due to its App Rules function, you can see tabs for all apps installed by children on their devices and block them if necessary.
Pros and Cons of OurPact
OurPact is one of the best parental control apps for iOS. Its functions and features are impressive, though it needs a proper web-filtering system and location history.

Pros
an excellent and user-friendly interface;
compatibility with all iOS features;
availability for up to 20 devices.
Cons
a bit more expensive than it is expected;
the installation process is complicated;
low amounts of web filtering.
Bark and Its Features


Bark is one of the most popular parental control apps. It has many effective features that can help caregivers keep the kids safe online. They include content monitoring of email and text messages, social media, and websites. You can also access screen time control, share locations, track online activities, and block inappropriate content. In addition, the app sends real-time alerts when your child encounters harmful content or their online activities have signs of bullying, suicidal thoughts, or depression.
Bark's approach to parental control differs significantly from its competitors. It encourages effective communication between parents and their children rather than locking down their access to the Net by force. Therefore, you won't be able to read all text messages and view a complete list of the websites your child is visiting while the app is scanning the text messages or browsing history for any harmful topics and influences you need to know about.
This approach offers some privacy to children, though you can be sure that the app's message monitoring is the most comprehensive on the market. We have looked through over 30 parental controls available these days. The Bark is the only one that can scan big numbers of emails, social media DMs, and doc-sharing apps. When the software sees the problem (you can preliminary define it in the Monitoring tab), you will see it and take time to decide what to do about it.
If you need a parental control app for a big family, Bark is pretty priced if you compare it to other apps because the number of devices and accounts it can monitor is unlimited.
With Bark, parents can do the following:

Monitor content and get alerts for such issues as bullying, sexual abuse, violence, predators, etc.
Manage Screen Time. You can create individual daily schedules of screen time for every separate device.
Filter websites. You can block your child's access to specific websites or categories.
Set Location Alerts. You will be notified when your kid arrives or leaves a particular location.
Bark can provide the features that allow for the following:

monitoring texts, emails, social media accounts, and more than 30 apps simultaneously 24/7;
blocking websites and apps that contain distracting or inappropriate content;
managing screen time by setting manageable and healthy screen time limits individually and in accordance with your specific requirements;
get location updates and receive notifications if your child is on the go or needs a check-in;
add unlimited kids, which is excellent for large families;
gain insights and details about your kid's online activities, and be able to ask for expert recommendations and advice from child psychologists.
As you understand, this software was developed in close cooperation with psychologists, digital media experts, juvenile advisors, and law enforcement professionals. That is why it is also the most kid-friendly solution on the market.
Important
The application has numerous awards from The National Parenting Center, National Parenting Product Awards, and Mom's Choice Awards.
Our test also shows that Bark can catch slang, foul language acronyms, and hazardous emojis. You will also be notified via push, text messages, or emails when the software detects the potential issue. Or you may opt for a weekly report that is available every Sunday. Even if the app is meant for more open conversations between parents and children, you can choose a lockdown via the Screen Time section and restrict access to some content. You may also prefer to pause all Internet access, though you will need to purchase the Bark Home router filter at $80. The app cannot block problematic phone numbers remotely, though. You can do it only from your kid's mobile.
Pros and Cons
We have tested Bark with over a hundred kids, teenagers, and their parents, and we can assume that the app does a great job of alerting parents and screening all kinds of messages. However, it does not send detailed reports. It also does not control contact lists and set automated time limits. You cannot remotely lock down the device with it, either.

Pros
efficient message screening;
remote pausing the Internet;
check-ins and alerts related to locations;
immediate text, push, or email alerts;
unlimited number of devices and profiles;
detailed management of all websites and apps;
setting schedules for screen time;
reports on screen time and app usage.
Cons
uninstalling protection is not provided;
iOS installation is tricky;
it does not offer management of contacts;
you cannot track locations 24/7;
browsing history is not provided;
call history is not allowed.
OurPact vs. Bark: Comparison and Contrast of Specific Features
Now, it's time to compare some specific features of these two apps to decide which one is better for your needs.
Installation
The installation process of OurPact may be complicated because, unlike Bark and many other parental control apps, you need a Windows or macOS computer. You should install iTunes and OurPact Connect on this computer to get connected to your kids' devices. You also need a USB cable for these connections to the PC or Mac and the screen-lock passcodes to these devices, if they have any. You will also have to disable "Find My iPhone" in the settings.
After that, the device will be assigned to your child in the program, and you can create a profile. You should follow the installation guidelines carefully to finish up the installation procedure.
Installing the app for Android is easier because it does not need any extra software beyond OurPact Connect. However, you have to follow the instructions accurately, too. Although the process seems cumbersome, you will have to do it only once. If everything is installed, you can manage all the ongoing processes from the parent app.
The Bark is not as tricky to install as OurPact, even for those parents who are not tech-savvy. It has a clear and straightforward guide that explains every step of the installation process. It even provides tips on talking to your kid about parental controls and the necessity of healthy Internet use.
verdict

If you prefer simple and quick solutions that are not time-consuming, opt for Bark. You will not have to install any additional software here. OurPact works perfectly, but you need some time to understand it.
App Management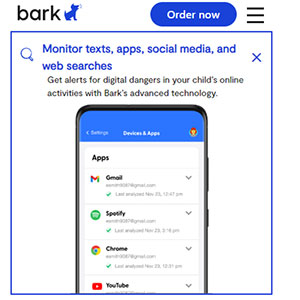 The Bark app is intuitive and easy to use, too. It works smoothly and without any bugs. However, the app must be downloaded from the official website only but not from the app store.
If you use Bark for a desktop, it can monitor texts, photos, and images. You need a fully functional desktop app here. It does not have a native extension for monitoring Windows and macOS devices, so you need to install the browser extension for Chrome or Edge or purchase the Bark Home device.
If your kid uses iOS devices, Apple may restrict the amount of data that can be shared between iOS and the app. So, the app has to scan texts, photos, and videos manually when the desktop and iOS devices are connected to the same network.
There are two mobile apps for Android and iOS devices – one for parents and one for kids – and it is often inconvenient. However, the app for parents is fully functional and incredibly intuitive, so it is effortless to manage content monitoring.
verdict

OurPact is brand-new in terms of app management. It is more convenient to use. Bark has a lot of different options that may sometimes need to be clarified.
Filtering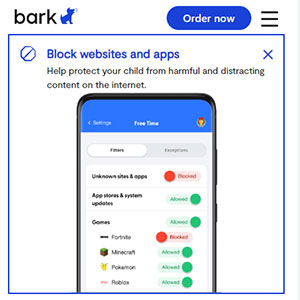 Bark can filter websites and apps. This feature can block Internet access to them. You can decide which apps can be allowed by default and create three alternative rules for filtering. The app helps you to allow or block Internet access to social media, streaming services, games, and other apps and websites. You can also create lists of custom exceptions.
verdict

Bark has more filtering functions than OurPact. However, since it works via a VPN, these functions can easily be disabled. In addition, it can block access to more than 30 apps, which is good. Though OurPact is much more difficult to disable, it can provide smoother functioning.
Time Management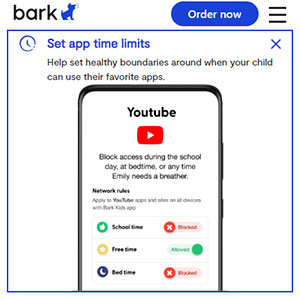 Bark's screen time management works by applying different rules to the website and app filtering for different times of the day. For example, you can decide which apps to allow during school hours or at bedtime. In addition, you can make up different schedules or block the Internet altogether at specific times. The time management rules here allow for creating three lists of websites and apps that can be allowed or blocked and choosing the times of the day to allow them. However, Bark does not track how much time a child uses each of them.
verdict

Using time management options for OurPact is easier because they are more straightforward and understandable. The functionality of this option in Bark is almost the same, but the range of choices is wider and more complicated.
Texting Management
This solution in OurPact allows you to block texting apps if you don't want your child to use them. However, Messages on iOS remain unblocked anyway. Therefore, no text monitoring is available here. Nevertheless, this kind of monitoring could be more favorable among parents, so the company will not develop this feature in the future.
Due to its AI-powered algorithms, texting management in Bark is more effective. For example, the program can see the slang and acronyms for rude language and abuse and send you alerts via email.
verdict

Using Bark for texting management is more efficient because it allows blocking texting apps and social media if the slightest traces of inappropriate language are noticed.
Location Tracking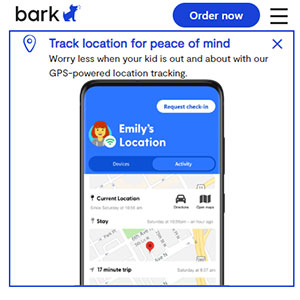 The Bark is meant to establish trust between parents and children. So, the only way of location tracking is by requesting a check-in. You can send a notification to your child's device, and the child opens the app by pressing the check-in button. Then, you receive an alert on your mobile that shows your kid's physical location.
Unfortunately, Bark does not have geofencing, which may be useless for younger or irresponsible kids who prefer to pay little attention to their parents' notifications.
verdict

Location tracking and geofencing make OurPact a more reliable option if you want to know every detail of your child's moving around. The Bark is meant to build trust. So, your choice depends very much on your parental methods and individual beliefs.
Extra Features
Bark's notable extra feature is providing weekly activity reports to your email. Unfortunately, they give little detail about the exact times your kids are using the Net and the sites they have been visiting.
Instead, you can only see the general information about your kid's preferences and activities online, which were allowed or blocked during the week. Many parents, however, believe that these reports could be more helpful. Again, though, it's up to you to decide.
verdict

Extra features provided by OurPact are more valuable. They depend on the pricing plan, too. As for Bark, its extra features aim to establish trust between parents and children, and you may consider them helpful or useless.
Final Thoughts
Internet safety is a fundamental problem all family members must be aware of. Only honest and straightforward communication can be favorable for your kids, either tweens or teens. Blocking access and restricting some uses are often necessary for younger children. However, it cannot be a long-term solution. You need to teach your little ones how to stay safe online.
That is why Bark is a more desirable choice because it does not impose too many restrictions on your kid's privacy. Moreover, it is easier to install and has a higher customer satisfaction rating. It also provides unlimited access to all your family members. Of course, its price is a bit higher than for OurPact and other apps, but such a cost is well worth it.