Avira vs. Norton – Comparison review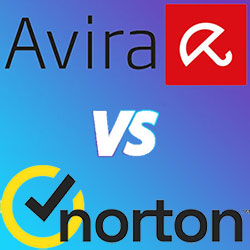 Cyber protection has become a real pain for most Internet users. Every day thousands of new threats appear. So, it is essential to find an antivirus that is able to protect digital devices in real-time, tracking the changeable world of worms, Trojans, spyware, rootkits, etc.
It should not only scan and remove the threats but also protect the user privacy, should work perfectly during different modes and supports a lot of software types. That is why the two best examples of antiviruses will be described and compared in this article.
So, let's find the best one and understand why.

Avira vs. Norton – Comparison table
| | | |
| --- | --- | --- |
| | | |
| Purpose | Antivirus | Antivirus |
| Supported OS | Windows, Mac, Android, iOS | Windows, Mac, Android, iOS |
| Mobile/ Tablet version | | |
| Internet protection | Ransome, Adware, Spyware, Hacking, Phishing, Rootkits, Trojans, Worms | Viruses, worms. Malware, ransomware, spyware, adware, Trojan horse, phishing, pharming, rootkits, downloader, and many more. |
| Real-time protection | | |
| VPN | | |
| System optimizer | | |
| Password Manager | | |
| Automatic Software Updates | | |
| Safe Browser | | |
| Gaming mode | | |
| Firewall | | |
| Parental control | | |
| Business version | | |
| Free version | | |
| Dark Web Monitoring | | |
| Money-back guarantee | 30 days | 60 days |
| Free trial | | 7 days |
| Technical support | Community help / email / phone | Community help/ phone/ email/live chat |
| Additional features | Safe Shopping extension for the best deals | Backup cloud storage / PC safe cam |
| LINK | Check Price | Check Price |
Main differences between Avira and Norton
Avira and Norton have similar excellent results in tests performed by different IT specialists. But these antiviruses are not the same and differ in the availability of some features:

Norton has dark web monitoring. Avira misses this feature.
Norton has parental control. With this function, parents can see all their kids' online activities, including screen time and visited websites. Avira does not have this feature.
Norton has a PC safe cam to prevent access to cybercriminals. Avira does not provide this feature.
Norton has a better smart firewall to monitor incoming and outgoing traffic. Avira does not have these functions.
Norton has an automatic cloud backup to prevent the loss of any files because of online threats, hard drive problems, accidental deletion, theft, etc. Nothing similar is for Avira users.
Avira has a file shredder, while Norton does not have it.
Avira and Norton have different privacy protection solutions.
Avira has a free shopping application to find the best deals. Norton does not have such a tool.
Avira has a tool for automatic software updates to keep protection on a high level.
The provided list of differences between Avira and Norton shows that Norton has more tools than Avira. Still, there are also some other differences in the same features described below.
Avira and Norton – Overview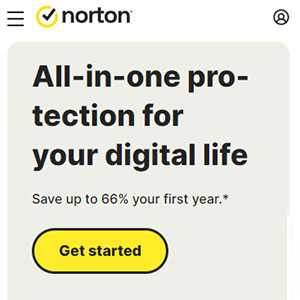 Norton Antivirus is on
top of antivirus and malware solutions
in all cyber reviews, promising 100% protection. Since 2014 this antivirus has received a lot of rewards and top ratings among user's reviews. It has
real-time protection from malware
, ransomware, Trojans, and other threats, a smart firewall, VPN, and a password manager.
This firewall monitors both sent and received traffic to stop the outside attack on your computer via an Internet connection. The user will receive warnings and recommendations for further actions in case of any suspicious situation.
Norton has several unique features that Avira does not have. A feature of dark web monitoring is not limited to email addresses but also monitors sensitive information (credit card information). Another unique future is available with the Deluxe plan and higher – a parental control to restrict access to the websites for kids of different ages – the access is provided through a separate web window. And the last one is safe files back up in the cloud storage on Norton servers (available only for Windows users). Norton has business proposals for small businesses with up to 20 devices for Windows, Mac, iOS, and Android.
Norton has business proposals for small businesses with up to 20 devices for Windows, Mac, iOS, and Android.
Avira vs. Norton – Face-to-Face comparison
Both antiviruses could be recommended based on the significant number of features presented in the table above, but let's see their pros and cons in detail. All described features of Avira and Norton are available only in Prime and Select versions correspondingly. Other versions have only a limited set of tools.
Antivirus scanner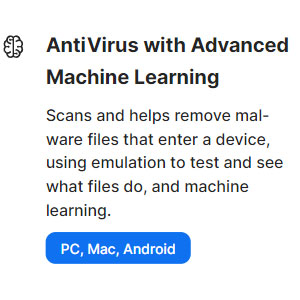 Norton offers several types of scans: quick scan for key areas, full system scan for the entire computer, and custom scan for suspicious flagged areas. A full disc scan takes, on average, about forty minutes. But your computer may experience some slowing down during a full scan. All scans can be scheduled daily, weekly, or monthly.
The latest software research showed that Avira blocked 99.98% of the latest malware and viruses, while Norton antivirus blocked 100%. Unfortunately, Avira also showed several false positive threats.
verdict

Avira and Norton have similar scans, but Norton is better at detecting the threats – 100% versus 99.98% of Avira.
Protection options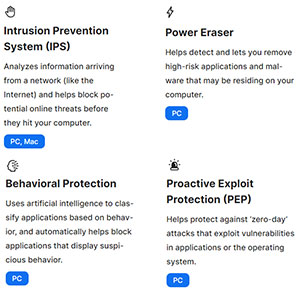 As a top antivirus, Norton has
real-time protection
using Artificial Intelligence (AI) machine technology to monitor all threats. Norton
can protect from all known online threats
including viruses, malware, worms, spyware, rootkits, malvertising, phishing, banking Trojans, coin-miner, unwanted browser extensions, script-based attacks, keyloggers, tech support scams, and many more.
Norton prevents downloading any additional malicious software and uninstalls apps or browser extensions if the threat is known. For Norton users, a safe web browser extension for Chrome, Microsoft Edge, Safari, and Firefox is available. The real-time protection includes analysis of online threats before they enter your device by intrusion prevention system, the deletion of malware based on the emulation, and exploits protection.
The protection is executed also based on reputation insight information and risky behavior. Norton Antivirus has a unique tool for removing all threats, including the difficult-to-detect – Norton Power Eraser. For complicated cases, you can contact Technical support. All Norton Antivirus packages have a 7-day free trial to try excellent tools.
verdict

Both antiviruses propose real-time protection of different online threats with different technologies. There is no significant difference in results; your computer will be fully protected neither with Norton nor Avira.
Supported OS
Avira Antivirus proposes an antivirus solution for Windows, Mac, Android, and iOS. It could be installed on PC, mobile phones, and tablets.
Avira minimum requirements:

Windows
Mac
Android
IOS
OS
Windows 7, 8, 8.1, 10, 11 (32- or 64- bit) or later
MacOS 10.13 or later
Android 6.0 or later
iOS 8 or later
Processor
Athlon 64 or Sempron or later
64-bit single core
RAM
2 GB
2 GB
Hard drive space
2 GB plus space for quarantine files
2 GB
To start working with Avira, you need to download it from the site or for mobile devices from Google Play Store or Apple App Store. To install correctly, please follow the instructions, and you can use the antivirus right after installation.
Norton Antivirus supports the following OS: Windows, Mac, Android and iOS.
Norton minimum requirements:

Windows
Mac
Android
IOS
OS
Windows 7, 8, 8.1, 10, 11 (32- or 64- bit) or later
MacOS 10.10 or later
Android 8.0 or later
50 MB storage
iOS 10 or later
Not supported features
All
Norton Cloud Backup, SafeCam, and Parental Control are not available.
All
The installation process of Norton Antivirus is easy, and all recommendations are available in the installation manual. The usage of Antivirus is possible immediately after installation.
verdict

There is no winner in this comparison. Both antiviruses are workable on a very close number of Windows, Mac, iOS, and Android OS versions.
VPN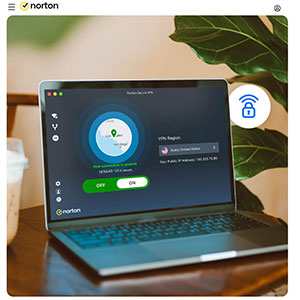 Norton has a fast VPN, too, for additional privacy and security on the Internet. You can also buy this VPN separately (29.99 $ for the first year / 1 device). You can select the region and see your public IP address, or it will be assigned automatically. It will automatically secure the connection using public Wi-Fi and securely connect you to your favorite website or mailbox in anonymous mode. Encrypted tunnel masks all personal information, and the kill switch function automatically disconnects the Internet during its abruption (Windows and Android only). Norton does not store logs or its users' online activity for further use. No tracking is possible with Norton VPN.
verdict

VPN service available for both antivirus users has limited features compared to standalone products of other companies. Nevertheless, tests showed that VPN from Avira has a higher speed.
System optimizer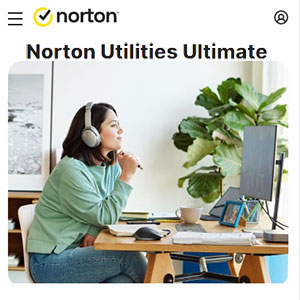 Norton
also includes standard device optimization tools, but you can purchase Utilities Ultimate to receive upgraded ones.
The standard tools include disk optimization with defragmentation, deletion of temporary files from HDD and Browsers, and closure of unnecessary programs during startup.
verdict

Avira is better in system optimization, as it cleans not only temporary files, but also cookies, duplicate files. Also, Avira optimizes even in real-time.
Privacy optimization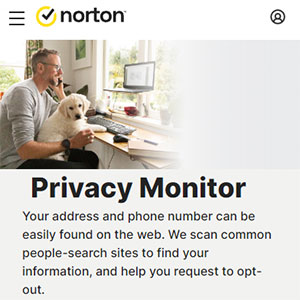 Norton has a privacy monitor to check in more than 25 databases for the presence of your personal information on the Internet. With this info, you can delete your data where it is required.
verdict

Norton and Avira provide different privacy protection mechanisms – Norton proposes to delete the data already on the Internet. At the same time, Avira helps to prevent data from appearing on the Internet. However, both solutions are workable, so there is no winner here.
Password manager
Norton
password manager helps to create complex passwords that are difficult to hack. It also stores all your login details for all accounts. Access to the manager is performed through two-factor authentication. In addition, Norton has dark web monitoring, which is available through a separate web page. It scans personal data on the dark web: bank accounts, phones, credit cards, addresses, driver's licenses, and insurance.
verdict

In the comparison between Avira vs. Norton, Norton is the winner, as it allows for monitoring account details on the dark web. The security options for both managers are the same.
Mobile version
Norton
has a perfect mobile antivirus application as well. Android app has more features than iOS. The available features for mobile versions users are Wi-Fi secure to notify regarding unsafe public networks and protect your device within it; internet security including safe browsing to protect the mobile phone from malware, ransomware, adware, trojans during your work in a browser, mailbox, social networks; notification of the latest updates; SMS security to filter phishing attacks.
Android users also receive a privacy advisor informing about privacy risks, an adware advisor informing about suspicious apps to be downloaded from Google Play, and a privacy report interactive map.
verdict

Both antiviruses have mobile applications with most features of PC versions. No winner is here.
Price
Norton
does not provide a free version for all types of users. Instead, the user is proposed several tariff plans based on the number of protected devices and the size of backup cloud storage. All plans include spyware, malware, ransomware protection, antivirus, real-time protection, cloud backup storage (different space available), smart firewall, password manager, parental control, and schooling time (pausing the internet while the kid is at school).
The Norton Standard includes additionally secure VPN, PC safe cam (to protect PC camera from Third Parties), and dark web monitoring. The Norton Deluxe includes all from Standard plus privacy monitoring. Finally, the Norton Select includes everything from Deluxe plus Lifelock identity system, stolen wallet protection, ID verification, and credit monitoring.
Avira
Norton
Free
Yes
No
First package
Antivirus Pro for 1 PC
14.99$ / First year
51.00 $ / The following year
Norton Antivirus Plus for 1devices
2 GB cloud storage
19.99$ / First year
59.99$ / The following years
Second package
Internet Security for 1 PC
18.99 $ / First year
66.00 $/ The following years
Norton 360 Standard for 3 devices
2 GB cloud storage
39.99$ / First year
84.99$ / The following years
Third package
Prime version for 5 devices
32.99 $ / First year
113.00 $/ The following years
Norton 360 Deluxe for 5 devices
50 GB cloud storage
49.99$ / First year
104.99$ / The following years
Forth package
No
Norton 360 with LifeLock Select for 10 devices
250 GB cloud storage
99.99$ / First year
179.99$ / The following years
Mobile versions for iOS
Mobile Security Pro
9.00 $ / Year
Prime Mobile for iOS
37.00 $ / Year
Mobile security for Android for 1 device
14.99 $ / First year
29.99$ / The following years
Mobile versions for Android
Mobile Security Pro
12.00 $ / Year
Prime Mobile for iOS
37.00 $ / Year
Mobile security for Android for 1 device
14.99 $ / First year
29.99$ / The following years
verdict

Avira is more affordable than Norton; it has one of the best free versions on the market, so it is the winner.
Game mode
Avira proposes a special game mode to maximize antivirus performance while you are gaming to protect. It closes all necessary programs and services in the background and optimizes CPU performance.
While Norton has a unique subscription for gamers – Norton 360 for Gamers (44.99$ for the first year, 3 devices including smartphones), this package includes Game Optimizer to provide the best CPU performance for games without lags and slowdowns and to close other slowing down programs in the background. Other features are similar to other Norton Standard Package. Parental control allows setting screen time limits and blocking inappropriate games. When playing in the full-screen mode, the antivirus will automatically silence all notifications except security alerts – this is provided by the Notification optimizer and full-screen detection mode.
verdict

This feature for both antiviruses is the same and gives similar advantages – no winner. The only difference is that Norton uses the parental control feature to limit screen time and access to some games for kids.
Conclusion
Even though the face-to-face Avira vs. Norton comparison showed that Norton is ahead of Avira, especially with real-time protection and scanning activities with 100% efficiency, moreover also has some functions that Avira even does not have – parental control, PC camera protection, dark web monitoring, and backup cloud storage. Avira Antivirus Pro is also a good solution with an affordable price as it includes, in addition to Antivirus also, web protection, and email security. Additionally, Avira proposes one of the best free antiviruses on the market, including free device optimization and password manager. So, if you have a tight budget and do not need a lot of features, then Avira is a good choice; for complete protection, Norton is a perfect choice.