Qustodio vs. Bark – Comparison review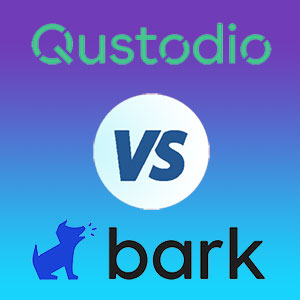 Every day kids become more addicted to the Internet on all devices: smartphones, PCs, tablets, play stations. They do not only study; they play games and interact with their friends online, but the Internet is full of content that can harm children's minds and cause threats to their privacy. Therefore, it is essential to monitor their activity and develop proper digital habits.
Digital devices are one of the reasons for sleeping and mental health problems, bullying, and online predators. The research showed that teens from 13 to 18 years old spent about 9 hours a day online. There are many applications available for parents to help kids surf safely. Knowing parents have remote access to their phones leads to more thoughtful mobile device custom.
One of the most qualified ones on the market is compared in this article, Qustodio and Bark. Also, you can check the previous comparison of Bark with Famisafe.
Qustodio vs. Bark – Comparison table
| | | |
| --- | --- | --- |
| | | |
| Purpose | Parental control for digital devices | Parental control for digital devices |
| Number of protected devices | 5-15 devices | Unlimited devices and users |
| Number of application monitoring | Not specified | 30+ |
| Website filter | | |
| Managing screen time | | |
| Alerts for accessing improper content | | |
| Alerts for improper communication | | |
| Location and check-ins updates | | |
| Texts, emails monitoring | | |
| Available in countries | 180 countries | USA, South Africa, Guam, Australia |
| Language support | 8 languages | English, Spanish, Afrikaans |
| OS support | Windows, Mac, Chromebook, Kindle | Windows, Mac, Chromebook, Amazon Fire tablet |
| Mobile application | iOS, Android | iOS, Android |
| Price plans | Paid / Three options | Paid / Two options |
| Free trial | 3 days | 7 days |
| Technical support | | |
| Additional features | Handy suggestions for kids on how safely use the Internet | Recommendations of psychologists based on digital content analysis |
| Other proposals | School monitoring | School monitoring for free and filter for the router |
| LINK | Check Price | Check Price |
Main Differences between Qustodio and Bark
At first glance, these two applications have similar features, but there are some main differences:
Qustodio geolocation feature provides you better control than Bark. You can set safe fences for your kid in the Qustodio app; you will receive automatic alerts outside them.
Qustodio monitors calls for Android users. Bark does not offer this feature.
Bark monitors more than 30 applications, while Qustodio only has some.
Qustodio has a panic button to alert a parent or a relative quickly. Bark does not support this function.
Qustodio is available in 8 languages; Bark now only has three.
Qustodio has a free option to protect one child's device; Bark has only 7 days' free versions – further, you need to pay.
Bark monitors automatically videos and photos; Qustodio cannot do this.
Bark encrypts all content and personal data that goes through the application; Qustodio is protected only by password.
Bark values the children's privacy and gives only details of harmful content; with Qustodio, you can access the whole story.
Bark supports their customers with live chat, emails, video tutorials, Facebook group, and helpful articles; meanwhile, Qustodio only has videos, forums, and technical support for premium clients.
Bark provides recommendations of psychologists for your kids based on his online preference, while Qustodio offers tips for kids on how to safely surf the Internet.
As you see, these two applications have an equal number of differences that do not lead to the significant advantage of one program. The verdict depends on your values.
Face-to-face comparison Qustodio vs. Bark
Overview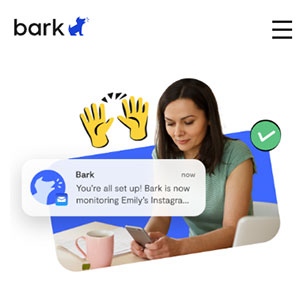 Bark application uses machine learning to analyze context to detect potential problems in the online world for your kids, not only keywords; that is why this application has already achieved
6 million downloads
worldwide. With this application, parents can protect kids from depression, harassment, bullying, self-harm, and all other Internet threats. You do not need to go through thousands of website pages and hundreds of YouTube videos to check if the content is appropriate for kids or not; the application does that for you.
The incredible feature of Bark application is that it keeps the kid's privacy; you cannot reach the full content of a conversation, and you receive the notification with a sentence where the alert was found. Bark can monitor about 30 applications, including YouTube, Snapchat, and Facebook Messenger.
You can not only filter and block the websites (specific ones or per categories) and monitor Internet usage, but you can block access to the Internet itself. With Bark, you are not limited to a number of monitored devices.
verdict

The general review of two applications, Qustodio vs. Bark, does not show the straightforward leader. The only difference that can be important for some parents is that Bark keeps the children's privacy and gives the parent only a snap of the conversion with potential issues, not the full content.
Supported devices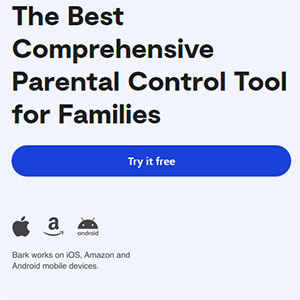 Bark is able to support Windows (version 7,8,10,11 64-bit only), Mac (OS X from 10.11 or later), or Chromebook (launched later in the 2019 year) that has Google Chrome or Microsoft Edge Browsers.
For PC monitoring, you need to install Bark for the Chrome extension. Bark also can be installed on Amazon fire tablets using Amazon App Store to monitor kid content there. Bark can be installed on smartphones – iOS (version 11 or later) and Android (version 5 or later).
For iOS, the installation process is more complicated; please check the corresponding tutorials on the official website. To monitor all iOS devices, the parent needs to use the Bark Desktop App on their PC; the application will create a backup of the apple device on the computer. Also, the iOS monitoring functions are limited due to the closed settings of the iOS system itself; Android users have more features.
verdict

Both applications support a similar number of PC and smartphone OS. Both applications are excellent cross-platform solutions. In addition to the main PS (Windows, Mac, iOS, and Android), Qustodio can support Kindle, while Bark can support Amazon Fire Tablet. However, both applications have limitations in features and different installation processes. So, no winner at this point.
Features

Qustodio has many features to make children's protection reliable and comfortable:

Monitoring emails. Spam, phishing, and harmful emails will be flagged, and a notification will be sent to a parent. You can also control all ingoing and outgoing emails.
Monitoring social networks (Tik Tok, Snapchat, Facebook, Instagram, etc.).
SMS messages monitoring (for Android users only) and call logs. Parents can read the SMS content and make a blacklist of phone numbers.
Limit unwanted account money spending. Many games make money transactions from parent's accounts to buy additional weapons for heroes if you connect your credit details to the kid's account. The Qustodio has a feature to lock purchases inside the games. This also teaches kids to value money.
Search for certain words. You can search for certain words that can appear on the website page from which you want to protect your child. The identified post or website with this word will be blocked.
Safe search feature. This feature allows restricting safe engines from showing content unsuitable for kids.
Website filter. Parents can categorize the websites per content and set each category one of the three statuses – "allow, alert me, and block."
Screen-time limitations. Parents can create a daily usage schedule and limit screen time. You can make meals and bedtimes out of online activities.
Applications and games control. Parents can set time limits or block applications entirely. You can see the report of your kid's daily usage.
Tracking a kid's location with GPS. With a high level of accuracy, parents have an opportunity to check the children's location in real time and receive reports of visited places. Also, a parent can disable functions to add geolocation to social media posts.
Privacy protection. The application prevents kids from posting embarrassing information about themselves.
A solid protection of the blocking mechanism. Even highly technological kids can't bypass Qustodio blockages. But a parent should keep a secret password and change it regularly.
Panic button. Kids can access a panic button from the installed application on their device that will give an immediate alert to the closest parent.
Handy suggestions. Kids can receive handy suggestions about safety and activity on the Internet; parents can receive advice about their children's time spent.
Reporting. The application can create daily, weekly, and monthly reports of your kid's online activities.


The list of Bark features is also impressive:

Photos and video monitoring
Text monitoring. Bark can monitor even deleted texts on Android devices.
Real-time alerts in applications and emails.
Website filter. You can block websites per category (for example, gaming or sexual content, in a total of 19 categories) or one by one. The application sends traffic through the VPN, blocking even downloading unwanted websites.
Screen-time limitation. You can schedule Internet usage by setting specific activities (school, free time, bedtime), days, and times. You can limit specific application usage in this regard. For phones and tablets, the screen time management feature works only from companion apps for iOS and Android and for other home devices only through Bark Home (other products from Bark, see below).
Internet access pausing. This function disables full Internet access for the required time.
Application usage limitation. You can schedule the application usage time.
iOS content monitoring. This feature is available only with Bark Premium plan.
Check-ins and location sharing. If you want, you can receive automatic alerts when the kid arrives or leaves the school.
Safe search. This feature limits search options only to safe content and can be set separately on search engines (Google, Bing, DuckDuckGo) and YouTube.
Detailed report. The parent, through his application, can check visited and installed applications, top conversations, and screen time activities (analysis for blocked and allowed per categories).
Sensitive settings. Additional detection algorithms can be added in parental application settings to receive alerts even when kids are joking regarding suspicious content.
Ecommerce shopping blockage. This block restricts unexpected usage of account money on all eCommerce websites (Amazon, eBay).
App store blockage. This allows you to block updates and downloads from the mobile application stores without coming to you first.
Security and privacy. All databases, Internet sessions, and servers are encrypted. All data is anonymous, with no access to Third Parties.
verdict

Bark and Qustodio have main features such as website filter, games, screen-time limitation, location sharing, application, and SMS monitoring. Meanwhile, each application has a set of unique features. Qustodio's outstanding feature is a panic button to help kids connect to parents in emergency cases. Bark's significant feature is the encryption of all information from the Bark application. So, it would be best to choose what is crucial for you – there is no obvious winner here.
Installation Guide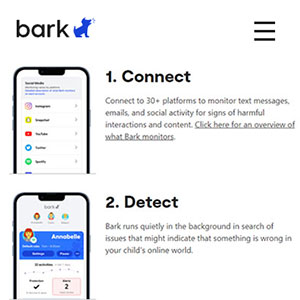 The Bark parental control application installation has the following steps:
Creation of an account and registration for the required payment plan on the official Bark website.
If you are a parent, you must install the application on your mobile device or use the Chrome Browser extension.
You need to download a companion application on their device (mobile, tablet, Chromebook) for kids.
Log in on both devices and synchronize.
Customize all features on the child's device and set the password.
Activate location monitoring feature on kid's device.
verdict

There is no principal difference in Bark vs. Qustodio installation steps. The process is easy, with detailed guidance on both official websites. There is no winner.
Price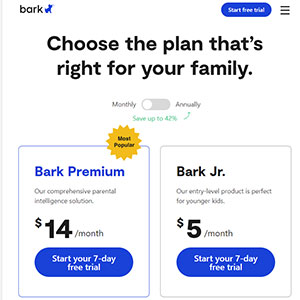 Bark has only two options for subscription based on the provided features. Bark Junior can manage screen time, filter websites, and provide information about kids' geolocation. No limitations of connected devices to the Bark application are set on both tariff plans.
In addition to Junior, Bark premium will monitor text, emails, and more than thirty applications and provide alerts for set keywords (like drugs, sexual content, or violence). No free versions are available; only a 7-day free trial period.
Qustodio
Bark
Option 1
Small – 5 devices
54.95 $ / year
4.58 $ / month
Bark Junior
49$ / year
5$ / month
Option 2
Medium – 10 devices
96.95 $ / year
8.08 $ / month
Bark Premium
99$ / year
14$ / month
Option 3
Large – 15 devices
137.95 $ / year
11.5 $ / month
None
verdict

Qustodio is a winner if you have a limited number of devices (for a small family); for the same price as Bark, you will have an all set of application features. But for large families, Bark Premium is a better choice with an unlimited number of monitored devices, as Qustodio is limited to 10 devices.
Other products from Qustodio and Bark for parental control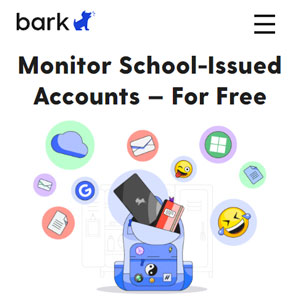 Bark delightedly proposes
two additional applications for children
monitoring – Bark for schools and Bark Home. Bark for students is a free program to protect students from violence, drugs, bullying, phishing, and online threats; it scans Google Workplace and Microsoft 365 accounts, including chats, files, and emails. It also has features from the main program – web filter, reports, and privacy protection.
To connect to this program, you need only 15 minutes for installation and account creation. Bark Home is not only an application but also small hardware connected to your home Wi-Fi router. Bark home devices can manage all Internet devices at Home – Smart TV, gaming console, tablets, and cell phone. These application features control the overall Internet usage at Home, the possibility to set a schedule for devices, and blockage of websites and specific applications.
Bark Home hardware with installed software costs 79$, and no extra fees after is required. Furthermore, bark Home does not slow down the Internet speed; it supports Internet up to 1 Gbps.
verdict

Bark is the winner in this competition as it can propose a free application for students and a Home program that can support all Internet devices. But the Qustodio application for students has more features, which is why it costs some money.
Conclusion
In the completion of Qustodio vs. Bark, there is no winner. Although both applications are the most outstanding parental control programs with similar essential functions and valuable add-ons, each application has outstanding features in its way.
Qustodio gives parents the full picture of conversations and visited websites, while Bark also supports more applications, videos, and photos.
Also, Bark is more affordable for big families. So, it is better to choose your family's values and check all the features proposed by these apps step by step. No matter what app you choose, Qustodio or Bark it will be a perfect choice.