Dropbox vs SharePoint – Comparison review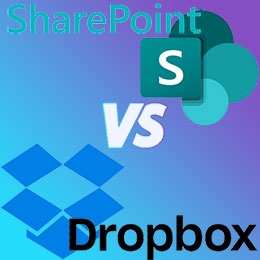 Digitalization of our life is due to having several devices to access the Internet, used for work, fun, or education. During Internet surfing, you need to download files, store them, create reserve copies, and share them with family, colleagues, and friends. Previously this was solved with portable memory devices – floppy discs, discs, USB flash drives, HDD, or SSD.
But this solution is limited in its capacity; it requires a physical capacity to exchange information, the devices can be easily broken, and the information can be lost. That is why new virtual storage solutions are much more preferable and provide additional features described below.
Here the most popular cloud programs are compared – Dropbox and SharePoint.
Comparison Table
Purpose
Share, store, and protect files
Creation of intranet sites with team's sharing information
Cloud storage space
2 GB free space
Paid no limitations
From 1 TB per user to unlimited
File recovery
From 30 days and more
With administrator rights – 93 days
Large file transfer
From 2 GB and more
Up to 250 GB
File locking and sharing control

Automatic back up

Security monitoring

Supported OS
Windows, Mac, Linus, iOS, Android
Windows, Mac, iOS, Android
Encryption
256-bit AES / SSL/TLS
AES 256-bit
Number of users
Depends on the tariff plan
From 1 to unlimited
Depends on the tariff plan
From 1 to unlimited
File request

History review
From 30 days and more
14 days
Electronic signatures

Tariff plans
6 options, including professional solutions
3 options for business and enterprises
Managing group control

Web previews

Technical support
Email / chat / phone
Email / chat / phone
Additional features
Integration with Zoom, Slack, Canvas, and other 5 programs
Integration with other Microsoft Office 365 programs
LINK

Check Price

Check Price
Main differences between Dropbox and SharePoint
Dropbox and SharePoint, in general, are two different programs with only partly similar features. For example, Dropbox is designed to share, store and manage files within a team, while SharePoint can do this, but preliminary, it is designed to create site pages with more than files stored there (with photos, application links, requests forms, task assignment tools). In addition to this, there are other different features:

Dropbox has a free version that allows everyone to exchange files using this platform, while SharePoint is available only with a paid subscription. SharePoint is a too expensive solution to use only for file-sharing in general; Dropbox is more affordable.
Dropbox allows the creation of folders synchronized with Dropbox folders; SharePoint does not have this feature. This feature allows Dropbox users to access files during offline work if the corresponding feature is activated.
SharePoint seamlessly integrates with all Microsoft products, while Dropbox only integrates with a few.
Dropbox administrators maintaining the service can delete files from free inactive accounts. So, you should not leave your information abandoned for a couple of months. SharePoint does not clean the content of the SharePoint accounts.
SharePoint has more employee training features, while Dropbox is easy to use.
Dropbox and SharePoint – Overview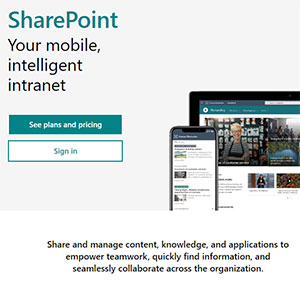 Microsoft SharePoint
is another cloud program for the team's work that allows to exchange, share, and store files and other variety of needs with the creation of fully functional intranet websites at the end. This program lets team members stay informed about the latest company news. SharePoint organizes two platforms – communication and team site. You do not need to know any coding to create the Site. SharePoint provides access only for business users; if you want to store and share files and folders for personal use, another Microsoft Program – OneDrive, is a better choice.
The team site is used for sharing the content, apps, tasks, and information daily with updates and notifications for defined team worker's groups connected to Microsoft Teams; other Microsoft 365 programs are also available. Communication Site is used to share information with a large audience with visualization options; Microsoft 365 programs are unavailable. Editors or authors mainly use it with access to edit content there, but the broad audience only has view access. Both Sites are easily adjusted to any mobile device, not only PCs.
verdict

The verdict is that both programs are top-rated, as vast Microsoft Business Auditory uses one, and another has a free version and is easy to use. On the other hand, SharePoint and Dropbox are reliable and convenient cloud programs, no winner here.
Dropbox vs SharePoint – Face-to-face comparison
Supported devices
As a Microsoft program
SharePoint
is supported by all Windows versions (7,8,8.1, 10, Vista versions) and Windows for Mac. There is a mobile application for iOS (10.0 and later) and Android (4.4 KitKat or later) mobile phones and tablets. SharePoint works better in Internet Explorer and Microsoft Edge Browsers (but also works with Chrome or Firefox). SharePoint as Microsoft 365 program has integration with some Microsoft Programs:
Microsoft Teams for having group conversations and online meetings.
Microsoft Forms for creating new forms for questioning the audience.
Microsoft OneDrive for simple storage and sharing of files.
Web versions of many Microsoft Programs are available with Plan 3 – Outlook, Word, Excel, PowerPoint, Publisher for PC, and Access for PC. Some services are also available from Exchange, Skype for Business, Yammer and Delve.
verdict

The verdict is Dropbox is the winner. It supports perfectly not only Windows OS but Linus as well. Also, it has integration with a wide choice of programs, but if you are interested only in Windows Office, then Plan 3 will be the better choice for you.
Key Features
Dropbox has numerous features making beneficial usage of this cloud storage:


Files and folders sharing
Files and folders sharing (all types, including photos, large DWG, or zipped folders) allow you to send with a link to another PC, tablet, or phone without size limitations, depending on your subscription plan. For free primary users – 100 MB, for Professional and Business Users – up to 100 GB. No need to attach or compress files on purpose; all files can be accessed without downloading them by another user. If someone changes the file, you will get a real-time notification. You can organize cloud storage for comfortable teamwork by creating sharing hierarchy folders or providing other access for team members to shared folders. Also, it is possible to limit access to the folder to the required actions – view only, permission to edit, and access rights only with a password. Other high-level limitation features are available – setting an expiring date on the link, watermarking files, and verifying two-step.
Sync
Sync feature allows you to access files and folders on your Dropbox account from different devices. The synchronization is performed automatically but with backing up previous versions with a 30 days history (for some plans up to 180 days). When you are offline, you can still access the last available reviewed online versions of files and folders upon your preliminary choice in the application.
Storage
Storage feature allows you to save all types and sizes of files and folders and access them from multiple devices. The recovery is also available for all files within 30 (up to 180 days) days from the backup. All files stored in the cloud are safe from accidental loss and deletion with the Dropbox Backup feature, you can recover the exact required version. The whole Dropbox account can be rewound within a 30 days period (or longer) to recover from the virus threats or simply delete or change files. The user can set automatic backup of computer folders or HDD files to the cloud to access them from everywhere.
Security
Security feature of the Dropbox account is organized with special attention for personal and business use. To access the account, you have a password and PIN protection. If one of the synchronized devices from the Dropbox account is stolen, you can unlock it quickly in the Dropbox account in the devices tab. Dropbox also has a Password manager that autofill passwords for an unlimited number of websites for all synchronized devices.
Collaboration and productivity
Collaboration and productivity features are aimed at teamwork with Dropbox. All business content can be shared through the cloud, including agendas and working templates. Team users can leave comments, annotations, and notes on the documents. Dropbox also has other task management like task assignments, due dates, and corresponding tracking tools. Dropbox even has a doc scanner and optical character recognition. A HelloSign feature quickly and easily creates an electronic signature in Dropbox to simplify and streamline workflows. The provided list of main features is not limited to those mentioned here; depending on the free or paid version, you will receive other useful ones to make your life personal and work more manageable with this cloud storage platform.
SharePoint allows its audience to create intranet websites on the SharePoint platform for team usage, not only sharing and storing files and folders. A short description of the features is listed below:


Creation feature
Creation feature is a possibility to make your customized communication or team site; automatically, it will receive a group email address and a website address. You can define the language and access to your Microsoft 365 group or other users.
The Team Site start page may include information about accomplished tasks, quick links, a calendar, outlook inbox, notes, news relevant to the user managed by an administrator, frequently visited websites, and other valuable customized content. You can add different forms from Microsoft Forms templates on your site. Documents and other resources can be pinned to Microsoft Teams to grant access. At the same time, while you are in Teams, you can drag and drop files directly in your Team conversation, and the files will be synchronized on SharePoint in the General folder.
The Communication Site can be created when a small number of authors create the site for a large audience; based on this scenario, Microsoft designed a template for a communication site. This site has different features from a team site, for example, a countdown timer with a call to action button, places for photos, news, and social platforms (or any other external company/team resources), no shared calendar, and no shared outlook inbox. The platform allows you to make navigation links, change the color pattern, and other options to look at this site professionally. The administrator grants access to site members, site visitors, and site owners.
Manage your team
Manage your team feature for task assignment. The user can create the list of tasks directly in SharePoint, creating a task list for different departments or colleagues from your team. The list will be reflected on the home page among activities. All group users can contribute to the lists who have access.
Storage
Storage feature for files and folders without creating the Sites but available for the team is available through the document tab; you can access many libraries. All files are automatically shared with your team and can be requested by them. If you want to work privately, change the settings to stop sharing. On Word, Excel documents, or forms, an electronic signature could be put with the Collect signature Microsoft workflow. The sites are automatically backed by every 12 hours, and the version history includes 14 days.
Security
Security feature is performed with encryption, remote cleaning of the SharePoint site, and password protection.
Stay informed
Stay informed feature is performed with encryption, remote cleaning of the SharePoint site, and password protection.
Entertainment
Entertainment feature is about reading the news from all sites you are a member of. With the function "saved for later," you can read exciting news and posts outside working hours.
verdict

The winner in the features comparison is SharePoint. It has almost all Dropbox features and allows you to create Sites with excellent visualization for team collaborations.
Installation Guide and first steps
To get a Microsoft SharePoint you need to have a school or work Microsoft Office 365 account. It is available inside the Microsoft 365 package; no additional installation is required, but you need to choose a subscription plan to access it.
After you open the application you will be proposed:

To create a Site or create a news post (to place on existing Sites where you have access)
To add content and download files, folders, photos, and news.
To customize the settings to make an appearance according to your taste.
To add permissions to your Site.
To broadcast the Site and start sharing among your team members.
verdict

There is no winner here; both programs are easy to download and install. The first steps are straightforward in both programs, but to use all functions of SharePoint, you need to watch some tutorials or get professional training.
Pricing options
Dropbox proposes six tariff plans for personal business uses. The official website presents a detailed list of features for all plans. Plans for business and solo workers have a 30-day trial period, personal plans do not have it, but the free version of Dropbox Basic with 2 GB space is available for everybody.
SharePoint is available only in the Business and School Microsoft Office 365 package and only with three subscription types. Plan 3 has a month trial period. No other free options are available.
Dropbox*
SharePoint*
Personal
Plus
9.99$ / month
2 TB space
1 user
Not available for personal use
Family
16.99$ / month
2 TB space
6 users
Solo-worker
Professional
16.58$ / month
3 TB space
1 user
Business
Standard
15$ per 1 user / month
5 TB space
3+ users
Plan 1
5$ per 1 user / month
1 TB space per user
Users not limited
Advanced
24$ per user / month
Space not limited
3+ users
Plan 2
10$ per 1 user / month
Space not limited
Users not limited
Enterprise
Per request
Space not limited
3+ users
Plan 3
23$ per 1 user / month
Space not limited
Users not limited
LINK

Check Price

Check Price
*Prices are provided for an annual subscription with monthly payments split through the year.
verdict

The winner is Dropbox here, as it has more tariff plans, including options for personal use.
Frequently Asked Questions
Is it possible to create public folders in my Dropbox?
Yes, it is. When you create a link to the file or folder stored in Dropbox, you can set access rights – "Anyone with the link." The access is provided only for a view without editing. The auditory will not see all other files from your Dropbox from this shared file or folder.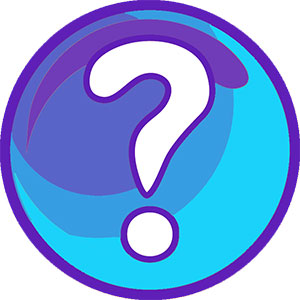 Can I access the file from Dropbox without having an account there?
No, you can't. You need to create at least a free account with a Basic version of Dropbox.
How can I recover a deleted file on the SharePoint Site?
Deleted files go to a site recycle bin and stay there for 93 days. An administrator can recover files from there to the original location. If you delete them from the site recycle bin, they go to the site collection recycle bin and stay there also for 93 days; they could be recovered from there as well by the administrator.
What is the difference between OneDrive and SharePoint?
OneDrive only shares and stores files in one library, while SharePoint has these functions and allows the creation of intranet websites with many additional features. OneDrive is for personal use, and SharePoint is for businesses and schools.
Conclusion
There is no obvious winner in comparison Dropbox vs SharePoint as they are incredible products but with different features.
If you need to share files, store them, do small previews and provide access to them for the small team or for personal use, then Dropbox is a perfect solution.
On the other hand, SharePoint is a perfect solution if you need to organize files, share them, assign tasks, and do this with some visualization options among a large audience. SharePoint has the main features of Dropbox, but you can't use it for personal use, so SharePoint is a solution for enterprises and businesses. You can download Dropbox for free and share links to your Dropbox account with everyone.