Bark vs Famisafe – Comparison review
Parental control becomes an issue for all families to limit Internet access for the kids. There are a variety of reasons to do so:

to manage online activities in terms of content and time;
to check the websites that the kids visit;
to provide additional cyber safety to digital devices to avoid undesired downloading viruses, malware, and worms by the kids;
to check the kids' social profiles and prevent their communication with strangers;
to provide access only to the activities according to their age;
to see their real interests based on their sear requests and in-time react to their potential problem.
The main idea of parental control is not about not trusting the kids; it is used to protect the kids from creepy and unsafe people who use online anonymity for harmful activities. All such programs allow keeping an eye on the kids without their noticing. This software can be installed on all digital devices: PCs, tablets, and smartphones.
The choice of applications on the market with different features is broad, and in this article, two popular programs will be compared in detail – Bark and Famisafe.
Bark vs Famisafe – Table comparison
| | Bark | Famisafe |
| --- | --- | --- |
| Logo | | |
| Purpose | Parental control for digital devices | Parental control for digital devices |
| Number of protected devices | Unlimited devices and users | 5 or 10 depends on the price plan |
| Number of application monitoring | 30+ | 7+1 |
| Website filter | | |
| Managing screen time | | |
| Alerts for accessing improper content | | |
| Alerts for improper communication | | |
| Location and check-ins updates | | |
| Texts, emails monitoring | | |
| Available in countries | USA, South Africa, Guam, Australia | 20+ countries (including some Europe countries, the USA, India, and Brazil) |
| Language support | English, Spanish, Afrikaans | English, French, German, Spanish, Portugal |
| OS support | Windows, Mac | Windows, Mac |
| Mobile application | iOS, Android | iOS, Android, Kindle, Chromebook |
| Price plans | Paid / Two options | Paid / three options |
| Free trial | 7 days | 7 days |
| Technical support | | |
| Additional features | Recommendations of psychologists based on digital content analysis | Set of speed limitations for driving kids |
| Other proposals | School monitoring for free and filter for the router | Paid school monitoring and Geolocation application |
| LINK | Check Price | Check Price |
Main Differences between Bark and Famisafe
These parental control applications have a lot of features in common: screen time control, website blocking, and location information.
But still, there are some features where Bark is unique and ahead of Famisafe:

Famisafe can monitor only seven applications for Android users and only one for iOS; the monitoring is executed via keywords (except YouTube). Bark, meanwhile, can monitor more than thirty applications in nineteen categories.
Famisafe does monitor only pornographic images downloaded on the phone and only harmful keywords. Bark can monitor SMS, emails, images, and videos based on sixteen harmful categories.
Bark proposes unlimited access to devices within one license, and Famisafe limits one license to ten devices.
Famisafe monitors only two Browsers – Safari and Chrome. Bark can monitor all Browsers.
Famisafe has no work limitations for iPhone users, while Bark users need to use a PC for kids' iPhone backing up to provide parental control.
Famisafe supports the function of speed limitations for kids that drive cars.
Famisafe has a function of parents contacting the kid's application.
As you can see, Bark is more functional in terms of many application support and quantity of monitoring activities, while the Famisafe application is better supported by iPhone and has some features that Bark does not have. No obvious winner in this difference comparison.
Bark and Famisafe – Overview
Bark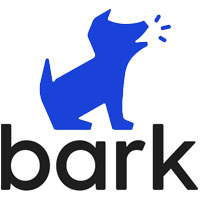 Bark is software from parents to parents for potential safety concerns of your kids. It can monitor SMS, texts, emails, and more than thirty applications (the whole list is presented on the official website), including popular social platforms such as Facebook, Instagram, Twitter, and YouTube.
When Bark detects danger, it automatically sends an alert in the parent's application with the description, but to value the kid's privacy, parents will not access the entire communication history. Bark offers parents recommendations of specialists based on the alert history about further dealing with the issue.
The application has numerous valuable features to ensure the healthy life of kids without spending the whole day in the digital world reading inappropriate content. More than six million kids are under Bark protection, and thousands of harmful situations were detected. All alerts, history, advice, and all other information regarding your family is adequately protected and SSL-encrypted without access to Third Parties.
Famisafe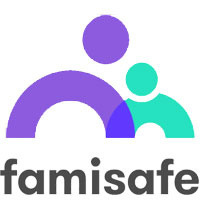 Famisafe is another software for parental control. Due to the increasing addition and curiosity of kids to the Internet world starting from three years old, all parents are concerned about online dangers. This application was designed to keep kids from cyberbullying, online crime, and pornography and increase healthy time spent by managing screen time and filtering website access.
The parent can see in the activity report which application was used, for how long, and what was done there. The parent also blocks applications per time and geolocation; for example, you can block game usage at school, but the kid still has a possibility to request from the parent access with a limitation of time. All reports for all functions are available for 30 days. The additional feature of geolocation helps to keep an eye on the safe location of the kid; you give information about the current location and the history.
If your kid is driving a car, there is a driving report, too; you can limit the speed limit for your kid! Finally, Famisafe on the kid phone has a function – find a parent – that could be useful in an extreme situation.
verdict

The overview of these two programs shows their reliability in terms of parental control. No winner in this comparison as well.
Bark vs Famisafe – Face-to-face comparison
Supported devices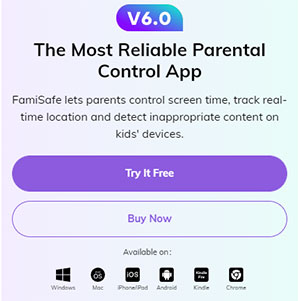 Famisafe
is available in the Apple store, Google Play, Amazon Appstore, and Chrome Store. It works on Windows and macOS PCs as a browser version.
The software is designed for mobile devices, mainly phones, and tablets, but parental control could also be installed on PlayStation, Kindle, smart TV, and other Internet access devices.
For example, Famisafe perfectly works on iPhones without limitations.
verdict

As described above, Famisafe can be used by iPhone users without limitations, not by Bark users. Additionally, Famisafe is available in a more significant amount of stores and can be downloaded on Kindle. For other supported devices, there are no significant devices. So, Famisafe is the winner. Additionally, Famisafe is the winner in a number of supported countries and languages (20+ countries vs. 4; 5 languages vs. 3).
Features
It is important to compare in detail what Bark and Famisafe can propose for parental control in addition to the table overview above.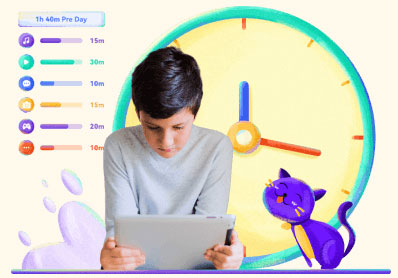 Famisafe
proposed to the parents also a set of valuable monitoring and managing functions:
It monitors YouTube and TikTok usage with the function of viewing the history and blockage channels or videos.
It protects from inappropriate sexual pictures downloaded in the kid's album by deleting them. The parent will receive an alert regarding the case. It also protects from toxic words (determined by set keywords) on popular social platforms.
It manages access to the websites and search results by setting filters per 10 categories on undesired ones (adult, violence, weapon, drugs, etc.). You can set the limitations and check browsing history from your application without accessing the kid's phone.
Famisafe can track kids' locations in real time and provide a history report. You can set geofences, and all time when they go out of this zone, you will receive alerts.
Famisafe also can work in real-time to provide an immediate alert to the parents.
Famisafe provides alerts to parents when a mobile device's battery is low.
verdict

As you can see from the detailed description, both applications provide similar features with minor differences. But, Bark is the winner as its algorithms for monitoring inappropriate content allow more intensive protection.
Installation Guide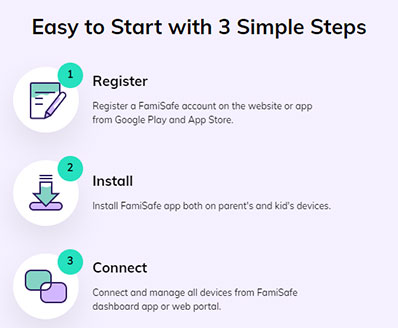 To start with Famisafe monitoring, your child's Internet activities are also very simple:
To register and purchase the Famisafe per chosen payment plan.
To download and install the application from Google Play or App store on your mobile device.
To download and install the application from Google Play or App store on your child's device.
To connect all devices for protection with pairing code.
To set a pin number for accessing the application.
To customize parental control functions and choose the background work of the application in the phone settings.
To turn on the real-time geolocation function.
verdict

As you can see, the installation process for both apps is the same and includes work with two devices – the parent and the kid. But, as the installation process for the iPhone is easier, Famisafe is the winner.
Price
Neither Bark nor Famisafe is available for free. But both have several subscription options.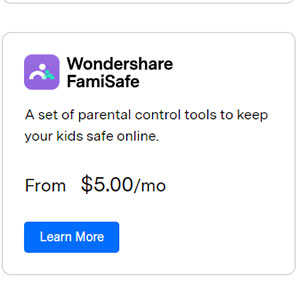 Famisafe
has only one version but three payment options per month/year, or quarter. The annual plan allows for saving 60%. With an additional one dollar to each option, you can add the Wondershare connection application.
Five devices can be protected within the monthly plan and ten devices within the annual and quarter.
| | Bark | Famisafe |
| --- | --- | --- |
| Light version | 5 $ / month / 49 $ per year | None |
| Premium version | 14 $ / month / 99$ per year | 10.99$ / month / 48.79$ /year / 20.99$ / quarter |
The price comparison shows that Famisafe is cheaper, especially annually, than Bark. As Bark Jr has limited functionality with cheaper monthly payments, Famisafe is the winner.
Other products from Bark and Famisafe for parental control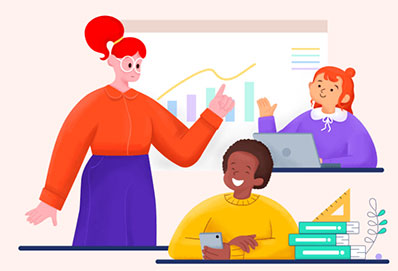 Famisafe creators recently announced an additional free application for the geolocation of the whole family –
Wondershare Geoconnection
. You can create temporary cycles for three days or constant cycles of friends and family members and share location information; this information is encrypted and will never be accessible to Third Parties. Each cycle can include up to 99 members. All locations are available in real-time and accurate based on GPS signals, except tunnels, basements, and other places with a lousy GPS signal. The application supports iOS and Android mobile devices.
Famisafe has an application for schools as well – Famisafe for schools (39.98$)– to protect, monitor, and alert students of the digital age. This application allows one to manage a group of students simultaneously, aggregate their data and set website filters and blockages while creating exceptions. The primary purposes of this application are to prevent students from distraction, cheating, and digital addiction and set a healthy balance between real and digital life.
Both Companies produce Famisafe and Bark has other appreciated products. All of these applications are an excellent addition to leading parental control apps. No winner here.
Frequently Asked Questions
Can Bark monitor improper images and videos?
Yes, it can. It monitors in the Premium version the content of all messages and attachments of more than thirty applications.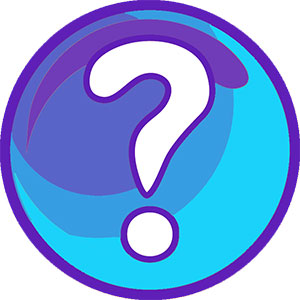 Does Bark decrease the speed of the Internet?
No, it doesn't. None of the Bark software slows down the Internet. If the request for downloading information from the website receives approval from Bark, the further connection between the user and the website passes Bark. Nothing will be downloaded if Bark doesn't allow the kid to transfer anything from the website as the content is from the restricted category.
Does Famisafe use the mobile device battery a lot?
Famisafe takes a lot of battery power only during geolocation monitoring. But anyway, the parent receives the battery status in the application and alerts for the low battery.
Can kids delete Famisafe or Bark from their mobile devices?
No. Famisafe and Bark can be deleted only using the password set by the parent during the installation procedure. All attempts will send an alert to the parent application.
Conclusion
For sure, any of the parental control apps can provide complete protection for your kids. Still, a good application can get close to absolute protection and definitely can prevent accidental exposure to inappropriate content. Some applications like TikTok and mobile devices like iPhones have built-in parental control functions to limit access to content categories. But obviously, the dedicated software allows quick and in one go perform all managing and monitoring actions. Of course, some genius IT kids can bypass the parental control application security layers and access the desired information. Still, due to the complexity of the process, this is available to a small number of kids.
verdict

Famisafe and Bark represent a perfect application with a required number of features for parental control, with no obvious winner in this comparison. Their choice of features is almost the same, but Famisafe works better on iPhones, but Bark monitors and manages more applications (about 30) and more categories of offensive content. Also, Famisafe is cheaper and works in quite a number of countries, while Bark only in four countries. So, the choice of application between these two should be based on your country of origin, the price, and the number of applications you want to track on your kid's phone. Also, if your kid uses an iPhone, you should be prepared to make a backup for the PC if you choose Bark, but instead, you will receive more possibilities for control and monitoring.