Top 7 Best Logic Pro Alternatives for Windows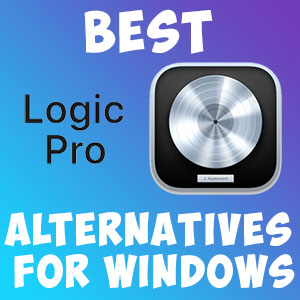 The era of orchestras and creating new cords in front of a piano is almost over; more and more composers choose a comfortable chair with a massive library of recorded sounds to create and mix something new. Many digital audio working stations (DAW) appear as software applications for usage on laptops, PCs, or even mobile. They can replace recording studios and provide high-quality sound. DAWs can be used for producing, recording, mixing, and editing music, podcasts, television speeches, and tutorials; you can add sound effects, manage tempo, playback, enhance sound, and more. They can combine hundreds of tracks in one, and you can control each separately on one timeline.
In the early 1990s, the Logic Pro platform was developed. In the late 80-s, Cubase (renewed in 1996) appeared. The first popular DAW is Ableton; the second is Logic Pro. But there are numerous others for MacOS, Windows, or Linux users, with different prices and functionality.
What is Logic Pro?
Logic Pro is the most famous Digital Audio Workstation (DAW) from Apple Inc. It is a creative tool for songwriters, DJs, and everybody interested in beat-making, track mixing, and editing. You can control the music making on Mac, iPhone, or iPad. It integrates with Dolby Atmos, Spatial Audio Tools, and other plugins. All created music can be extracted in audio format ready for Apple Music. For each track, there is a detailed navigation panel with 3D visualization. A new subscription costs $199.99, but only for macOS users.
Even though music creators highly appreciate Logic Pro, it has only 4.4 out of 5 in the Apple store. It has a user-friendly interface, a vast sound library, and a lot of plugins and virtual instruments and capabilities for audio editing. But it uses a lot of RAM, needs better interaction with digital consoles, frequent crashes, and complex file management. So, you may require an alternative.
Below is the table comparison of 7 alternatives for Logic Pro, which will be reviewed further.

| | | | | | | | | |
| --- | --- | --- | --- | --- | --- | --- | --- | --- |
| | Logic Pro | Cubase | Ableton Live | FL Studio | Reaper | Audacity | Adobe Audition | Avid Pro Tools |
| Free version | | | | | | | | |
| Free trial | | | | | | | | |
| Tutorials | | | | | | | | |
| Audio recording | | | | | | | | |
| Post Production | | | | | | | | |
| Cloud storage | | | | | | | | |
| Tracks addition | | | | | | | | |
| MIDI function | | | | | | | | |
| Plugins | | | | | | | | |
And for sure, for Windows and Linux users, the question regarding alternative software is open. In this article, seven alternatives for Windows music creators are reviewed with advantages and disadvantages. You can check if your hardware and software are suitable for installation, what functionality each program has, and how much a subscription costs.


Cubase is a powerful software to create, mix, produce, or repeat music. With this software, you can quickly increase the quality of your music and streamline your workflow to a professional level. Cubase is available for download in five different editions:

Pro,
Artist,
Elements,
AI (special compact version for customers of Steinberg or Yamaha products),
LE (mobile compact version for iPhone or iPad).
The main differences (Elements vs. Artist vs. Pro) in editions are the number of instrument sounds (1000 vs. 2600 vs. 3000), rack instruments (16 vs. 32 vs. 64), and audio and MIDI tracks (48 and 64 vs. unlimited for Artist and Pro). The program works on Windows 10 (64-bit), Windows 11 (64-bit) and higher, and macOS (Big Sur, Monterey, Ventura). The CPU minimum is four cores, Intel Core i5 or AMD Ryzen. For core installation, you need 1 GB of free space and 70 GB for storage of audio content.
The Pro version is available for $579.99 (81 audio effects and 18 MIDI effects), Artist for $329.99 (59 audio effects and 18 MIDI effects), and Elements for $99.99(45 audio effects and 0 MIDI effects). The Internet is required only for license activation, product registration, and installer download; the program does not require Web access. The purchased license works only on one PC; you should initially choose Mac or Windows.
The app allows one to produce music from start to finish. The program is built on a crystal-clear audio engine with a 64-bit floating resolution at 192 kHz. This DAW instrument proposes to create a new project or master, produce, and score existing one from the library. Each project menu has simple navigation: a project window for all tracks; an inspector on the left side; a low bar with record buttons, speed control, locator positions, metronome, pre-count, and tempo; and on the right side, a bar for a choice of VST instruments, effects, presets, loops and samples. You can add the track to your project window, which could be recorded audio (voice or instrument), an instrument from the library, a sampler, MIDI, effect, or group audio. If you choose an instrument, you will receive access to Retrologue where you can adjust all settings.
Pros
Five editions per every need
Advanced channel strip
MIDI Remote
Integrated vocal editing
Spectral comparison
Colorized mixed channels for easier visibility management
Safe start mode
Chord pads
Several metronome controls
Many virtual instruments (Retrologue, groove agent, sampler track, etc.)
New sounds, loops, and presets
Cons
No free version and free trial period
Difficult installation
A limited number of plugins
Complex management of multitrack recording


Ableton Live is a software to create music and make a performance. It is available in three editions:

The main differences between editions are the number of instrument software (4 vs. 6 vs. 17) and available sounds (1500+ vs. 1800+ vs. 5000+). Most of the other features are similar. The program works on Windows (Windows 10 and higher, Intel Core i5 or AMD multi core, 8 GB RAM) and macOS (High Sierra 10.13 to Ventura 13, Intel Core i5 or Apple M1, 8 GB RAM). For basic installation, you need 3 GB of free space on the system drive disk and up to 76 GB for storage of audio content.
The Intro version costs $99 (21 audio effects and 11 MIDI Effects), the Standard version costs $349 (37 audio effects and 14 MIDI Effects), and $749 for the Suite version (60 audio effects and 16 MIDI Effects). The license is registered for one user, but you can install the app up to two PCs. After purchasing the Intro version, you can upgrade it to a higher edition with a discount.
The wide range of features for making music on your PC is impressive. Ableton is a digital audio workstation that professionals and beginners can use. In the left corner, an explain button helps navigate and understand all app abilities. You always start from two MIDI tracks and two audios. You can record the music in the arrangement menu by adding and controlling each instrument, MIDI effects, drums, vocals, or sound into a timeline. Each track is presented horizontally (one layer); overall, it looks like a multi-layer structure. In another view – the session view – you can start and stop each track independently, allowing brainstorm your ideas and control live performance.
The library app includes recordings of the instruments (including brass quartet or string quartet) in live, electronic samples, or you can record your voice or drums (or any other instrument). You can record group audio or live concerts and adjust the sound in real-time. You can change the temp of your tracks to match each other or extract harmony. The program supports numerous physical devices like a MIDI keyboard, Roli Seaboard, etc.

Pros
Free trial for 90 days
Many tutorials and built-in explanation
Intuitive navigation
Good sound quality
Three tariff plans
Many available instruments, sounds, and devices in the library
Possibility to add own sounds and voice tracks, including group
Possibility to comp two and more audio
Two working views available (session or arrangement menu)
Tempo change in real-time
Live change of tempo
Cons
Lack of mobile support
Pro versions are pricey
Too many bars and beats in the view
Old-fashioned native software plugins


FL Studio gives precise control of each audio track providing an opportunity to create music masterpieces. The software can be bought in four digital versions:
fruity,
producer,
signature,
all plugin editions.
The most differences from the entry-level edition to the most advanced with all plugins are in the number of instruments and effects (from 84 to 111) and audio editors (from 0 to 3). All details of available effects ($49.00) and instruments ($69.00) are available on the official website. You can add to any of the editions separately all plugins and sounds, as well as a video player for synchronization with songs ($49.00). FL Studio works on Intel or AMD PC with Windows 8.1,10, 11, and older; you need 4 GB of space on your system disk and 4 GB of RAM. It also works on macOS (High Sierra and higher) (the same 4 GB hard disk space and 4 GB RAM are required).
You can use an unlimited, fully functional free trial where you can save your FL projects and export them as WAV, MPS, Video, MIDI, or FLAC. You will not have access to updates, diagnostic tools, and plugins. The Fruity version costs $99.00; the Products costs $199.00; the Signature – $299.00; and the All Plugins editions – $499.00.
FL Studio allows you to record many external devices like microphones, drums, synthesizers, and anything connected to your computer. For advanced users, you can add to your track effects or mixes. Also, you can record the same track (takes) several times and choose the best one or part of it to comp. The comping is easier with the fade in/out function (could be performed automatically). The handy device is to turn off the metronome or count down, which will not be heard in the record. You can select the required section from all tracks while composing the clip. For all tracks (recorded and from the library) comfortable preview is available from an improved file browser. With many plugins on pop-in consoles, you can control all parameters of recordings, including phasing frequency, modulation, delay, and much more. On the official website, many tutorials on all features are available for all users.

Pros
All updates are free
Unlimited free trial
Mobile version
Technical support and many tutorials
Availability to comp the best track
Wide range of built-in VST instruments
Many plugins with loop recording functions
Fade in/out function
High level of visualization of all previews and functions
Improved file browser
Cons
Complicated insert of additional effects in the tracks
Many possibilities to perform the same action
The free trial has limited functionality
Not the typical location of controls


Reaper is a full-size computer application for recording, mixing, or mastering music. It supports reading and modifying many plugins, hardware, and music formats. Reaper is available for free for a 60-day trial. For downloading, you do not need to provide any personal data. This application is available for all Windows (from XP to 11), Linux (x86_64, i686, armv7, and aarch64), and macOS (10.5-13). The required processor is Intel or AMD for Windows and Intel and ARM64 for macOS. You can read the detailed list of supported audio systems and control surfaces, ReaPlugs, and MIDI plugins on the official website. You can download the English version by default, but Polish and German packs are available separately.
Reaper is available only in one version, which can be downloaded with a discounted license of $60 and a commercial license of $225 (prices do not include VAT and local taxes). Discounted license is available only for personal use, educational, non-profit organizations, or commercial purposes with business income less than $20.000. One license is available for multiple computers with their usage separately. The REAPER can be installed on a portable device and used on any PC; only 10 MB is required for installation.
Reaper is an easy-to-navigate digital audio workstation (DAW). You can connect any hardware to the PC to receive a high-quality recording studio. For beginners, the user guide and quick start tutorial are available for a better understanding of all application features. With Reaper, you can record audio and MIDI with unlimited input tracks into dozens of available formats.
You can monitor and control all inputs using user-friendly control pads. You can record several takes and further comp them using the fade-in or out feature. All inputs can be easily split, resized, looped, stretched in time, and much more. You can manage tempo, move or change parts of the arrangements. This application allows customization of the control pad by changing color, icons, change, delete, or add toolbars. If you are a professional IT, you can develop macros or plugins as an extension in Python or EEL. In Reaper, many templates for projects or tracks are available.

Pros
Free trial for 60 days with full functionality
No personal data required
Free unlimited updates after purchasing the license
A detailed list of supported and built-in plugins on the official website
German, Polish, and English languages supported
User-friendly DAW
Easy mixing and comping
Many tutorials and guides on the official website
Possibility to customize the control pad
Shortcut keys for fast control
Cons
Only one version of Reaper is available
Only basic VST
Requires extensions for full functionality
Lack of audio samples, effects, and virtual elements


Audacity is the first in our review – free application for music editing and recording. It can be used for any personal, commercial, or educational purpose, but there are some limitations to reselling its parts. Be careful that the official version is distributed only through the official website; the paid version on Amazon, eBay, or elsewhere is not connected to Audacity. It supports Windows 7 and higher, macOS 10.12 (Sierra), and Linux. The average downloading file size is about 20 MB. There are optional downloads for Windows, such as LADSPA plugins installer (90 plugins), plugins (for effects and filters), LAME MP3 encoder, and FFmpeg import/export library.
Audacity can record live audio via different hardware, import and edit sound files, add or remove sound effects in real time, and analyze a sound file. It can support numerous plugins, or you can use your own.
Attention
Unfortunately, Audacity does not have the full functionality of DAW; it has only basic features.
You can record any audio with it from your built-in PC microphone or separate hardware (or any other instrument) and playback. You can mix as many tracks as you want to mix them together; you can manipulate each of them separately in a track control panel. You can turn on the metronome or use a beat sound for tempo. But mainly, this application is for recording your voice for tutorials, YouTube videos, or other activities.
You can import many audios to your project – supported formats are MOV, A4A, WAV, FLAC, AU, OGG, AIFF, MP2, and MP3. The ware form is available for each imported track with a toolbar for controlling. You can control amplitude, and loudness, make it solo and put the track in the background. Also, you can analyze spectrograms, remove and reduce noise, add filters, or add effects from supported plugins. Supported plugins for real-time effects have formats: VST3, VST, LV2, LADSPA, and Audio Units (only for Mac). Audacity plugins are summarized per functionality on the official website and can be downloaded for free.
With Audacity, you can also record your clip on a USB device or burn CD, export it to MP3 or any other supported audio file. You can customize your Audacity's themes, layout, and plugins for effects.

Pros
Free application
Open-source
User-friendly interface
Supports many audio files formats
Possibility to record and playback sounds
Possibility to burn CD or USB
For each track, a waveform is available
Built-in plugins for sound effects
Possibility to customize
Short keys for fast control
Cons
Only basic features for recording, mixing, and playing audio files
Limited ways of applying real-time effects
It does not support VSTi
Limited support of MIDI


Adobe Audition is atop-quality software for audio editing, creating and mixing tracks and sound effects for video, podcasting, and sound effect design. Minimum system requirements for Windows are Windows 10 or later, for macOS are Big Sur v11.0 or later, multi core processor with 64-bit, 4 GB of RAM, 4 GB of free space on the hard drive, and Internet connection for registration, activation, and usage of online services. You can choose between 9 languages: French, Korean, Chinese, Spanish, Portuguese, Italian, Japanese, English, and German.
After a 7-day free trial, Adobe Audition can be downloaded for $20.99 per month (if you subscribe for a year), $31.49 for a once payment for one month, and $239.88 for a year (prepaid). Several proposals exist for businesses (teams), students, and teachers. Additionally, you will receive access to Adobe Express and 100 GB of cloud storage. If you are a fan of Adobe applications, you can receive access to 25 under one subscription for $54.99 per month. The included apps will be Acrobat Pro, Photoshop, Illustrator, Lightroom Classic, audition, and many more for creative work. The money will be returned if you cancel your subscription within 14 days after purchase.
Audition has two working modes: waveform and multitrack. You can apply sound effects by choosing them in the effects menu. You can experiment with effects (12K free sound effects, including classic and arcade sounds) and their combination characteristics before adding them. For a quick start, you can customize settings and organize pre-settings. In multitrack mode, you can mix and change all tracks with the most common tools in DAW. For editing are available destructive and non-destructive tools. Many toolbars can be turned on depending on the required functionality. You can even make the audio comical by adding sound effects of 250 cartoon heroes or whistles and laughs. For editing, there is virtual learning available for beginners.
Adobe Audition can be used as a professional tool for video editors, motion graphics designers or sound engineers, etc. For students, many training seminars are available online or in person. There are also classes for everybody who wants to master Adobe Audition.

Pros
7-day Free trial
Possibility to purchase several Adobe apps in one license
Cross-platform integration with other Adobe programs
Works with almost all audio extensions
Separate mobile versions for iOS and Android
Nine languages supported
Hundreds of built-in sound effects
Possibility to clean audio from noise (plugin)
Several ways to perform an action
Possibility to record podcasts, lectures, music, or any other audio material
Cons
Lack of templates and presets
The interface is not user-friendly
Expensive solution
Numerous bugs with every update


Avid Pro Tools is a perfect DAW for making beats, recording vocals and instruments, mixing tracks, and writing high-quality song sounds. Top professionals have appreciated the software; many Grammy and Oscar nominates used Avid Pro Tools to prepare music, videos, and pictures. This application is available in four editions. The minimum system requirements for macOS is Catalina 10.15.7 – Ventura 13.4 OS, processor M1, M2, or Intel Core i5 or better; for Windows 10 or 11, 64-bit i3 2GHz Intel Core Processor. For all computer systems, you need to have 8GB RAM and 15 GB of free space on a hard drive for installation. For further recorded music and tracks, you will need a separate storage. Only for activation and installation is Internet access required. More detailed requirements for each PC model are available on the official website. For all users, Avid Pro Tools is available technical support through a ticket or a phone call (not available for Intro); community support is possible as well.
Four editions of Avid Pro Tools can fulfill all budgets. The first edition – Pro Tools Intro, is for beginners who want to create music easily. It includes a wide range of audio tools, plugins for virtual instruments, effects, filters and emulators, dynamics, and EQ (a total of 36 plugins). In the Intro version, you can work only with eight audio, MIDI, instrument tracks, and one master track. You can record only from 4 inputs simultaneously, while Artist has 16 inputs, Studio – 64, and Ultimate only 256 Core Audio and 256 in other formats.
The other three editions cost money for subscription:

Pro Tools Artist – $99/year or $9.99 per month,
Pro Tools Studio -$299/year or $29.99 per month,
Pro Tools Ultimate – $599/year or $99 per month.
The number of tracks is more in paid versions (Artist vs. Studio vs. Ultimate): audio tracks – 32 vs. 512 vs. 2048, instrument tracks – 32 vs. 512 vs. 512, MIDI tracks – 64 vs. 1024 vs. 1024, VCA tracks – 0 vs. 128 vs. 128, master tracks – 1 vs. 64 vs. 512 and video tracks – 0 vs. 1 vs. 64. Also, you will get access to more plugins – Artist subscription has 100 plugins and Studio and Ultimate subscriptions get unlimited access. The complete list of included software of third parties and capabilities of paid subscriptions are available on the official website.
With Avid Pro Tools, you can use session templates in different genres to start a new project quickly. You can experiment with sounds and produce music as the whole orchestra using many instrumental plugins. Avid supports a multi-channel format for post-film production with a single timeline and other features. Paid versions also can mix in Surround and Dolby Atmos quality and edit Clip FX.

Pros
Free version with basic functions of DAW
Many tutorials and FAQs
Technical support via tickets or calls
Multi-genre session templates
Loop recording
64-bit architecture
Cloud space is provided for each license
Wide range of plugins, sounds, effects
Easy editing workflow
Highly customizable
High compatibility with a lot of hardware
Cons
No free trial for paid versions
The virtual instrument interface is weak
Some bugs in stock plugins
Poor integration with the third-party interface
Conclusion
As you can see from the review, there are at least seven different software applications that you can use instead of Logic Pro. Starting from open-source Audacity, you can choose the software per each budget with a monthly or pre-paid annual subscription. Ableton has the most extended free trial for 90 days, while some programs, such as Avid Pro Tools, do not have free trials but have free versions with limited functionality. But all described programs can be tried within a trial period or free version before purchase for sound quality, quantity of plugins, availability of sound effects, and support of virtual instruments. You can choose the best app based on the supported number of tracks for mixing and navigation capabilities. We are sure all recommended software in this article is the best!