PCmover Ultimate vs. Professional – Comparison Review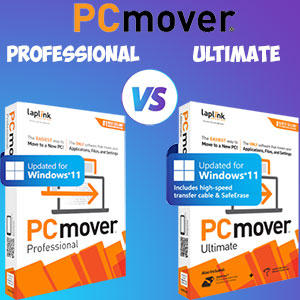 The problem of transferring information from an old PC to a new PC is quite common. The transfer process can take hours in an era of quickly changing and updating hardware, increasing stored information, and using applications for different purposes. That is why the market proposes automated solutions. One of them is PCmover from Laplink Company.
Laplink is an American Software Company with over 35 years of experience in PC lifecycle solutions that received numerous rewards. It is officially the only recommended Migration Solution Software by Microsoft and Intel; it supports all major Windows OS versions as a Gold Microsoft Partner.
PCmover is presented in several packages: Professional (most popular), Home, Ultimate (physical box), Express, and specialized versions for Windows. This article will compare the Professional and Ultimate versions to find differences between the two versions and to determine the best one for your needs.
Table comparison – PCmover Ultimate and Professional
| | PCmover Ultimate | PCmover Professional |
| --- | --- | --- |
| Purpose | Transfer of information from old PC to new PC/ upgrade Windows version on one PC | Transfer of information from old PC to new PC/ upgrade Windows version on one PC |
| Supported Software | Windows versions (7,8,8.1, 10, and 11) | Windows versions (7,8,8.1, 10, and 11) |
| Application transfer | | |
| File transfer | | |
| Settings transfer | | |
| Profiles transfer | | |
| Undo option | | |
| SafeErase application for old PC | Included | No (only in PC recycle kit) |
| Connection of two PCs | Wi-Fi / cable network/ Ethernet Laplink / USB 3.0 Laplink | Wi-Fi / cable network/ Ethernet Laplink / USB 3.0 Laplink |
| Cable | Ethernet Laplink or USB 3.0 Laplink included | Ethernet Laplink / USB 3.0 Laplink / not included |
| Purchase options | Physical box | Download from the official website |
| Support of Windows S mode | Yes (for Windows 10/11) | Yes (for Windows 10/11) |
| Internet connection | Re | Required, but also possible with Laplink cable (purchased separately) |
| Corporate discounts | | |
| Trial period | | |
| Money-Back Period Guarantee | 30 days | 30 days |
| Support | Live chat, Facebook messages, email, or phone | Live chat, Facebook messages, email, or phone |
Main Differences
Even though these two PCmovers have almost the same features as you see in the table above, there are differences between these two versions:

PCmover Ultimate includes SafeErase and a High-speed transfer cable (Ethernet or USB 3.0).
PCmover Ultimate is sold only in a physical box, while Professional is available for download from the official website.
PCmover Professional is available in 5-Pack, 10-pack, or 25-pack in addition to a single subscription. Ultimate is sold only for one transfer.
Please read the following articles for a more detailed description of the pros and cons of both versions, including their differences.
PCmover Ultimate and Professional Overview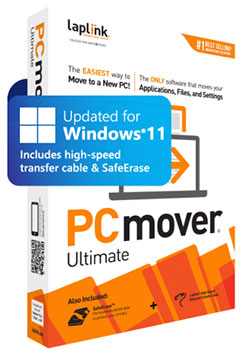 The primary purpose of all PCmover versions is to move all user's files (Laplink calls it "complete user personality") from one Windows PC to another one. This software can be used not only for moving from an old PC to a new one but also for renovating an existing PC. There are several layers of the transferring process.
The first level includes files and folders generally stored on PC hard discs. The second level is profile settings, user accounts, preferences, bookmarks, printer connections, and registration data. The third top layer is for transferring applications, including the ones that do not have installation setups anymore.
Two basic methods of information transfer between two PCs are direct transfer from one to another via LAN, Wi-Fi, or direct cable (Ethernet, USB, Thunderbolt) and file-based transfer using external storage (HDD, SSD) or enterprise storage (cloud storage).
All packages of PCmovers propose four workflows:

Direct transfer via USB cable or network for migration to a new physical PC.
File-based transfer for different purposes: migration to a new PC, refresh of software on one PC, migration from physical PC to the virtual.
Image and drive assistant. Migration of information from a damaged PC where HDD/SSD is still working to a new PC.
Profile migrator. Migration of directory domain or active directory.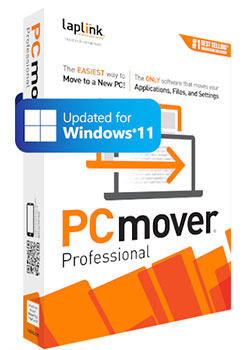 There are also options for the transfer – from standard to customize when you select/deselect the required files, accounts, applications, documents, and settings to transfer. For example, if on the old PC you had separate discs "D," "E," etc., in the new environment, the content of these discs will be transferred on disc "C" in separate folders (enough space on the disc should be available).
Also, the user can undo all transfer procedures and delete all transferred information. During the transfer procedure, there is an option to set administrative rights on the transferred information. For the extra advanced transfer, PCmover proposes a special application –PCmover manager with a detailed policy window. The main advantage of PCmover is that you do not need most programs to buy a new program; it will be transferred to a new computer with the same registration information. PCmover does not change or delete automatically transferred files and settings on an old PC, but it is recommended to have a backup.
In short, PCmover Professional and Ultimate are the same full program version with the same features. Still, the Ultimate version is available only in a physical box with transfer cables (one type per the user's choice) and SafeErase Utility. See below the significant advantage of obtaining these two add-ons.
SafeErase
PCmover Ultimate includes in the package Disk Utility – SafeErase. With this tool, you can permanently erase all data from your PC's hard disks. This utility helps protect your privacy and does not allow Third parties to obtain your sensitive information. In addition, SafeErase simplifies the preparation of the PC before recycling or selling for privacy protection; no account data, backing information, or photos will be accessible to the new owner. So, SafeErase is a perfect match after you transfer all information from the old PC to a new one to prepare the old one for a new life.
The Utility has advanced technology with six methods of eliminating data on your device; all methods are fast and overwrite the content with zeroes. In addition, you can choose the profiles for deletion and receive detailed reports on the performed process.
System requirements for this Utility:
| | |
| --- | --- |
| CPU | Supports multi-core processors |
| Hard disc space available | 40 MB |
| Windows | 10/8.1/8/7/Vista/XP/Server |
| Operating system | Supports 32 and 64-bit operating systems |
| Supported Browser | Internet Explorer (9,10,11) / Mozilla Firefox (29,30,31) / Google Chrome (34,35,36) |
| Administrative rights | Required |
Each SafeErase license can be used only on one computer where it is supposed to be used. Before usage, you need to activate the tool with a registration code, which requires an internet connection.

If you buy Professional PCmover, this utility can be bought separately – it is available for download at $29.95. There are packages with 5, 10, or 25 licenses for enterprises and businesses. All packages have a 30-day bank guarantee period.
Transfer cables
To transfer information from one PC to another, they should be connected. PCmover offers several connection methods: Wi-Fi or Wired network, Laplink Ethernet, or USB cable. The connection via cable offers a stable transfer procedure without interruptions and with complete control. However, you need the Internet to quickly activate the PCmover serial number on the box.
In the PCmover Ultimate package, one of the cables is included – a USB or Ethernet cable. Based on its parameters, you can choose the most suitable one for you, and during purchase, please choose the right one, as the price differs.
| | Laplink USB 3.0 | Laplink Ethernet |
| --- | --- | --- |
| USB Compatibility | Up to USB 3.0 | N/A |
| Transfer speed | Up to 5000 Mbps | Up to 1000 Mbps |
| Length | 2.4 m | 2.1 m |
| Color | Translucent silver with blue plugs | Opaque grey with orange plugs |
| Compatible Laplink Software | Laplink Gold 12, 2008 for Win 7 | Laplink Gold for Win 7 |
| Alternative installation for the drivers | Windows Drivers USB 3.0, 2.0, 1.1 | N/A |
The transfer cables are required if Wi-Fi or the network is unavailable. Standard cables cannot be used to transfer information; this will destroy one or both PCs. The Laplink cables include all required electronics for the fastest peer-to-peer and safest communication. USB cables of the third-party manufacturer breach the guarantee of the transfer process, and you will not receive the assistance of Technical support in case of any problems.
These cables can be purchased separately. The Laplink Ethernet cable is available for $12.95, and USB 3.0 is available for $49.95. PCmover Professionally can be bought in a physical box with an Ethernet cable at the same price and an additional $10 with a USB 3.0 cable.
For advanced users, ultra-high-speed Thunderbolt cable is available with speeds up to 400 Gbps. Unfortunately, the price for all users is $44.95, which is not included in any package.
Face-to-Face comparison of PCmover Ultimate and Professional
The transfer with any PCmover is easy and includes only three steps: installation of the program on 2 PCs; select a necessary procedure; connect two PCs and start transfer; finalize the transfer or undo it if required. Before starting the transfer, you need to be connected to the Internet to validate the serial license of the purchased PCmover version. The validation should be performed on both PCs.
The PCmover Professional and Ultimate are the most convenient versions as you have access to the complete list of features of PCmover: selection of folders, applications, settings, domain users to transfer, discount on several licenses, free transfer assistance, possibility to undo the transfer, move the PC image from old PC to the new one, the rescue of hard-disc from the broken PC to the new one.
Please check below the main advantages and disadvantages of PCmover Ultimate and Professional:
Pros
Simple Setup wizard
Migration is possible for most the programs
Automatic connection of two PCs
Several ways to connect two PCs
It can be used for upgrading the Windows version on one PC
Several options for transfer, including fully customized or fully automatic
Transfer of files, settings, and programs
Quick transfer speed
Free 24/7 transfer assistance
SafeErase is included in the Ultimate edition for the deletion of all information
Undo feature is available
Cons
The transfer is available only for Windows OS
The transfer from the new OS to the older OS is not possible
Antivirus software may not be transferred
Before transfer new PC should be fully updated
No free version
System requirements for each PC
System requirements for PCmover Ultimate and Professional are the same; the main ones are presented below.

| | |
| --- | --- |
| CPU | Requirements are determined by the operating system |
| RAM | Requirements are determined by the operating system |
| Hard disc space available | 200 MB |
| Windows | 11/10/8.1/8/7 |
| Operating system | New OS should be newer or the same as on the old PC |
| Important information | All Windows updates should be applicable to a new OS |
The Windows version on the new PC should be newer or the same as on the old one. Hard disc space on the new PC should be the same or higher as on the old one. Internet Explorer on the new PC should have the same or newer version as on the old PC. Additionally, the user should have the same administrative rights on both operating systems to perform the transfer. To start the transfer process, you need to disable all scheduled tasks and programs and exit all programs, do not forget background programs such as antiviruses, firewalls, scanners, and other utilities. The antivirus and antispyware programs, hardware-specific drivers, or files with digital rights may not be transferred or require reactivation.
Price
You can purchase both Laplink PCmover on the official Laplink website or in a retail store. If you are unsatisfied, you can refund the money (shipping costs and taxes are non-refundable) within 30 days from the purchase date. One standard subscription (license) for PCmover, no matter whether Ultimate or Professional, is applicable only for transferring the content from 1 old PC to 1 new PC.

| | PCmover Ultimate | PCmover Professional |
| --- | --- | --- |
| Option 1 | With Ethernet cable $59.95 | For download $59.95 |
| Option 2 | With a USB 3.0 cable $69.95 | Physical with Ethernet cable $59.95 |
| Option 3 | N/A | Physical with USB 3.0 cable $69.95 |
| 5-Pack | N/A | $230 |
| 10-Pack | N/A | $420 |
| 25-Pack | N/A | $900 |
Currently, in special bundles, you can buy one license of PCmover Professional (download version) with one license of SafeErase for $59.95 – PC recycle kit. Among best-selling bundles, there is a proposal for $84.95 – 2 licenses of PCmover Professional and one license of SafeErase.
Actually, all physical appearances of the PCmover will be delivered in the PCmover Ultimate Physical box. So, options 2 and 3 are simple redirections on the official website to Options 1 and 2 of PCmover Ultimate. PCmover Professional is a version for download with the possibility to buy several packed licenses; Ultimate is a physical box version.
Installation

There is no winner in the installation comparison of PCmover Ultimate vs. Professional, as it is easy for both versions.
PCmover Professional is installed from the downloaded EXE file in the folder where it was saved. To simplify the installation process, "Setup Launcher" will automatically be started; follow its instruction. The procedure is identical for both PCs.
PCmover Ultimate in the physical box version is installed from the CD. On the CD drive in the AutoPlay dialog, click Welcome.exe to start the installation process. Then the installation process is the same as from the downloaded file. The procedure should be performed on the second PC and also from the CD.
Important information
You should consider the following information before purchasing any PCmover and starting the transfer process:

PCmover can transfer Windows (Live) Mail, Microsoft Outlook, and Outlook Express, but your contacts may need to be transferred correctly. There is special advice in the Help Center for importing data from these applications. Please pay attention to the paths of moving contacts.
All Professional and Ultimate packages have unique serial numbers. All versions should be activated on the Internet prior to transfer, and all licenses (except 5-pack, 10, or 25-pack) are valid only for one transfer and one attempt.
Some old applications may need to be fixed after the transfer, especially if you have a significantly newer OS on a new PC. Please get in touch with the application manufacturer in this case.
To function correctly, some programs need reactivation after the transfer (especially with the copy-rights protection process); reinstallation might be required.
Music files with Digital Rights Management also may not be played on new PCs because of the copyright rules. Reinstallation of the music application may be required.
As said earlier, transferring from a new to an older OS is not recommended.
All antivirus, antispyware programs, and hardware-specific drivers may not be transferred to a new PC. These applications may require reinstallation or reactivation.
The user is responsible for following end-user license agreements after all transfer processes.
Conclusion
To summarize this comparison, there are no differences in features of PCmover Ultimate vs. Professional. You purchase equally good versions of software helping you transfer data from one PC to another, including options when you need to recover information from a broken PC or reinstall the Windows version.
The only four differences are the availability of the PCmover in a physical box (Ultimate) or download (Professional), the number of required licenses (only the Professional version provides significant discounts on several licenses purchased at the same time), availability of a transfer Laplink cable (USB 3.0 or Ethernet) (Ultimate), and SafeErase Utility (Ultimate).
So, if you are not sure about your Internet connection or are worrying about privacy and want to delete all information at the end on the old PC, please purchase the PCmover Ultimate version; choose the required transfer speed by choosing the cable. On the other hand, if you need several licenses simultaneously, please purchase PCmover Professional.
In our digital world and stable Internet connection, the Professional version is more popular, considering the possibility of buying SafeErase Utility inside a PC recycle kit.