10 Best PO Box Alternatives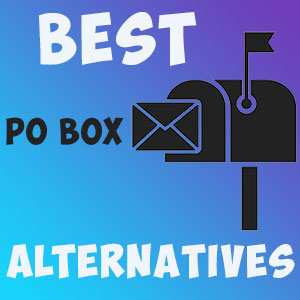 In the digital era, when all services come to the Internet, paper letters are replaced more often with emails, so Virtual PO Boxes replace physical Post Office Boxes. Virtual mails allow you to escape from regularly going to the Post Office. This is very helpful while on vacation or a business trip.
It would be best not to worry about stolen letters and deliveries; mailbox delivery centers have security.
This is also the chance to hide your actual address and phone number with another one. With this service, you become anonymous, but you can still register your business, access your business correspondence, and forward all mails to your actual address.
What is PO BOX?
A Post Office box is a locker located in the Post office. PO boxes are used when you (or your company) can't receive correspondence on your actual location. Unfortunately, PO boxes can't be accepted for business registration. Also, most boxes can receive deliveries only from USPS (United States Postal Service, and logistic companies have their own offices for picking up. You may rent a post box based on the average size of your deliveries.

Pros
Access only with a key or code
Secure storage of mail and parcels
You can stay anonymous with a PO box
You may choose the PO office near your location
Different size of lockers is available for rent
Cons
You need regularly visit the PO office to collect your mail and parcels
You can choose only one location of the PO office
PO offices work only during business hours
Limited storage period
Limitations for package types and dimensions
As you do not need to know in advance who the sender is (unless you have a tracking number of your letter or parcel), you may receive a lot of junk mail, but you still need to come to the office and pick them up.
To save time on visiting the Post Office and receive access to your mailbox from everywhere, anytime, most individuals and businesses switch to Virtual Mailboxes. That also gives many other advantages that will be described separately for each alternative. A short comparison of the main features is presented in the table below.
| | Free service | Free trial | Real physical address | Package consolidation | Number of locations in the USA | Shipping calculator | Logistic companies delivery | Check Deposit | Mobile applications | Integrations with other software |
| --- | --- | --- | --- | --- | --- | --- | --- | --- | --- | --- |
| PO Box | | | | | 31000.0 | | | | | |
| iPostal1 | | | | | 2750.0 | | | | | |
| Conduent | | | | | N/A | | | | | |
| Anytime Mailbox | | | | | 2000.0 | | | | | |
| Mailbox Forwarding | | One month | | | 3.0 | | | | | |
| Planet Express | | | | | 4.0 | | | | | |
| PostScan Mail | | Two months | | | 600.0 | | | | | |
| Virtual Post Mail | | | | | 4.0 | | | | | |
| US Global Mail | | Four months | | | 30.0 | | | | | |
| Earth Class Mail | | | | | 80.0 | | | | | |
| Traveling Mailbox | | Two months | | | 60.0 | | | | | |
You can read more detailed reviews for each alternative with features, pros, and cons.

iPostal1 is a service for the provision of Virtual Mailboxes with 2.750 locations all over the USA and some other international places (China, Canada, Singapore, Austria, Italy, and more). It has provided reliable service since 2007. New users can choose the mailbox where all letters and packages will be consolidated. All mailbox locations are fully staffed and fully functional mail-receiving centers. When the letter or package is received, you receive a notification with a scan of the envelope or package.
You should provide guidance for further actions: open and scan, read or store documents from inside, destroy unwanted items, upload documents to the cloud, send the document to your locations, and much more.
Features:
Real physical address for the mailbox
Managing your mail and packages remotely using only the Internet
Mailbox center addresses can be used for company registration (including prestige office building addresses)
Real-time notification of new mail and packages
Toll-free phone line, local phone, and fax for virtual office planning
Managing several physical addresses from one account
Paper mails are immediately scanned and provided for reading
Packages from all carriers' consolidation to save money on shipping
Mailbox locations can be chosen, including Premium and Prestige locations
Supported Platforms:
Free apps for iOS, Android, and all Internet Browsers for PCs
Several subscription plans:
$9.99/month for family or small business (30 mails per month) and $39.99/month for virtual office.
Pros
Many mailbox locations
Suitable for personal and business purposes
Possibility of having several recipients at one address
Possibility of having several physical addresses
Access from anywhere from a tablet, PC, or mobile phone
Possibility to decrease shipping costs
Strict privacy policy
Technical support by phone or chat from Monday to Friday
Cons
The subscription plan price depends on the number of mails per month
Only 30 days of storage for letters
Only 10 days of storage for small boxes and 5 days for large packages
Additional charging for optional services
Conduent is another digital mailroom service helping businesses simplify mail processing at reduced costs. All physical mails are transformed into digital forms that accelerate information delivery to multiple geographic locations of your organization. All letters are routed to recipients under your set business rules. Letters can be sorted, scanned, sorted, forwarded, or destroyed. Conduent provides excellent support for the hybrid office model with timely provided letters for health care, manufacturing, transportation, telecom, and other industries.
Conduent also proposes other management services and solutions for business and government; you need to fill out the contact form with information about your company contact details.
Features:
Offices in 25 countries
All digital mails are available on all mobile, tablets, PCs, and laptops devices
Several access levels to emails
Customizable modern mailroom appearance with branded design
Customizable workflow for mails automate
Enhanced every mail tracking
Capabilities for mail organization
Immediate notifications
Advanced search and audit
Mail scanning using artificial intelligence
Supports all devices for Internet access
Subscription plans are provided by request based on company needs.
Pros
Data centers in 22 countries
Better access and sharing mail capabilities inside the organization
30 years of experience in documents organization
Up to 60 days of storage
Many additional business solutions
Recognition of handwritten letters
24/7 technical support
Possibility to reduce costs on document management
Cons
No separate mobile apps
No clear subscription plan
No free trial


Anytime Mailbox is a great technology solution for the digitalization of paper mail and the consolidation of packages. You need only to choose the real street address and pick a service plan based on your quantity of mail per month. The number of Anytime Mailbox Offices is constantly expanding. The price of services depends on the location – it starts from $6.99/month. But in the cheapest proposal, an additional fee will be charged for each incoming mail, each scanning, recycling, or visit.
So, it is recommended to subscribe to other plans with a minimum included number of incoming mails and other features. The service can be used for short-term periods – for vacations or business trips.
Features:
Mailbox Operators are located in the USA, Europe, the Caribbean, China, Australia, and some other countries
Anytime Mailbox Addresses can be used as personal or business address
Everyone can join Anytime Mailbox business to become Mailbox Operator
Acceptance of mail and package deliveries from all couriers (FedEx, USPS, DHL, UPS, etc.)
Recognition of paper paychecks
Real-time notification
Ability to choose desired and undesired mails and packages
All images go through a 2048-bit SSL connection
Possibility to have one, two, or more recipients (paid feature) in one mailbox
Two-factor identification – one with photo and current address
Supports all devices with an Internet connection
Several subscription plans from $6.99/per month (address only) and higher (Bronze ($9.99), Silver ($14.99), Gold ($29.99/month), and Unlimited ($69.99/month)
No Free Trial.
Pros
About 2000 locations of Mailbox Operators
Wide range of subscription opportunities
Unlimited storage of scanned mails
Easy account opening and cancellation
High-security level
Access to mails from all devices
Possibility for personal picking up mails and packages
International shipments
Cons
Not all locations provide a full range of services
Picking up mails and packages only during business hours
Physical storage for 30 days only
Recipients of more than 2 should be paid


Mailbox Forwarding service also provides more convenient paper mail handling. This remote service provides access to mail online. You receive a unique address (with street address) from the platform, where all correspondence will be sent. The Mailbox Forwarding Staff scans the front of the envelopes and packs for client notification. The client manages further actions – scan, forward, shred.
All letters, packages, or documents received for you from UPS, USPS, or FedEx will be available online. To access your account, you must complete USPS form 1583 according to the Postal Regulations of the USA. The usual service price depends on the received mail and the number of scanned mails.
Features:
Real-time status of mails in the account (received, forwarded, scanned, shredded)
Provision of a private mailbox with confidential client's name and contact details
Secure operation with mail and packages
Provision of toll-free fax number
Complete management of your correspondence and deliveries
Letters are scanned within one business day after your request
Junk mail does not occupy your mail limit
Technical support through the online ticket system (1-2 business days) or FAQs
Three mailbox addresses per choice (Los Angeles, Grandville, Pompano Beach)
Fixed forwarding fees in addition to subscription plans
Online access to the account from all devices with Internet access (supports all devices)
Three subscription plans – basic ($14.95/month), professional ($24.95/month), and premium ($49.95/month).
One month is free after registration.
Pros
Subscription price starts from $14.95/month
High-security standards
No limitations on the recipient's number in one mailbox
Accounts are protected with 256 SSL certificate
Easy check deposit
Real street address
Easy mail management from anywhere
The first month is free
Cons
Personal visits at the Mailbox Forwarding station are not recommended
Parcels and physical letters can be stored for 30 days only for free
Extra mandatory fees for storage, handling, check deposit
For Los Angeles and Pompano Beach, an extra fee is paid


Planet Express focuses mainly on people who want to purchase goods in the USA, as some are cheaper. Most retailers do not ship goods abroad, so you need to find the real address in the USA to receive parcels from where they will be shipped to your home country. In this warehouse, you can even consolidate your deliveries to reduce shipping costs with combined delivery afterward.
Oregon is a state in the USA without sales tax, so you can save money and use this PO address for your purchases. If you do not want to receive your goods, they will be trashed for free, meaning they will go on an internal auction for other Planet Express users.
Features:
For every package in the account, you see photo, tracking numbers, dimensions, current status
Easy management of packages delivery, including custom declarations in the account
Planet Express has three warehouses in the USA (California, Oregon, and Florida) and one in the United Kingdom
Premium accounts have tax-free service
Planet Express's Merchants can purchase all goods in case of any difficulties with cards
Shipping opportunities via the most popular postal services (FedEx, DDP Air, Aramex, DHL, USPS)
Accurate postage calculator for shipment from the Planet Express warehouse to your actual address
Own Planet Mail Express
Easy customization of all features
Technical support through a submission form on each page of the official websites
For dealing with your account, you need access to any Browser (supports all Browsers)
Two subscription plans: free and premium ($10/month); in both plans, additionally will be charged a handling fee, consolidation fee (available only for a premium account), all photos except boxes and other special requests
A free version with paid handling fees is available for everybody.
Pros
No hidden costs
User-friendly account
Possibility of consolidating parcels
Save money on shipping costs
Two warehouses have no sale tax
Can purchase the goods for you
Free postage calculator
Free mailbox
Cons
Only four warehouses
Additional charges for photos of the content inside the package
Only 10 days of storage in a free mailbox
Only 45 days of storage in a premium mailbox


With PostScan Mail, you will access your mail within seconds from any place in the world if you receive your correspondence on one of the 600+ local mailing addresses of the PostScanMail service. During registration on the service's official website, you need to assign the postal address in the USA. The mail service scans the envelopes and boxes. After that, you will see in your account all received mail and parcels; you need to choose further actions with them – to recycle, scan or forward them. As usual, you need a notarized USPS Form 1583 to receive full access to your account.
Features:
Requested are scanned and uploaded to the client's account
More than 600 mailing addresses for business and personal purposes in the USA and worldwide
Privacy protection
PostScan Mail Offices can receive USPS, DHL, UPS, and FedEx deliveries
Possibility to consolidate all packages and mails
One mailbox address can receive correspondence from up to 6 recipients (more for $5/month)
Provision of delivery updates with tracking information in the account
Possibility to pick up personal mail and packages for free
Easy management of letters – scan, forward, move to or recycle them into your account
Additional fees for mail scans, forwarding, shredding
Supports all Browsers with special applications for mobile devices and tablets
Several subscription plans depend if whether the mailing address is premium or not, the number of incoming mails, and the number of recipients (starting from $10/month)
Two months free with an annual subscription.
Pros
Mobile apps for iOS and Android
User-friendly interface
Possibility to shred physical deliveries
The scanning function is available in color and black & white
24/7 access to your mails
Unlimited cloud storage
Scans are available in PDF
Junk mails are not calculated in the subscription plans
Cons
A lot of additional fees
Only 7 days are free for package storage
Only 30 days are free for mail storage
Limitations for oversized cargo


Even though the main communication is on the Internet, physical mail is still relatively standard in business. Virtual Post Mail provides several solutions for remote businesses to satisfy banking and legal requirements for opening a business. Five products give you the opportunity to manage your correspondence online (Virtual Mailbox), to receive legal advice (Registered Agent), to obtain a real physical address (TruLease), to open a new business (TruStart), and to perform regular tasks (TruAssist).
Virtual Post is already used by 29000 customers from 160 countries. Regarding postal services, VPM works like any other virtual mailbox. You need to choose the VPM mailbox location, redirect your mail to this address, and start checking your virtual mailbox for further action.
Features:
Mailbox offices in California, Delaware, Nevada, and Florida
Available mailbox office locations with no sales tax or state income tax
VPM does not use Partner addresses, only addresses of owned buildings
All mails are sorted, processed, and stored in the main office
Mails are processed within one business day
Possibility to receive correspondence from FedEx, Express, USPS, and UPS.
Plan to expand the business to open offices in 50 states
Check deposit services
Packages consolidation and forwarding
Photos of package shipping labels and envelopes
Supports all Browsers on all devices
Four subscription plans – starter ($20/month), plus ($35/month), business ($60/month), and premium($90/month)
No free trials.
Pros
High level of security (SSL encryption, HIPAA compliance, 2FA)
Real physical addresses
Possibility of adding insurance
Fast processing
Personal information is not shared with third parties
30 -day money back guarantee
60 days of free parcels and mail storage
Up to 20 recipients have one mailbox address; additional are charged
Cons
Only four addresses available for clients
PayPal is not accepted
Check deposit services are charges
Handling fees for mails and packages

US Global Mail is an excellent alternative to PO BOX. It works like many other services – you need to subscribe and pick a plan to receive scans of your mail. Via USPS, you need to redirect your mail to one of the addresses of the US Global Mail offices. All envelope scans and photos of parcel packages are available in your Smart mailbox.
You can request a scan of the internals and download the content. US Global Mail is a cost-effective solution for handling enterprise correspondence with 99.99% accuracy and over 20 years of experience. The service is highly secure with bank-grade encryption.
Features:
More than 30 addresses in the USA
Checks can be directly sent to the Bank (shipping costs should be paid)
Free shipping calculator on the official website
Possibility to choose between two companies managing warehouses – US Global Mail or Concord, California
Possibility to get a virtual address without US citizenship or residence
No ID provision to third parties
Mobile application that can combine business and personal emails in one
Free Check Deposit
Solution for expats/assignees to get a US mailing address
The two-step verification process for higher security
Several tariff plans for personal (including up to 10 family members) and business needs – basic personal ($9.95/month), plus personal ($14.95/month) and business ($29.95/month) (For US Global Mail Warehouses)
Same tariff plans split for Concord, California warehouses– basic personal ($14.95/month), plus personal ($19.95/month) and business ($34.95/month)
No free trial, but 30- a day money-back guarantee and four free months for annual subscriptions.
Pros
Unlimited exterior mail scans
Bank-grade encryption
Physical street address of a mailbox
Unlimited check deposit
Preliminary sorting of junk mails
Discounts of shippers
Two-factor authentication
Possibility to choose prestige postal addresses
Cons
Mailbox addresses only in the USA
Only 30 days of parcels storage
Digital scan storage only for 180 days
Time limitations for requests for shipping physical mails
All interior document scans are charged


Thousands of companies (like Zapier, Reddit, and Shopify) already have access to their postal service using Earth Class Mail since 2004. It provides Virtual Mailbox for businesses and individuals and a virtual business address. Earth Class Mail has several integrations with cloud services for digital scan storage and automated check deposits. The service has unique proposals with unlimited recipients for one business address for large enterprises. Earth Class Mail filters the mail and parcels, notifies clients about arrivals, and forwards all required correspondence within the USA and abroad. The service helps to reduce time on paper work with more than 80 virtual addresses.
Features:
Mailbox proposals for small businesses, mailrooms for large businesses and enterprises
Integration with cloud storage (Dropbox, Box, and Google Drive)
Opportunity to expedite essential mails with their further scanning (charged additionally)
Automotive check deposits and processes on your rules within 2-3 business days
Hazmat materials and alcohol will not be accepted by Earth Class Mail
Limitations for incoming parcels dimensions – up to 19"x14"x12" and 20 lbs
No access for individuals to Earth Class Mail offices to pick up personal mail or parcel
Possibility to reactivate a closed account within 90 days ($99 fee should be paid)
Domestic and international shipments only through USPS and FedEx
The cancellation fee for the account is $50 as mails are stored 6 months after account closure
Supports iOS and Android mobile apps and web browser versions for all devices
Several subscription plans for individuals ($29/month), small businesses ($39/month), medium businesses ($79/month), and large businesses ($139 or $229/month)
No free trial.
Pros
Large network of virtual addresses in the USA
High-resolution PDF scans
Automotive check deposits
Secure shredding
Junk filtering
Free secure shredding
Possibility to request special packaging (extra paid)
User-friendly mobile application
Cons
No international offices
Only 30 days of physical letter storage
Only 10 days of parcels storage
Additional shipping charges


Travelling Mailbox provides constant access to your mailbox for travelers, business people, and those who need to have a real physical address for business. It has been used by customers from 47 countries since 2011. You can choose a location in a small or big city (premium addresses). Traveling Mailbox pays significant attention to secure correspondence handling and premises protection from theft and stealing of personal data. All operations are performed by Mailbox operators on premises with facial recognition cameras. You need only several minutes to set up a Travelling Mailbox, but all mail can be processed only after receiving USPS Form 1583.
Features:
Constant access to mail, checks, and packages all over the world
All digital scans stay in your account forever
All physical mails and packages are delivered to all addresses in the world
Video surveillance of mail storing facilities
All incoming mails and parcels are barcoded
Integrations with Evernote, Google Drive, Dropbox, Box, and OneDrive
Service notify with email when new correspondence for you arrives and when your task is completed
Possibility to search mails in the account per keyword
Accessible mails organizations in your digital mailbox
Built-in shipping calculator for domestic and international forwarding
Supports all devices with web versions and apps for iOS and Android
Three subscription plans are available – basic ($15/month), extended ($25/month), and small business plan ($55/month)
No free trials, but two months for free with an annual subscription.
Pros
Physical Street addresses for mailbox
Free shredding on site
Technical support by phone and mail within business hours
Two Factor Authentication (including Face ID for iOS app)
Technical support 24/7 via phone, live chat, or email
Unlimited storage for scans and pdfs
Mobile apps for Android and iOS
Great shipping rates
Cons
2$ per each forwarding
Fee for each check deposit request
Package storage for $0.10/lb per month
Mails are stored for 30 days, more than $1 per month
Conclusion
The mail digitalization business in the USA has existed for many years. More companies are choosing cost-effective solutions for parcels and mail accumulation in Virtual Mailboxes Offices. It helps to save money and time on sorting junk mail, to choose premium postal addresses, and to receive constant access with manageable rights for all incoming mail. Virtual Mailboxes have customizable solutions for individuals and enterprises. Depending on the number of recipients, offices, subscription plans, availability of mobile applications, and more, you can easily find the best solution out of our ten reviewed services.