10 Top Alternatives of Evernote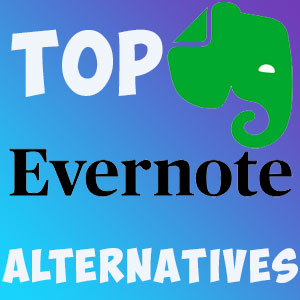 Notes on paper, mobile phone, or PC are well-known methods to write a reminder, minutes of meetings, or project plans. Notes in all forms are essential for business organization processes, which is why the market software makes them more effective.
These tools can be integrated into other Project Management Tools or be by themselves a perfect tool for team collaboration and communication about project changes. We have already reviewed 12 note tools; in this article, we will go further and review other top 10 alternatives to Evernote.
It will be digital note tools and fully functional tools for team collaboration and full-cycle project management.
What is Evernote?

Evernote is well-known for making and keeping in order notes, to-dos, tasks, and schedules of all projects in one tool. You can access it offline and still keep your ideas organized; all notes will be synced when you do it online.
With Evernote, you can make personal backgrounds and customize the workspace with notes, tasks, scratch pads, calendars, and recently captured information from websites or documents. This beautiful app is not only for work; it can help you organize your life with home tasks.
Features:

Possibility to add notes and tasks text, images, PDFs, scans, audio, scans, web pages, or other documents (as attachments).
Easy capturing all ideas with various work, life, or school templates.
Saving web pages with comments – arrows, highlights, or text boxes.
Organization of tasks by project, due date, and assigned person of the flag.
Connection of calendar to your notes with reminders and the possibility to open a note with the required information simultaneously.
Customizable workspace with many available widgets of different sizes and arrangements.
Possibility to save the content of a website or make a screenshot in one click.
Organization of ideas, tasks, and to-do lists with keywords.
Integration with many apps: Google Drive, Slack, Teams, and SalesForce.
Notification and reminders even when you do not use Evernote.
Evernote has three subscription plans for individuals – free, personal ($14.99/month), and professional ($17.99/month). The free version has limitations with note sizes (25 MB) and monthly uploads (60 MB). It also has a plan for teams – $24.99/month per user. The paid version has more features with connection to the calendar, managing tasks, search text, customizable dashboards, export notes as pdf, and many more with limitations of uploads (10 GB or 20 GB) and limitations on sync devices.
Pros
Free version
Automatic synchronization through all devices
Powerful search capabilities
Offline access on mobile phones or desktops
Connection to Google Calendar
Changing backgrounds
Document scanner
Easy search in images or documents
Tasks delegation
Handwriting recognition (11 languages)
Cons
Expensive paid plans
Scans are not available separately, only in the app
Group chat is poor
No auto-save feature
Evernote has many useful features for project management and note-taking, but you may not like its limited free version, or the paid subscription is overpriced. You may need more creative templates, better group chats, and the possibility of making a Gantt table. So, there could be numerous options to have other features or work in different environments, so we collected 10 top alternatives to help you find the best tool.
| | Free | Mobile App | Notes templates | Team workspace | Meeting management | Notifications | Real-time collaboration | Document/ Notes sharing | Project management tools |
| --- | --- | --- | --- | --- | --- | --- | --- | --- | --- |
| Evernote | | iOS, Android | | | | | | | |
| Dropbox paper | | iOS, Android | | | | | | | |
| NTask | | iOS, Android | | | | | | | |
| ProofHub | | iOS, Android | | | | | | | |
| Hive | | | | | | | | | |
| Monday.com | | iOS, Android | | | | | | | |
| Box Notes | | iOS, Android | | | | | | | |
| Zoho Projects + Notebook | | iOS, Android | | | | | | | |
| Notejoy | | iOS, Android | | | | | | | |
| Todoist | | iOS, Android | | | | | | | |
| Milanote | | iOS, Android | | | | | | | |

Dropbox paper is one of the note tools from the Dropbox family. This application is available only for subscribers on Dropbox.com. The tool has very straightforward navigation for creating only new notes based on one's own or ready templates. The paper provides a workspace for single users and teams for collaboration. You can easily invite reviewers for free of your notes if they have an account on Dropbox. This is the most accessible project management tool.
Features:

Availability of more than 20 high-quality templates for notes (meeting notes, launch plan, creative brief, project plan, social media plan, etc.).
Possibility to create your own template.
Notes are stored in your Dropbox storage.
Functional mobile application with the possibility to create/edit/comment notes and share them with your team.
Offline mode is available only for mobile users for papers that have been opened in online mode.
Automatic synchronization after you switch to online mode.
Organization of notes into folders (possible even on mobile phones).
Possibility to count words, characters, and emoji.
Easy notes highlighting, adding screenshots, and drag/drop images.
Automatic insert of current time/data/ by shortcuts.
There are no other options besides the free version, even for business purposes.
Pros
Free
No limits on notes quantity
Occupies minimum storage place
Mobile application for Android and iOS
Notifications of changes in your Paper account in the mobile app
Fast switch between personal and work account
Tools with team collaboration – real-time editing, to-dos, calendar, mentioning of email addresses
Easy search for notes
Sharing folders for business purposes
Detailed guides for all features
Cons
You need a Dropbox account
Limited functionality
Offline papers are available only in the mobile app
No spell check

Opposed to simple note creation in Dropbox Paper, nTask can do much more – it is an all-in-one project management tool. It proposes tools for remote collaboration, including sharing documents and notes, a view of the calendar, and document storage in real-time. nTask has numerous integrations for easy streamlining any project – Zoom, Google Calendar, Microsoft Teams, Dropbox, Outlook, and many more. If you need a powerful feature more than just notes and document creation, nTask is a good solution.
Main features:

Tools to set project budget, plan resources, and work capacity for effective project management.
Document sharing with the team members.
Vast opportunities for task management – create and assign tasks and sub-tasks and set due dates.
Visualization of all project characteristics with workflows, statuses, tasks, due dates, times, budget, and other metrics.
Transfer emails into tasks on the Kanban board.
Pre-build templates for numerous tasks.
Easy definition of project critical path for your projects using project management tools.
Provide different access rights to your team members and guests with project or task permissions.
Possibility to calculate time your team spends on specific tasks (timesheet monitoring).
Possibility to identify project risks by making a custom risk matrix and performing a risk assessment.
You have the possibility to download nTask with free subscriptions – basic (free), Premium (starting $3/month), and Business (starting $8/month). The price depends on your team size and the inclusion of project management tools. If you do not like these plans, you can send your requirements to the sales team for customization; a special price and features will be proposed.

Pros
Free trial for 7 days
Mobile applications for iOS and Android
Charts visualization
Progress metrics
Kanban boards
Different access levels
Risk assessment graphs
Two-factor authentication
24/5 technical support
Real-time team collaboration
Cons
Too many features
No proper guidelines and FAQs
The mobile version has less functionality than the desktop version
Only the beta version of advanced reporting

ProofHub is another tool to deliver projects to success and on time. With this tool, you can plan your business, collaborate with your colleagues, organize files and documents, prepare reports, and keep track of project workflow. ProofHub is trusted by well-known companies such as NASA, Tripadvisor, Disney, Marriott, and Boeing. This tool is helpful for marketing, task management, operation, product development, remote work organization, and boosting sales.
Main Features:

Documents review and commenting, including approval of documents and files in a few clicks.
One-time or regular task/task creation with connection to the calendar and team member assignment, transfer emails into tasks, or import from other files.
Build and edit the workflows of your team from the early days of project life to the end and set dependencies in order.
Preparing project reports with data about task completion, resource, and time utilization.
Creation of agenda based on essential tasks and meeting notes, set of priority levels (up to 5).
Multiple task reviews within one or several projects – table, Gantt, board, or calendar.
Setting notifications on the most important tasks and being informed about delays.
Setting restrictions for specific IP addresses protect your project information.
Share documents and files, make announcements, notify about essential changes, and make other celebrations in your team.
All stored data is protected with SSL encryption; infrastructure has several protection layers, including storing last login data and tracking activity logs.
ProofHub has two subscriptions not dependent on the user's quantity – essential ($45/month) with only core features and ultimate control ($89/month) with all features and 100 GB of storage space. In the unlimited version, you will get functionality like many other paid apps, but it is all-in-one and much cheaper.

Pros
Free trial
User friendly
Centralized team workspace
Smooth chat
Automatic back up
High level of security
Integration with other apps
Private task lists
Notifications
Multilingual interface
Cons
Expensive
The mobile version has less functionality than the desktop version
Poor custom support
Lack of files organization in folders

Hive is a well-recommended tool for managing projects from one place; it can replace such software as Clickup, Asana, or Monday. You can consolidate all your notes, documents, approvals, deadlines, calendars, and reminders in one tool. The complete list of unlimited features is presented on the official websites, and it covers almost all the necessities of each team member (even a top manager).
Features:

Many ways of project representations: Kanban, Gantt, Table, Calendar, Team actions, Progress Chart, etc.
Customizable project hierarchies – create sub-projects.
Addition to images, videos, documents, or other files to projects.
There are several possibilities for communication with the team- via shortcuts – video chat, chat, Zoom, or Google Meet (via shortcuts).
Setting deadlines at the end of the day, week, or month will add a time tracker to your action card.
Creation of individual project calendar for scheduling meetings, meeting project tasks, and reviewing workspace activities.
Personalization of team workspace with company logo, notifications, and customizable templates.
Possibility to proof documents, images, videos, and URLs for management control.
Possibility to track and share within your team or organization.
Reducing working time by automatically auto-filling timesheets, auto-setting tasks, and synchronizing the most-used apps.
Hive has three subscription plans for all team sizes and complexity of projects – free for light management (200 MB storage and up to 20 users), teams ($12/month per user) (unlimited storage and unlimited quantity of members), and enterprise for more complex teams requiring additional features. For paid subscriptions, a 14-day free trial is available.

Pros
Free version
Possibilities to create unlimited projects and tasks
Built-in chat for communication with the team
Recording timesheets
Project and action templates
Possibility to connect to more than 1,000 Third-party apps
Individual timesheets for your team members (with autofill)
Project reporting
Notification customization
Blog/demo/FAQs/videos/webinars for navigating on the Hive features
Cons
Bad logic in reports
Poor data management
Not so many templates
No possibility to export data from Hive

Monday.com proposes to users three products – Monday work management, Sales CRM, and Monday dev. In this review, we talk about Monday work management for project execution from idea to profitable results. It is designed for managing different projects – marketing, campaigns, events, assets or content, and creative requests. This tool proposes an excellent visual interface for team collaboration in real-time.
Features:

Easy setting tasks and goals based on the project dates, needs and your organization capabilities using several visualization methods (Gantt, Kanban or others).
All decisions made based on more than 30 widgets displaying the current project status.
Project overview for all team members from leaders and managers to average team members.
Many templates –creative requests, strategic planning, campaign dashboards, team planning or project calendar.
Setting priorities and tracking of tasks, deadlines, project priorities from start to finish.
200 pre-built recipes for project automation and increasing efficiency.
Possibility to prepare minutes of meeting with highlights and tagged actions and relevant next steps for team members.
Connection of working documents inside your team or organization to simplify access, aligning and real-time share of comments.
Central flexible workspace for all projects and operations.
Possibility to upload all file types and upload many apps from the marketplace.
Monday.com subscription plan's price depends on the number of users and required features – Basic ($10/month/per user) for organizing your team and organization your collaboration workspace, Standard ($14/month/per user) for automation sales and communication in the workspace, Pro ($24/month/per user) for getting insights of all actions and checking due dates. For all versions, a 14-day free trial is available. There is also a possibility to get a particular Enterprise subscription with all features.

Pros
More than 200 pre-built automation recipes for improving your business efficiency
Customizable workflows
Easy connection with third-party apps
Customizable templates for project management
Wide choice of project visualizations
Multiple projects tracking
Easy transfer of notes into to-do lists
Autosave of work
User-friendly drag-and-drop interface
Possibility to work in real-time on documents
Cons
Free access only for student and non-profit organizations
Expensive subscription plans based on per-seat pricing
Integration problems with some third parties apps
lack of tutorials for new users

Box Notes is a recommended tool to bring the working team together from different tools and devices and save valuable time. Box Notes provides intuitive navigation in the cloud storage with all capabilities for project execution and access worldwide. All your notes and documents are stored securely; you can edit and annotate them in real-time.
Features:

Many templates are available for the quick start of the project to create engaging and eye-catching content; valuable tips are available for each one.
Transfer docs into action plans with calendar
Documents and notes classification for confidentiality to prevent downloading and sharing outside your organization.
Tool to create interview panels, employee handbooks, and guides for new team members for the hiring process.
Up to 30 editors can work on one document simultaneously and an unlimited number of viewers.
Tracking of version changes with the possibility to revert to old versions at any time.
Possibility to review created project files as video or presentation.
Automatic notification for teammates mentioned in the action plans.
Seamless integration with third-party apps (trusted partners)– Vmware, Cisco, Google, Microsoft, McAfee, and many more.
Technical support in many ways – webinars, phone, email, training, community, demos, and use cases.
The subscription options are developed for individuals, small teams, and businesses. The app is free for single users with secure 10 GB storage and 1 version of files; another plan is for a small team of two to three users ($10/month per user) with 100 GB of storage and 10 file versions. The plan ($5/month per user) includes 100 GB of storage but 25 file versions for small businesses from three to ten users. Also, all plans include mobile apps, an integrated workspace, sharing folders, secure storage, and many more. Business subscriptions are more expensive and have more features (starting from $15/month per user).


Pros
Free version for individuals (single users)
Cloud storage
Easy formatting and highlighting
Possibility to insert videos and images into docs
Enterprise-grade security
Easy sharing outside organization
Real-time docs collaboration
Customized templates
Possibility to make e-signature on documents
Built-in integration with Google Workspace and Microsoft 365
Cons
Technical support only for teams from 3 users and higher
Project templates only for paid subscriptions
Limits for single file upload
Synchronization bags

Zoho Projects is a cloud project management tool to plan projects, track deadlines, and collaborate with teams, especially remotely. Integrating it with other Zoho tools (Meeting, Mail, Connect, Cliq, Notebook) will give you a powerful workspace for all business needs. Meanwhile, Zoho Notebook is one of the most beautiful note-making apps for users of mobile and desktop devices, including Linux. The most impressive features are various templates for different types of notes – audio, photo, file, checklists, texts, sketches, etc.
Features:

Transfer project progress into a milestones list with compliance progress and a number of assigned tasks.
Preparation of tasks and subtasks lists with due dates, responsible parties, duration time, and already spent time.
Creation of a hierarchy of tasks and projects with visualization on the calendar to define the correct order of work and critical path.
Built-in finance module for generating invoices and keeping track of expenses.
Integrations with Samsung, IFTTT, Google Workspace, Slack, Microsoft Teams, Google Drive, Zapier, Doc Scanner, and other Zoho Tools (Meeting, Mail, Connect, Cliq, Notebook).
Automated task assignment for repetitive processes with automated notifications.
Supported migrations from JIRA, Wrike, MS Projects, Salesforce, Monday.com, Basecamp, Hubspot, and six more.
Approval or rejection of team's timesheets if required.
Comparison between planned and actual project time, planned and actual costs, with the provision of differences.
For the creation of notes and transfer them into tasks, you need to integrate Zoho Notebook – a simple app for organizing and creating handcrafting notes.
Zoho Projects has two paid subscription plans and one free for two projects and 5 GB storage space. Paid subscriptions (Premium $5/month/user and enterprise $10/month per user) differ per quantity of project templates (20 vs. 30), storage space (100 GB vs. 120 GB), and quantity of features. For note creation, you need to download the Zoho Notebook separately – free or Pro version ($1.99/month). In the Premium version, you will also receive more widgets, premium covers, and the possibility of turning emails into notecards.
Pros
Free for 3 users
Pre-custom fields for task creation
Three task views – classic, plain, and Kanban
Timesheets for loading work hours
Resource utilization charts
Built-in team chat
Customizable dashboards
Gantt charts
Mobile app for iOS and Android
Many educational and technical support resources
Cons
Separate applications with management tools and notes making
Premium support only during business days
Lack of customizable options for workspace background
Expensive proposal for large teams

Notejoy is an intuitive platform for making notes and functionality for team sharing and communication. With unlimited device synchronization, you can access it as a web version from Mac, Windows, Android, or iOS. You can easily share new information, plans, or decisions with your team. All work is arranged in the library – personal (for you) or team (department, company or smaller group).
Features:

Drag & drop interface for additional images and other types of documents (PDFs, videos, Microsoft documents, Google docs, and audio).
Customizable workspace with the possibility to hide unimportant tasks and distractions, change themes (6 are available), and customize fonts or sidebars.
Possibility to make notes from any web pages in Google Chrome or Mozilla Firefox or forward emails into the Notejoy app
Organize notes in a preferable way and make links, backlinks, tags, and hashtags; the recent notes are usually on the top.
Possibility to create a separate workspace for each team you are working with.
Collaboration with multiple teams in real-time; view, comment, and share documents; check views and reactions.
High security of notes with two-factor authentication, end-to-end encryption, and passwords.
Tracking of note history with the possibility to recover maliciously or accidentally deleted notes and go back to the previous version.
Easy integration with popular apps –Trello, Gmail, Microsoft Office, Zoom, Google Drive, Slack, etc.
Import notes from other apps – Apple Notes, Evernote, Microsoft OneNote, and others.
There are three paid plans and one basic free version for small teams and individuals. The free version has only three libraries, not more than five users in size. The paid subscriptions (Solo $4/month, Plus $8/month per user, and Premium $12/month per user) differ per number of users in the library, storage capacities, and user management features. In the premium version, you also get a dashboard for team activity management. For non-profit organizations, Notejoy is capable of providing a discount.

Pros
Free basic version
Tracking of tasks
Highlighting tools for formatting
Offline access (view, edit and create)
Possibility to archive notes
Real-time editing
Team members mentioning in documents and discussions for notification
Domain sharing
Quick searching
Protection with passwords of separate notes
Cons
Limited management tools
No visualization tools as Kanban or Gantt charts
Mobile version has limited functionality
Loss of progress switching to offline mode

Todoist has been a trusted tool for more than 10 million people for sixteen years as a task manager with tools for creating to-do lists, notes, and other project plans. It keeps track of all tasks from home and work and provides more control of your life; you will always know when and what to do. You can start this tool and upgrade it anytime to a paid version with more features.
Features:

Fast creation of a to-do list based on tasks from your mind in natural language; set due dates, schedule reminders, define priority levels, or assign to the project.
Easy delegation of tasks to family members or colleagues by moving them into projects or breaking them into subtasks, sharing them, and discussing them in the comments.
Automatic sorting of tasks for today, upcoming, or any other customized filters.
Separate workspaces for personal tasks and work.
Setting productivity goals and tracking them with visualization, an archive of accomplished tasks.
Customizable boards with Kanban-style cards.
Possibility to connect workflow with email, calendar, or other files, including voice notes.
Integration with numerous apps (file sharing, communication, automation, calendars, productivity, voice assistant, etc.).
Project templates for tasks, appointments, meetings, blog posts, annual reviews, recipes, development workflows, and much more.
Desktop app for macOS, Windows 10/11, Linux, iPhone, iPad, and Android; available as an extension for Chrome, Firefox, Microsoft Edge, and Safari browsers; add-on for Gmail, Outlook mailbox; app for Apple and Android watches.
There are four workspace plans from Todoist – Personal Beginner plan (free) for 5 active projects and guests or Team Starter (free) for 5 active projects and unlimited admins and guests; Pro plan ($4/month) for 300 active projects and 25 guests and Business plan ($6/month) for 500 active projects and unlimited admins and users. Also, the plans differ by file upload size (from 5 MB to 100 MB), reminders, backups, and themes are available only in paid versions.

Pros
Free beginner plan
Customizable filters
Addition of tasks via email
History of team or individual activities
Specify favorite projects
Projects organization
Clear overview of all tasks
Synchronization across all devices
Share projects
Possibility to set repetitive tasks
Cons
Lack of tutorials
Lack of true Kanban features
Security options are not clear
Limited free version

Milanote is a tool to organize creative visual workspaces for your ideas and projects. You can write notes or add to-do lists to your visual board. This app is recommended for designers, creative directors, writers, startups, and other creative tasks. Creative professionals from many world-known companies use Milanote, such as Dropbox, Amazon, Deloitte, Adobe, Uber, Philips, and Facebook.
Features:

Automatic addition of all notes from offline mode during online synchronization into the Milanote app.
Possibility to insert any file types into types– JPGs, PDFs, Excel, audio, video, photos, Word, Excel, etc.
Online flexible whiteboard for collaboration with colleagues and friends.
Numerous templates for mood boards, briefs, brainstorming, project plans, Marketing, Photography, Podcasting, Novel Outlines, and many more.
High level of security with notes encryption, strict policy preventing Miletone staff from accessing them.
Simple text editing and formatting tools with keyboard shortcuts and markdown tools for automatically making rich text.
Automatic adaptation notes form the size of your text and the font.
Possibility to share and receive feedback for notes and boards by your team, simple commenting tools.
Email alerts and smart notifications for all essential changes with indicators since your last visit to your boards.
Character profile template for visual connection of ideas and mapping relationships, stories, or character life stories.
Milanote provides three subscription plans for users – free with 100 notes,10 file uploads, and unlimited shared boards; Pay per person $9.99/month with unlimited notes, uploads, and boards; and Upgrade your team $49/month also unlimited for up to 10 people. Individual plans should be requested from the Milanote sales team for large teams.
Pros
Free version
Drag and drop interface
High possibility of visualization
Creation of mood boards
Commenting tools
Real-time backups
Save of original links
Constant saving to the cloud
24/7 support via emails
Real-time collaboration
Cons
No offline modes
Some bags in the Chrome browser extension
Card limits and cards per board
Minimal free version
Conclusion
All reviewed in the article tools possess powerful features for preparing different types of notes, to-do lists, and tasks. You can share them with colleagues, set reminders, or set productivity goals. You can organize your daily life most effectively with customizable templates and workspaces. Almost all tools have free versions with limited functionality, but you can test all of them and then pay for the most convenient. Evernote, as you see, is not the only one for paperless workflows!