Top 13 VMware Alternatives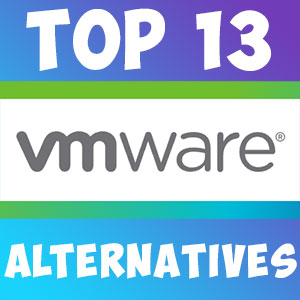 Many businesses want to expand their IT infrastructure with minimum costs, especially if the team consists of remote workers. Migration of all your data to the cloud gives flexibility and the possibility to access all information from a remote location. Before searching for any virtualization solution, you need to estimate all the advantages of such a shift and your budget.
VM are good at server consolidation, increased security, the possibility for automatic recovery, easy scalability, and infrastructure development. Considering standard hardware expansion, VM is a cost-effective solution. For virtualization, you must fulfill only minimum CPU, memory, and storage requirements. Another way to use VMs is to operate different software not supported by your hardware or from another architecture.
On the market, the choice is vast. This review proposes different virtual platforms and hypervisors with various architecture, technical support, scalability, and security. You do not need to focus only on famous VMware and can estimate the merits and drawbacks of other solutions.
What is VMware?


VMware is one of the first software programs that proposes to use the virtualization architecture of x86. It allows you to run several VMs on one physical server. Each VM has unique settings, OS and can be used for different purposes.
VMware is a cost-effective solution, allowing for the reduction of physical servers and the use of only required virtual machines with the quick possibility to scale. Nevertheless, this reliable service has some disadvantages in not stable performance; it has limitations in hardware and limited technical support in troubleshooting.
Top 13 Alternatives for VMware
VMware users can meet some challenges or difficulties in the realization of some business needs. That is why 13 top alternatives are presented in this article, first in the short comparison table, and further in a detailed review with pros and cons.
| | Free version | Free trial | Migration tool | Hybrid usage | Mobile access | Encryption | Infrastructure | Scalability | Integrations | Open source |
| --- | --- | --- | --- | --- | --- | --- | --- | --- | --- | --- |
| VMware | Personal | | | | | | IaaS/PaaS/ SaaS | | | |
| Azure Virtual Machines | | | | | | | IaaS | | | |
| Oracle VM | Personal | | | | | | IaaS | | | |
| Citrix Hypervisor | | | | | | | SaaS | | | |
| KVM | | | | | | | PaaS | | | |
| Proxmox VE | | | | | | | IaaS | | | |
| VirtualBox | Personal | | | | | | Cross-platform | | | |
| Red Hat Virtualization | | | | | | | SaaS | | | |
| Xen Project | | | | | | | IaaS | | | |
| QEMU | | | | | | | - | | | |
| Google Compute Engine | | | | | | | IaaS | | | |
| Virtuozzo | | | | | | | IaaS/PaaS/XaaS | | | |
| Nutanix | Personal | | | | | | IaaS | | | |
| Parallels | | | | | | | IaaS | | | |
You can focus on open source infrastructure or special simulators of desktops and applications; that is why we propose 13 alternative products almost per each request in this article.

Technical characteristics of Azure VMs:

1vCPU to 14vCPU
1 GB to 24 TB
Up to 3.8M local storage IOPS
Single VM LSA 99.9%
Multi-AZ VM SLA 99.99%
Azure Virtual Machines is a virtual server providing users the same experience as using the host operating systems. This solution helps reduce your IT infrastructure load and migrate crucial business tasks on Azure Virtual Machines. You can run high-performance applications as you receive access to 416 vCPU and 12 TB of memory. vCPU is a virtual central processing unit, part of the physical CPU of the user-provided resource. Linux and Windows Server software is compatible with Azure; a separate service is available for each system. You can rely on the security of your data after migration, as Microsoft (the developer and manager of this product) spends millions to make it safe and reliable.
You can start your migration with the Azure Migrate tool, which helps set up your resource properly and modernize all proofs using a central dashboard. It helps to reduce migration costs from Linux or Windows infrastructure with an intuitive interface. This tool is free for Azure subscribers. You can migrate partly (hybrid) and build your infrastructure in all languages. Hundreds of well-known companies such as Coca-Cola, Adobe, Walmart, and Ford, already use Azure VM. After migration, you receive access to hundreds of applications that work on Azure servers. You will receive all Azure Advisor recommendations and all Azure Monitor insights.
All users can start their Azure journey with 12 months of free period. They receive access to more than tools in addition to Virtual Machines. You receive 750 hours of access to virtual machines in the free trial. Among other services are available Virtual Network (50 networks for free), Cloud Shell (5 GB), Metrics Advisor (25 times series), Speech to text (5 hours), and many more. You may participate in a pay-as-you-go campaign at the end of the trial period to save up to 65% by a commitment to spend only limited on chosen services (not available in China and India).
Pros
Supports Linux and Windows Server versions
Free special tool for migration – Azure migrate
Azure VM is a Microsoft product
Flexible tariff plans with a discount system
55+ servers for Azure subscribers
Applications are dynamically scalable in the Azure environment
Protection from ransomware with Azure Backup
One-year free trial
Cons
Not possible to receive access only to VMs
No mobile access to servers

Technical characteristics of Oracle VM:

Access to 4vCPUs (AMD, 16 GB RAM)
Access to Kubernetes clusters (100 vCPUs)
Up to 1 TB storage (15K IOPS, 125 MB/sec)
Public transfer out (50 TB)
Another powerful infrastructure – Oracle Cloud Infrastructure – is built for numerous applications to allow them to run faster and more securely. Oracle infrastructure consists of all services required for migration and building your custom network. You can even migrate with third-party applications that will be integrated with minimum interface change. Oracle already supports 22 regions worldwide, 9 regions to come, and in some regions, the service partners with Microsoft Azure. Oracle provides a multi-cloud high-performance service for Azure applications.
You may move all databases to Oracle Cloud from MySQL Databases to your warehouse database. Cloud Lift Services provide automatic engineering tools to make all movements quick and save without additional costs. For advanced migration, dedicated cloud engineers help plan, build optimized architecture, and manage. If you want to test the service, you have 30 days' access to more than 20 services. You will receive access to AMD and Arm virtual machines, 200 GB storage space, and 10 TB outbound data transfer. Oracle has already transformed for such famous companies as Toyota, Bata, Deutsche Bahn, Xerox, and Vodafone.
Oracle customers receive the following infrastructure features – off-box virtualization for high security, custom security chips, non-blocking networks, API management, machine learning, access to databases, automatic encryption services, and many more. Large enterprises can rely on quality services for the same price in different locations. Your tariff plan will be based on the number of required CPU cores, chosen required processor (AMD, Intel, or Arm), and memory. You can receive a discount for using Oracle Cloud infrastructure – a $0.25-0.33 discount for every $1 spent. On the official website, you can preliminary estimate the service cost based on the chosen applications.
Pros
More than 100 services are combined on the Oracle Cloud platform
No limitations on movable information to the Cloud
Quick migration in days if required
Partnership with Microsoft Azure
Three types of processor architecture – Intel, Arm, AMD
The tariff plan is based on the required capacities of CPU and memory
Rewards for using Oracle Infrastructure
Cons
Only 30 days' free trial
Centralized storage sometimes does not work properly
In the past, there were some issues with security and stability


Citrix Hypervisor is a perfect environment for all growing businesses. It is optimized for Citrix applications and desktops; you can speed up operational management and make secure infrastructure. This Citrix tool provides desktop and server visualization; the cloud optimization ensures intense graphic workloads with robust security and centralized VM management. All company employees receive reliable experience – mirrors to traditional desktops- from any network device and geographical location, as all data is stored in the cloud in the centralized data center, and there are no security issues. All updates are performed in non-working time without delaying business activities. You have the option for hybrid usage of Citrix – partly on-premises, partly in the cloud.
The subscription is based on a pay-as-you-go model. The Standard package starts from $10 monthly and includes managed DaaS solutions for Google Cloud and Microsoft Azure. This is the cost of one user or device if your package consists of 500 users and more. You can subscribe to a hybrid multi-cloud solution with a recording of sessions and monitoring activities for $13 per month. The most advanced plan with security and performance analytics costs $23 per user a month.
Citrix Hypervisor plans can expand and decrease based on the size of your business; no need to pay more than required. There is no need to pay for data center maintenance. Citrix proposes special solutions for industries: education, healthcare, government, financial services, manufacturing, and retail. All applications are protected with security policies, authentication mechanisms, and other protection features, so you can easily expand the business. The Citrix environment is available on tablets, PCs, smartphones, and laptops; additionally, all passwords can be reset with HTML5. Citrix has built-in applications for controlling environmental health, managing costs, and troubleshooting.
Citrix deployment technologies allow you to migrate on your path; automatic configuration makes the whole process quick and easy. All IT tasks are similar to standard, so there is no need to learn new workflows for your team. All users will use the same login information and see the visualization as using the standard desktop on a PC or laptop. All deployments in the cloud are scalable for usage during seasonal peaks. You can request additional features and rights from one management cloud console for your team.

Pros
DaaS and VDI solutions
Possibility for hybrid usage
Cost-effective IT solution
Pay only what required
Citrix works with all business sizes and types
Access for all devices: smartphones, tablets, laptops, and PCs.
Technical support 24/7
Easy migration within several hours
Cons
No support for USB devices
The upgrade process contains bugs
Not as user-friendly as wanted
Bad recovery
Bad virtual memory management


KVM (or Kernel Based Virtual machine) is another virtualization solution but only for Linux and Windows users. You can choose between two extension processing options – AMD-V and Intel V. The core infrastructure is based on the kernel model KVM.ko. A group of enthusiasts has actively developed this open-source software for more than ten years. On the official website, you can check the current status of the service, including the latest bugs and resolutions, find access to the KVM forum, and check if your OS is suitable. Currently, KVM is compatible with Windows XP, Server, 2000, and higher (32 and 64-bit), Linux Family (Fedora, RedHat, Debian, Ubuntu, Mandriva), and UNIX family.
For managing virtual machines, more than 20 programs can be used, including Morpheus, Eucalyptus (open-source software for building clouds), Foreman, OpenNode (another open-source server virtualization tool), VMM, and many more (full list with UI type and license information is available on the official website). But unfortunately, as the service is free and constantly updated, we can recommend it only for advanced users. To migrate, you must go to the QEMU menu and insert many commands and parameters. Nevertheless, if you are interested in developing the service, you may participate actively using emails created for communication with the KVM team.
To download KVM for Linux, you need to go to the Linux kernel package; for Windows, drivers are available on the GitHub platform. You can download the latest version or any specific version. To run KVM, you need to have the latest working Linux kernel or Intel or AMD processor with virtualization technology. You can also migrate from AMD host to Intel back and forth if required. OpenStack and oVirt use KVM as the default hypervisor. KVM is a trustworthy service developed by many reputable companies. Unfortunately, as all hardware is located in one place (all virtual machines require real hardware – disc, network card, CPU, graphic adapter), there is a risk of losing the whole network simultaneously. But the environment has a combination of sVirt (secure virtualization) and SELinux (security-enhanced Linux).
Pros
Open source solution
Detailed software-compatible status
Open-source management software is available for building a cloud
Free service
For Windows and Linux users
Stable service and performance
Already included in the most Linux distributions
Cons
Only for advanced users
Not all guidelines and useful links for migration are available on the official website
The powerful host computer is required for multiple VMs
All hardware is centralized


Technical characteristics of Proxmox VE:

Basic OS is Debian GNU and Linux
12 TB RAM
768 logical CPU
Bridged networking. Each host up to 4094 bridges.
Proxmox is an open-source virtualization management platform (GNU Affero license). It combines the best features of the KVM hypervisor (described earlier) and Linux Containers, both software on a single web-based platform. This architecture allows to manage Linux Containers with VM management tools, backup, and recovery of all essential information. You can migrate all IT infrastructure (based on Linux or Microsoft) and boost its speed and performance without significant costs. Proxmox allows you to grow all cloud functionality with your business. It allows all users to customize configurations between servers, defines required storage space, and organizes the networks according to their industry needs.
For security, the platform provides a firewall and the possibility to control and monitor the whole environment from the center user interface. To protect all data, two-factor authentication is used. You can store VM images on one or several local storage devices or NFS and SAN-shared devices without limitations. If you use shared devices, you can migrate there online. All sensitive files on all storage types are always backed with all configuration files; the service has a special tool working from the command line for backups. You can schedule a backup process.
For all questions during installation and further use, the public community and training courses are available. For installation Intel EMT64 or AMD64 is necessary, 2 GB of OS and 1 GB memory for every TB of cloud storage. You may use Firefox, Google Chrome, Microsoft Edge, and Safari for web-based management. All users can financially support Proxmox with a paid subscription; in return, you will receive technical support via the Customer Portal (response time is 2 hours for critical issues) and can participate in further service development. For communication with Proxmox VE, the mailing list is available on the official website. The price for the minimum plan is $105 per year.
Pros
Solution for Windows and Linux application workloads (32 and 64-bit)
Open-source platform
Web-based management interface
Contains features of KVM Hypervisor and Linux Container
Fast Live/online migration
Storage replication and backup
Firewall (IPv4 and IPv6)
Free solution for private use
Cons
A commercial subscription is paid
Lack of ARM architecture support
Web-based management process does not work properly on mobile devices
Lack of technical support for free versions
Require manual updates


VirtualBox is a virtualizer for desktops and servers compatible with MacOS, Solaris, Oracle, Linux, and Microsoft. This product is also open source (General Public License) and relies on contributions. The Extension Par Enterprise is dedicated to commercial business purposes. Multiple forums, mailing lists, and relay chats support it. This open-source product has been developed by Oracle since 2010. It was designed for developing and testing virtualization solutions for IT professionals. The latest solution allows you to upload and download data to and from the cloud everywhere and even make changes offline. That makes Oracle VirtualBox the most popular open-source platform for software virtualization.
VirtualBox has minimum requirements for your hardware – x86 hardware with AMD or Intel processes. It should have 512 MB of RAM and support host and guest operating systems. It provides the same solution for all supported OS. All cloud Oracle infrastructure can be managed from one user interface with a graphical design. Data's security for copying or cloning is ensured by encryption. Device drivers and special applications for the system are available to improve performance on some additional OS (Apart from the officially supported). Multiple users with guest OS can work independently under a single host operating system (this operation system is used for running VirtualBox. In one virtual machine, guests can use different OS without any conflicts.
For the configuration of your virtual machine, you need to specify the number of CPU, RAM, and storage space. The quantity determines how many virtual machines will be created. VirtualBox extends and boosts the functionality of the existing operating system; no changes are required. Guest management in such a system is executed via a command line or web service for remote access. You need to download the setup file from the official website to install the program. After installation, you need to create a virtual machine. The biggest advantage of VM architecture is that you can use any application under any software until the host supports it. Your host can already create and configure the server for all required programs and applications.
Pros
Compatible with MacOS, Microsoft, and Linux
Free for personal purposes
Easy installation and use
Regular training from Oracle
Full VM encryption
Emulation of AMD and Intel
Reduce costs for infrastructure
Additional security and redundancy
Cons
For IT specialists and professional usage
The extensional package is paid
Not friendly interface
Not good for small groups of people
All VM functionality depends on the host machine


Red Hat Virtualization is a virtualization platform built on Linux and KVM. For more than ten years, it has been tested and developed by enthusiasts of KVM and oVirt (open-source). The architecture of this platform is similar to VirtualBox and consists of the host and managed platforms. This scalable platform can fulfill any business demand; you receive access to containerized and standalone applications after subscription. There are two types of hosts supported by Linux hosts and image-based hypervisors; all use Kernel-based VM. The architecture can be based on a self-host engine or a standalone manager. The most usable and supported option for storage is a data domain, which could be a block device or file system.
Red Hat users have an exceptional opportunity to combine all components of the virtualization platform. You can choose applications on each platform – Enterprise Linux, OpenShift, or OpenStack. Among applications, there are some useful ones for storage, encryption, deployment monitoring, and much more from about 6000 applications. For proper working of your network, you can choose manually from about 250 cloud and services providers, the one for your needs – Alibaba, Cloud IaaS, Tencent, AWS, STCloud, etc. The service is in Chinese, English, Japanese, Portuguese, and Spanish. Moreover, the user can choose the hardware that will be used by cloud partners – Dell, ThinkPad, or NEC corporation.
The service is reliable and has an emergency recovery function. All data is constantly replicated on reserve storage. The management is centralized with a graphical user interface and has a dashboard with an overview of all CPUs. If you want to dig into successful stories, UPS, Tata Consultancy Services, BMW, British Army's official website provides their experience in using the Red Hat virtualization platform. Red Hat proposes for companies two packages – Standard starts from $999 and Premium – from $1499 per year. It also provides superior technical assistance in migration consulting, upgrades, optimization, and capacity planning. For enterprise solutions, you may rely on a one-hour response time 24/7. Unfortunately, the free solution is not recommended for single users.
Pros
More than 5000 applications are compatible with the platform
More than 250 cloud providers
Two types of hosts
Possibility to create multiple VMs
Live migration
Open-source VDI
Supports cross platforms
A good solution for enterprises
Cons
Knowledge of Linux is required for usage
Technical support is required for setting up
WEbUI navigation is not user-friendly
Users complains on bugs


Xen Project is an advanced virtualization platform based on numerous open-source applications providing versatile and scalable cloud architecture for commercial and private purposes. The first release was in 2004, and 2013 the project became part of The Linux Foundation. Xen Project became the basis of many commercial software. It supports paravirtualization and hardware-assisted virtualization. The Xen Project ecosystem is based on the biggest clouds, such as CloudStack and OpenStack. Before each cloud system becomes part of the Xen Project, it runs through security checks and fixes of vulnerabilities. Multi-layered security protection ensures the safety of the whole system, not only for crucial components. Xen Project is open-source software so that you can change, participate and customize it per your needs. Some famous companies became contributors to the Project: Alibaba, Bitdefender, Citrix, Oracle, Huawei, and many others.
Also, Xen's ecosystem is separated from Linux Kernel, which makes it different from all other hypervisors. The network drivers, crucial software, and QEMU are located on a separate VM restricted from ordinary administrators. All security deployment patches are used in live mode, which does not delay ecosystem usage. The following security applications are responsible for Xen Project: Dornerworks, Zentific, StarLabs, Bitdefender HVI, Adventium Labs, etc. Because of its high security, it has been used by Amazon for many years and by other 10+ million users worldwide.
Users can choose between a wide range of supported OS: Windows, Linux, FreeBSD, or NetBSD. With this hypervisor, you can scale easily; it can use up to 4095 host CPUs with 512 GB RAM and more. You can use old software using paravirtualization or a new one with HVM or PV, which makes this hypervisor also one of the most flexible. It supports major software products, and if you have questions, technical support is available. It already released the 4.17 version in December 2022 with increased performance, additional safety certificates, and improved reliability of pass-through devices. You can download this version for free on the official website of the Project.
Pros
Open-source
Multi-layered security
VM is supported on Intel and ARM
Supports Windows and Linux
Large number of host CPU
High performance and operation capabilities
Works on many platforms
Easy to scale
Cons
Large footprint
Some features rely on third-party solutions
Does not support USB
Difficult to increase host storage
Upgrade process is difficult


QEMU is a powerful generic open-source solution for emulation of any of the operating systems with any supported architecture. The first version was released in 2011; now, you can download the 8.0.3 version. You can build or use any of the existing OS host platforms. Supported hosts are Arm, MIPS, PPC, RISC-V, s390x, SPARC, and x86 (the list is not limited). The OS major software is supported as well – Linux, macOS, OpenMSD, Windows (Windows 8 and higher), FreeBSD, and NetBSD. QEMU emulates the CPU on any host platform as system emulation and as user mode emulation, depending on the user's architecture. It has several tools: utility for disk image creation, Storage Daemon, network creation, system trace tool, and proxy helper. You can also change the format of your disk images and convert them to another for storage, creating a virtual hard drive, USB drive, or optical disc.
You can download QEMU for free on the official website in the version depending on your OS and processor; the build and version instructions are available. Technical support can be reached by email or using the official QEMU developers channel. QEMU is recommended for advanced use because of its flexibility and the possibility to use a command-line interface and track all changes by other developers. It can be integrated into other hypervisors – XEN or KVM – to obtain additional hardware with managing CPU. QEMU also integrates with Linux, Parallels, Rex, and libvirt. The performance in the QEMU environment is close to real hardware usage. It also helps to have one architecture on your hardware and work in QEMU to emulate another architecture.
QEMU allows the customization of many features of virtual machines such as the number of CPUs or available memory. You can run VMs without operating systems, which may be used for software development and tests. You can contribute to the development of QEMU and customize it per your own needs. As this service is open source, all bags are tracked and reported on the GitLab platform. The closest analog to QEMU is VirtualBox.
Pros
Efficient software-based virtualization program
Command-line interface
High performance close to the native
Supports XEN and KVM hypervisor
Virtualize server
Easy in use
Possibility to mix architectures
Many customization levels
Cons
Only for advanced virtualization users
Limited online support
Some features are not supported
Poor performance compared to other VMs


Google Compute Engine is the right choice for users that want to use reliable virtual machines, the same as YouTube, Gmail, Google Search, and other Google products. This service proposes customizable virtual machines running in Google Cloud. There are several machine types that can be selected based on your needs: general-purpose machines (for general servers, databases, and websites), machines with large memory (for big databases and analytics), and machines optimized for high performance (for electronic design, gaming, and other high resourceful purposes). There is also a split between predefined machine types with 4 vCPU and 15 GB of memory and custom machines where you define vCPU and memory. For confidential information, confidential machines with end-to-end encryption are available.
To start working in Google Compute Engine, you need to choose a type of machine and its geolocation. You will pay only for the resources you use. The migration to the VMs cloud is easy, and if you want can be performed live without interruptions of your current work. You can migrate from physical servers or other cloud servers such as VMware, Amazon EC2, and Azure VMs. If you are unsure what type of VM to choose or which size, the Workload Manager will provide cost-effective recommendations. It supports many operating systems, including RedHat, Ubuntu, etc.
The service is already used by Spotify, Twitter, The Home Depot, PayPal, UPS, and other leading companies to work faster, smarter, and access from all over the world. Users can run Windows applications or licensed images. All licenses can be optimized for usage in Google Cloud. For new users, a credit of 300$ and more than 20 free products are available to try all Google Compute Engine features and define the required quantities. The further prices depend on machine type, location of VM machine (Singapore, Belgium, Iowa, South Carolina, or Northern Virginia), predefined vCPU, and memory. You can choose between on-demand price, spot price, or price per hour. For large companies several discount programs for committed amounts and sustained use.

Pros
Several types of VMs
Live migration
Support deployment of containers
Workload Manager for cost optimization
IAAS infrastructure
Balance of loads
High security
Wide discount programs
Cons
Automatic deduction of money after end of trial period
Complex for beginners
Poor support plans
Downloading and uploading speed can be slow


Virtuozzo is another leading solution to create virtual environments – containers and virtual machines. The Virtuozzo team has more than 20 years of expertise in virtual data centers, 116 patents, and more than 700.000 virtual environments based on Virtuozzo infrastructure. Tata Motors, Strato, Host Europe, and many more are among their customers. This service provides the ability to divide physical hardware into containers to run huge workloads most efficiently.
Virtuozzo's VM uses hypervisors to virtualize the hardware infrastructure, while containers virtualize a host operating system on top of VM infrastructure, providing density, elasticity, and more revenue benefits. Virtuozzo helps e-commerce, logistics, system integrators, education, finance, digital agencies, and many other companies with modern technologies.
You can easily grow and quickly scale infrastructure. You can use the resources of each host at maximum. There are three types of available clouds – public, private, and hybrid cloud. If you need storage, you can rely on Virtuozzo as well – they have S3 object storage. Virtuozzo's service is based on containers and storage, which provide cost-effective and high-available cloud services for their clients. The application can be deployed on it and then transferred to the cloud or moved around if needed. Available applications as a service are WordPress, Magento, Kubernetes, DB, S3, XaaS, and Marketplaces.
You may choose the required service: cloud, container, hosting, CDN platform. The service is also available for floating IPs, load balancers, Kubernetes, security groups, and many more. For creating a VM and managing your cloud, for example, each user receives access to a dashboard with information about the available number of CPUs (used and free), RAM, floating IPs, and storage space. Also, you will have an overview of your VM's status and requested services. The price for the hybrid cloud is customized and based on several vCPU, RAM, storage, floating IP, and load balancer. You choose the location of the server as well. For 39 vCPU, 42 FB of RAM, 10 GB of storage, and one floating IP in Frankfurt (Germany), you will pay $196.63.

Pros
Friendly dashboard for managing services
High security
Large scalability
Service is available in 7 languages (English, Chinese, Japanese, Turkish, Spanish, Portuguese, and German)
High performance
Self-service administrative rights
Pay only for the required services
Cons
Security layers should be improved
Integration to enterprise products is poor
Backup is complicated in use


Nutanix is a platform for running applications and any other from any remote location. It creates a hybrid cloud with high performance, infrastructure, and high security. You are promised to receive a cost-effective solution with the latest AI automation. The user's infrastructure and application can be easily deployed and scaled without the necessity of an IT team within less time using Nutanix in the cloud. Non-utilized resources will be identified, commonly used working patterns and tasks will be analyzed, and overprovision VMs will be eliminated, leading to intelligent automation of your cloud infrastructure.
The core of Nutanix Platform is Nutanix Cloud Infrastructure. This infrastructure consists of easy scaling commonly used hardware combined in software-defined clusters – compute, storage, and network resources. These resources are containerized for easy scaling, security, and better speed balancing. Storage resources can be combined; network resources are protected from cyber-attacks using a zero-trust security model, encryption, layer defense architecture, and segmentation. All clusters can be extended into data centers. Users can use data from one or several clusters without interference.
All workloads can be replicated (remote synchronous replication) and migrated to different clusters for disaster recovery as well. The available tool for cloud control is Nutanix Cloud Manager, powered by AI-assistant machine learning. It detects all anomalies and helps to plan capacities effectively.
Nutanix is trusted by many big and small companies such as Mercedes-Benz, Vodafone, Total, The Home Depot, IHG, and many others. Nutanix has solutions for service providers, legal, education, healthcare, financial services, and manufacturing. Nutanix partners with Wasabi, Microsoft, Rubrik, and Oracle for storage. Nutanix's available services are infrastructure modernization, cloud and IT Automation, database modernization, virtual desktop modernization, and the creation of hybrid multi-cloud. The test drive will be available after you choose the required product or service. The pricing depends on the chosen product and service. The frame pricing starts from $24 per month per user. The frame system is available for Microsoft Azure, Amazon Web Services, and Google Cloud Platform.
Pros
IT as a service
Easily customizable architecture
Easy data replication and migration
Support all types of data formats
Seamless integration with existing VMware
Life-cycle management
End user computing (DaaS and VDI)
Databases as a service (RDBMS and NoSQL)
Cons
Expensive solution
In some cases, low speed
Poor vendor post-sale
Complexity in integration


The last alternative to VMware is Parallels RAS (Remote Application Server) which becomes a competitive solution for industries like education, finance, government, healthcare, retail, and manufacturing. Parallels is in partnership with Microsoft, LoginVSI, Nutanix, and many other companies providing the best industry solution on the market. It proposes simple management and administration of virtual applications and desktops in the cloud. You receive an administrator's centralized management console allowing you to control and save virtual networks for remote workers and more. Using Parallels, you can access any virtual desktop or applications on any device (including ARM64, Mac, iPhone, Android) and OS (including Linux, Chromebook, iOS) from any location in the world. The deployment is possible on any of the popular hypervisors or AWS, Microsoft Azure, or AVD. You can use public or private clouds and scale them as required.
Important
Parallels solutions have multi-factor authentication, strict policies, encryption (SSL, FIPS 140-2), and enhanced security for centralized storage.
Parallels have a Web Client or locally installed Parallels Client for remote workers. From the management console, the administrator can create access to published applications or desktops, printers or set individual security levels. Also, this console contains information about login duration, incoming and outgoing data, number of reconnects, and other improper activity metrics. The tools menu allows you to check session hosts, gateways, publishing agents, and much more. Each administrator can proactively investigate potential threats and improve virtual environment stability and performance. The navigation in all applications for all users is the same as on any physical device – a seamless experience. You can work with multiple files in the Parallel environment from a single workspace for all applications.
Overall, architecture with many cloud deployment models is scalable for any business needs. Mixing public and private clouds, hypervisors, virtual desktops, integrating Parallels desktop into Azure Virtual Desktop, or many other deployment possibilities is possible. For all users, 30 days of free trial is available, and for 15 users 1-year subscription starts from $120/. For all subscriptions, 24/7 technical support is available. able.
Pros
Supports numerous devices and OS
Multi-factor authentication
Friendly interface
24/7 support
Free technical trainings
Secure access
Seamless navigation
Free 30 days trial
Cons
Paid service
Not an open source
Not stable
Poor integration between Mac host and Windows guest
Conclusion
We can't stipulate which product is the best alternative. There are solutions for different purposes, for free or with a paid subscription. For example, you can create your infrastructure with Parallels or Google Compute Engine; meanwhile, only for OS emulation is it better to use QEMU. Nevertheless, one or two together products can easily cover all necessary features of VMware if you are searching for an alternative.