Top 10 FaceApp Alternatives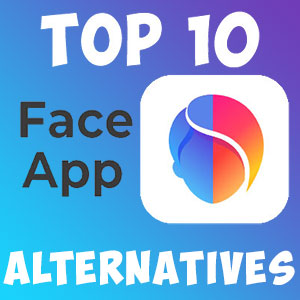 Photos and videos have become a significant part of our everyday life. They not only help to save our memories, special places, and people, but they also freeze time, save our history, and inspire people. In addition to private photos, commercial photos are used extensively for advertising, business, and social events.
With PC editors and AI, their follower's smartphone applications, there are no limits on photos anymore. Such tools can edit real photos, make young or older people smile or cry, delete unnecessary objects, or change their dress.
The purposes and possibilities of these editors of photography are endless nowadays.
What is FaceApp?

FaceApp is one of the first applications for photo and video editing. The first release of this app happened in December 2016, both for iOS and Android. With this app, you can add make-up, change your face impression or hair color, add or delete glasses, and change your age. It is even possible to combine several photos of people in one. Quick transformations are possible by using numerous pre-settings in this application.
This application is popular because of the ease of photo editing using advanced artificial intelligence technologies. In total, it was downloaded 500 million times in Google Play and App Store, where it became the top app in 2019. It proposes 60+ filters, effects, backgrounds, brushes, and tools to make selfies look professional and remarkable. The app functionality is close to PC editors. With this app, you can add a mustache or beard, change your age and become an older person, delete skin problems, and receive realistic makeup.
Important
FaceApp can be used not only for beautification; it has many fun capabilities: fat filters, face swapping into other photos, hair color and volume change, and future kids' photos. In the end, you can easily compare the before and after results. For fun, you may use this app to put your face instead of a movie star in the movie scene or photo or check what your future kids will look like.
The rating in the Apple Store is 4.7 out of 5 based on 1.5 million reviews. The pro version of the application with full functionality is not free; you need to pay $7.99 per month or $39.99 per year for a subscription. Be careful; the subscription automatically renews until you turn it off 24 hours before the paid period ends. For free, you may use only a limited set of functions. FaceApp Technology Limited has not issued any other app; they fully focus on making this app better. The app has the biggest number of supported languages – more than 30 (including English, Turkish, Italian, French, and Arabic).
According to the FaceApp policy, no photos or videos are disclosed to Third Parties, but other information can be shared with affiliates, advertising partners, service providers, professional advisors, business transfers, and third-party platforms and social networks.
Pros
Support iPhone and Android
Many supported languages
Several subscription plans of Pro Version
More than 60 realistic filters
Photo editing with one tap
Numerous features of photo editing
Possibility to directly share the photos in the social networks
Cons
Pro version is paid
The app can be used for kids older 9 years only
Private information can be disclosed to Third Parties
On the market, there are many photo and video editors that are competitors of this application now, especially if you want to edit photos on a PC. In this article, we will review the top ten PC alternative applications with even more features than FaceApp. Please check below the table comparison of the alternatives.
| | | | | | | | | |
| --- | --- | --- | --- | --- | --- | --- | --- | --- |
| | Free version | Auto-correction | Presets and filters | Collages | Photo Animation | Photo editing tools | Realistic photo effects | Sharing on social networks |
| FaceApp | | | | | | | | |
| Reface | | | | | | | | |
| Meitu | | | | | | | | |
| Oldify | | | | | | | | |
| AgingBooth | | | | | | | | |
| InkHunter | | | | | | | | |
| Cupace | | | | | | | | |
| FaceSwap Live | | | | | | | | |
| Fotogenic | | | | | | | | |
| YouCam Perfect | | | | | | | | |
| Photoshop Express | | | | | | | | |
For more detailed information on each app, please check the reviews below.


Reface is an Ukrainian startup available for Android and iOS users. The basic version is free; the Pro Version is paid. The most popular features of this app are creating face swaps, changing the style, or making vintage photos using AI. It uses 20+ technologies to make your avatars, photos, and videos unique and memorable. In the Apple Store, there are more than 470 thousand reviews, and the overall rating is 4.8 out of 5. The app has more than 250 million downloads worldwide. Many stars use Reface – Dua Lipa, Britney Spears, Snoop Dogg, etc. You can download other products from the Reface team: Restyle, Revive, Unboring, and Memomet.
Reface creates specialized events for upcoming festivals or holidays; for example, you can check yourself on Independence Day or in the Cinderella Dress. Based on your photo, the app is able to create a short video. The app automatically proposes styles for every photo or video: anime, comic fantasy, wood, nightmare, vintage, pin-up, sketch, doll, vampire, or more than 40 other styles.
You can create a realistic video by swapping your face into any movie or cartoon video or adding animation to any popular photo with your face. This app lets you make all photos and memes talk, and dance. You can try a new hairstyle or a red before purchasing! Create a gif or video and share it on any social media platform!
The app values your privacy; all original photos downloaded into the app automatically transform into face embeddings based on your unique features; after that, within 1-24 hours, it is deleted. All embeddings are not used for recreating the original photos, they are stored on Google servers and can be used for creating other face swaps, but they are not shared with third parties.
Pros
Free Download
Available for iOS, Android, or Web version
Restyling your photo or video
Face swapping to any photo or video
Adding animation to photos or meme
Changing gender on photo
Creating gifs or short videos for any social networks
Cons
The pro version is paid and expensive
The free version is limited with choices of animation and styles
Limited functionality


Meitu is another app for remaking your photo using AI-driven technologies. Meitu Company was founded in 2008 and, since then, expanded to seven offices in Beijing, Taiwan, Palo Alto, and Shanghai. This innovation company has its R&D laboratory to include the latest achievements in its "beauty" applications. The number of Meitu app active users has reached 243 million from such countries as the USA, Japan, Brazil, Indonesia, South Korea, etc. In addition to the Meitu App, there are six other apps – BeautyCam, Wink, MakeupPlus, Chic, danbo, and Action.
Meitu is available for download on iOS, Android, Windows, Linux, Mac and as a web version. The Meitu app is popular for its reshaping capabilities of any part of your face individually. The unique feature of this app is that you can change each part of the separate right part of your nose or upper lip and change part of the hairline or outer eye corner, which is essential for close-up photos.
Its filters have AI beautification filters to make a Hollywood star. You can also enlarge your eyes or make the photo like anime, or AI can add motion stickers to your selfie. Using customized or built-in templates, you can create collages or instant cutouts. You can edit not only photos but also videos, including the addition of music, for free. You can delete unwanted elements or intelligently fill free space on photos and videos.
The major drawback is the collection of personal data for simple registration. Also, it requests access to the mobile camera, phone storage, location, audio settings, Internet connection, and many more. This information is sent to third parties as this is part of the app policy. Nevertheless, this app is popular in the Apple Store and has 4.8 out of 5 (about 65 thousand reviews). You can use the free version or paid Meitu VIP with more exclusive filters, stickers, and other AI features.
Pros
Free download
Support iOS and Android
Available for desktops – Mac, Windows, Linux
Friendly UI/UX design
Easy sharing of photos on social network
Photo and video editing
Possibility of making collages
Beauty tools for selfies
Cons
Focused mainly on Asian face types
Could be problems with the Android version
Personal data collection for registration
Some features are limited to people under 18
The VIP version is paid

This application is mainly used to receive old photos of users. You can add photos and choose how you are going to look 20, 40, 60, 80, or 90 years away from now. You can add some funny animation or record a video by adding gestures and movements like older people do. By adding hats, trying different hairstyles and glasses, you definitely have a lot of fun. You can make fun of using Android or iPhone cameras. Also, there are versions for iPad and Mac.
Unfortunately, there are no other features, only adding wrinkles, age spots, and grey hair to your current photo. For more functionality, you can download from the developer LLC Apptly other apps – Fatify (to make yourself fat), Browify (to enlarge your eyebrow), Zombiefy (to make your photo look like a zombie), or Wofify (to make your appearance as a wolf). You can combine effects from several apps into one.
There are some concerns about the privacy of this app. It does not request any personal information for registration, but while sharing photos on social networks, you are at risk of providing information about your geolocation. The app also contains banners for downloading other paid apps, even though it is a paid app (subscription costs $0.99). Also, even though the app can be used by anyone older than four, kids below 13 should use it only with their parent's permission. Be aware that the user's policy allows transferring collected personal information to third parties.
Oldify is less popular due to its limited functionality and has 4.3 out of 5 in the Apple Store (about 1.5 thousand reviews). The main drawback of this app is that only straight portraits can be used for modifications, and filters do not work if your mouth or eyes are located at the camera's angle.

Pros
Support iPhone and Android
Realistic aging photos
Possibility to add animation or make a video
Possibility to age photo for 20-90 years
Easy sharing on social networks
Integration with other Apple apps changing photos
Cons
Paid app ($0.99)
Functionality is limited
Privacy is not properly protected
Contains ads
Only straight portraits can be used


If you are still interested in aging your photo, and the first proposed app is not secure for you in the Apple Store, the next suggestion will be AgingBooth. This app is designed by PiVi & Co and can be used for Android, Mac, iPad, and iPhone. From this developer, you can also download for free FatBooth, BaldBooth, MixBooth, BimboBooth, and UglyBooth.
You can age any photo directly from your camera or library. After aging, you can edit the photos in other apps from the Booth collection. The recommended age for users is 15 to 60, while it is allowed for kids from 4 years old. This application is made for fun and does not guarantee a resemblance to the real aging process.
According to the user policy, this app can use location, personal data, and device diagnostics to identify and track the owner. The application has a rating of 4.5 out of 5 based on 13.4 thousand reviews in the Apple Store. In Android, this app became top 50 in the store list, and it was already downloaded 2.2 million times only on Apple and 10 million times in total. The biggest advantage is that you can only switch between before and after views by shaking your device.
Pros
Supports Android, Mac, iPhone, and iPad users
Free download
User friendly
Choose an original photo from the library or a camera
Easy sharing on social networks
Integration with other Booth editing apps
No Internet connection is required for work
Cons
Limited functionality
Private data is not secured
Some aged photos are not realistic
Full version only after downloading other apps from PiVi&Co


InkHunter is an application not for beautifying your face but for people who like tattoos. InkHunter was developed by the Ukraine IT team in 2014. This app allows you to try tattoos in real-time before making a real one or just for fun. The app has a wide selection of art, tattoo, and sketches in the gallery, or you can upload your own. You can make a tattoo with words in the app as well.
Using a tattoo editor, you can make them look like a real one. To place a tattoo better, it is recommended to draw lines with a pen on the place where you want to put a tattoo. After choosing the tattoo, put it on any place on your body, locate it properly and take a photo. For editing the photo, the app has several simple filters. When you are ready, you can save it and share it on social networks or with friends.
In the Apple Store, InkHunter was rated as the best app in 2017. In the Apple Store, it is rated 4.8 out of 5 based on 23 thousand reviews. It is used not only for fun but by the professionals as well. Unfortunately, the application does not provide the quality look for cover tattoos. Also, even though this is a free application, you need to pay if you want to try more than two designs. Some users experienced improperly saved photos of tattoos in the library. Meanwhile, the app library has a search feature to navigate better. Some users use this app to check art on walls, and in other places, there are no actual limitations to placing tattoos.
Pros
Support iPhone and Android
Free download
Possibility to try tattoo before making a real one
The tattoo editor is available
Wide choice of tattoos, including tattoos with texts
Possibility to upload own design
A good tool for professionals
Cons
Limited functionality
Do not work for cover-up tattoos
Only two designs are for free; more is paid
Problems with savings photos in the app library


Cupace is a photo editor application that helps to cut your face from one photo and paste it into another. This app was created by Picmax, which is more famous with another app – Wemoji (WhatsApp sticker creator). With this app, you can create memes, swap your photos into famous ones, and make funny ones. To cut the face, there are two modes: the zoom mode and cut mode (auto and manual), withdrawing a line around the desired face to cut.
All crapped faces are added and saved into a Face Gallery for further use in photos. As a bonus, this app has many built-in stickers, emoji, and text templates to animate the photo. You can add in the group photo the one crapped photo as much as possible. The AI adds a background to your cropped photo for a more authentic look. You can cut and paste not only faces but also any other objects from the photo. Cupace is one of the easiest tools to make collages, including the addition of text there.
The total number of downloads for Android users has already reached 5 million. The overall rating of this app is 4.8 based on 175 thousand reviews on Google Play Market. Unfortunately, there are some difficulties with downloading. The official link on the website can be broken, and the app can be detected as malware, but you can always download the app from Google Play Store.
During installation, the app will require some permission rights to your photos and camera. The app's policy states that some information can be sent anonymously to Google Analytics and Crashytics, and no identifying information is disclosed to Third Parties.

Pros
Free download
Simple functionality for cutting and pasting the face
Possible to create collages and other mixed photos
Possibility to share on social networks
Wide gallery of stickers and emoji
Two modes for accurately cutting the face
Cons
Limited functionality
Only for Android users
Maybe detected by Antivirus as malware

Face Swap Live is another application for fun to change faces with your friends online. Laan Labs developed this app. It is rated 4.5 out of 5 based on 2 thousand reviews on the Apple Store. It became the #1 App in iOS Top Paid. The app proposes wide functionality of inserting or changing faces in the digital world. You can switch faces on a short video with your friend or family or take a fun photo. The application proposes various 3D face masks with beards, mustaches, hats, and glasses, including special event costumes. There is also a possibility to insert your photo and change your appearance into popular photos of Hollywood stars. You can make a star talking! For editing your funny photos and videos, the app has over 25 visual effects.
The users complain about the limited choice of photo filters and videos for selfies, like Snapchat. Also, placing a filter on several persons in the photo is impossible. But, this app can be used under one subscription plan by six family members if you enable the Family Sharing feature. Moreover, the app is available in the most common languages – English, German, Italian, Korean, Japanese, Chinese, and Spanish (13 languages).
The Laan Labs develops other apps using the latest technologies of Augmented Reality, Artificial Intelligence, and Machine Learning: Face Swap Live Lite, iVideoCamera, Tap DJ, 3D Scanner App, and much more. As many others reviewed in this article apps, Face Swap Live collects anonymous information about users: used mobile device, IP address, Operating system, and Browser info. This info can be disclosed by law request or in case of company rights protection. The developers protect confidentiality using available electronics, physical and other safeguards. The app is not recommended for use by kids under 13, only with their parents' or guardians' permission.
Pros
Support iPhone and Android
Possibility to swap faces in live using a camera
Possibility to try 3D filters and photos
Trying any costumes, masks, hats, or glasses
Uses static and videos for face swapping
Available in 13 languages
Cons
Paid app ($0.99)
Image search does not properly work
A limited number of face filters
Not recommended for kids under 13 years


Fotogenic is a photo editor application with many brushes, effects, and tools for changing all parts of your photo, not just your body. This artificial intelligence-driven app has a powerful wide collection of creative and artistic tools that is even suitable for professional photographers. Please download the app from official resources –Apple Store or Play Market – as there are many Fotogenic photo stores and other proposals with this name.
The available tools are: adding bubbles or confetti, changing the weather, adding tattoos or masks, color replacement, tooth whitening, bodybuilding, and more. The app is user-friendly; you can make yourself taller or add a speech bubble with one touch. All features are divided into several blocks: tools (crop, rotate, stretch, perspective, etc.), beauty (whiten, makeup, clone, tattoo, bronze skin, etc.), color adjustment (red eye, HDR, brightness, color splash, vibrancy, etc.), paint (live brushes, bokeh, signature, shapes, etc.) and textures (vignette, mask, frames, borders, light leaks, etc.). To use the app to its full extent, you need to review tutorials.
Many users adore this mobile app as one of the best for photo editing for every level of photography. If you have questions about a tool or a brush, the interactive help. The app is rated 4.7 out of 5 based on 518 reviews in the Apple store. The application collects personal information (mobile device type, phone number, SSN, email address, name) only to identify any problems with the app. This information and your photos are secured in the Support database and are accessed only by the IT team fixing bags.
Fotogenic is available in 21 languages (including Swedish, Turkish, German, English, and French) for all users older than four years. Full access to all features ("Pro" version) costs $6.99; for a limited set of features, you can download the app for free. From this app developer Huseyin Ekmekci you can also download Create A New Face: Face Booth app.

Pros
Support iPhone and Android
It can be used on Microsoft PCs and Mac
Free download
Intuitive interface
Online support is available
Interactive help for all features
Many tools for editing body, face
Many tools for editing the background
Cons
Built-in purchases
For using all features tutorials should be reviewed
Only 10% of features are available for free


YouCam Perfect is a top-rated app (especially on Android) for photo editing, photo beautification, and avatar creation. It has already been downloaded more than 800 million times. On the App Store, it has a rating of 4.8 out of 5 based on 100 thousand reviews, while on Google Market, it has a rating of 4.4 out of 5 based on 2 million reviews. As usual, this app can be downloaded for free with a limited set of functions; full access is provided for $7.99 per month (Premium subscription) and $32.99 per year. You can try other apps from this developer – Perfect Mobile Corp. – YouCam Makeup: Face Editor, YouCam Nails – Nail Art Salon, YouCam Perfect: Best Photo Editor, or YouCamFun – Live Face Filters.
The app proposes many editing functions to users within seconds: removing blushes, improving skin, reshaping face, and live effects on videos and snaps. For selfies are available such tools as face reshaping, nose reshaping, teeth whitening, lip reshaping or eye reshaping, and eye bag removal. You can also create a collage, combine several photos in one, tune the body, cut the subject, erase unwanted objects, use frames, or change a background. All templates and filters can be customized to create your style. YouCam is one of the best apps for selfies with animated effects and the possibility to turn them into short videos. All features are based on AI – AI photo enhancement, object or background removal, blurring, or changing background.
YouCam is available in 17 languages, including the most popular – English, German, Spanish, Chinese, French, and Portuguese. The application collects personal details (names, photographs), demographic information, contact and purchase details, and any other interaction with the application. This information can be disclosed to Third Parties for legal or processor purposes and to any YouCam providers, advertisers, or other possible app successors.
Pros
Support iPhone and Android
Free download
17 languages are supported
Many beautifying tools for selfies and body tuning
Possibility to combine photos and make collages
Magic erasing objects in one touch
Addition of tattoos
Photo animation
Wide choice of templates, frames, stickers, and filters
Cons
The full version without ads is paid
Some accessories are not realistic
Personal data can be disclosed to third parties for advertising


Photoshop Express Photo Editor is an application designed by Adobe Inc. based on the most popular PC photo editing program Photoshop. This all-in-one app allows you to edit and share photos within several clicks or create stunning collages. After editing, you can integrate your photo into other Adobe apps such as Lightroom, Adobe Creative Cloud, or Creative Cloud Library. In Photoshop Express, you can easily perform smart cuts for quick edits, create personal stickers, add make-up, and replace eyes or any other part of the face.
Like many other professional editors, all photos are available to blend effects (light leaks, paper, cosmos, watercolor, etc.), temperature or contrast adjustment, the addition of shadows or tints, and many more. Also, there are possibilities to crop, resize, control JPEG quality (levels), rotate your photos, and add a watermark or a border. Using AI, the app can automatically enhance your photos; this feature can be applied to all your photos. Another possibility to change your photos automatically is to choose instant filters ("Look") based on desired effects, or you can customize existing filters.
This application has 4.8 out of 5 based on about 700 thousand reviews in the App Store; in Play Market, the rating is 4.3 out of 5 based on 2 mln. reviews. It is available in 27 languages, including German, English, Danish, Japanese, Spanish, and many more. You can download the app for free but with limited functionality. The monthly payment for the full Premium version is $4.99; per year, it is $34.99. For registration in Abode Service and the creation of Adobe ID, a lot of personal information is collected: name, address, phone number, payment details, date of birth, job, title, IP address, Browser, and many more. Your information can be disclosed if it is requested by law or in case of fraud prevention, safety, or other security purposes. Any other information disclosure to third parties can be made from your agreement.
Pros
Support iOS and Android
Wide range of professional tools for editing photos
Possibility to resize, crop, or rotate the photo
Good auto-correction
Instant filters application for all photos
Watermark addition
Possibility to share on social networks
Easy integration into other Adobe apps
User-friendly interface
Possibility to create collages and memes
Cons
Wide range of collected personal information
Paid app
Many features require a subscription to other Adobe apps
Supports only JPEG files
Complicated sharing on social networks
Conclusion
Even though FaceApp is a popular and powerful editor tool, it can't fulfill all requirements of photo editing among active users of social networks. Other apps propose new tools and brushes, allowing you to swap your face into different photos or videos and create remarkable memes and stickers. The latest achievements in mobile applications are created using AI, AR, and ML, which make photo editing more precise, quicker, and more realistic. We propose ten top alternatives, some of which are free or under minimum fee, that definitely will help you create the best selfie or funny meme.