Top 10 Social Catfish Alternatives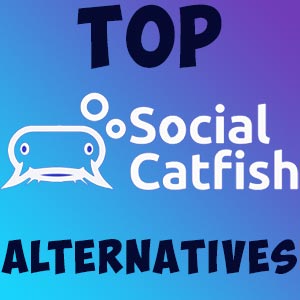 Have you ever tried to find your classmates or your neighbors? Have you found documents but need help finding an owner? Or do you want to check that you are talking online with a real person? Numerous cases of catfishing or romance scams have happened on social networks or dating apps. For all purposes and more, there are numerous programs for personality identification online.
With their help, you can search people by image, name, address, online profile, or phone number. As a result, these programs give you more possibilities that you can't expect. For example, you can check your future neighbors for crimes or ensure your potential business partner is safe by checking his properties, phone number and geolocation.
What is Social Catfish?

Social Catfish is a tool to find people and verify information about them using their social network profiles, email addresses, images, or phone numbers. More than 200.000 customers have already found requested information and gave 160.000 five-star reviews.
You can also verify with this tool licenses, check criminal records, collect more information about interested persons (especially for HR), verify property ownership rights (especially useful for Real Estate Agents), or check if your photos and private information are not used without your permission by hackers and scammers (especially useful for bloggers). Every search request includes a card with known locations, possible family members and associates, phone numbers, social network pages, address history, criminal records, and much more.
Features:

Search people by their name (Reverse name search); to narrow the search, you may add the geolocation, phone number, user name, or via their relatives.
Verification of real or VOIP (Internet) numbers (Reverse Phone Search) to find scammers or check if a business is legitimate.
Verification of personal information from the top 10 dating apps (Tinder, Bumble, eHarmony, Coffee Meets Bagel, etc.).
Discover all social media accounts connected to one email address and find a real name (Reverse Email Search)
Check more detailed information about renting or owning property (Reverse Address Search); also, with this tool, you can check how many properties the owner has, their price, and their square footage.
Check if your images (or their part) have been posted before and are used without your permission (Reverse Image Search); the photo can be uploaded from the iPhone or Android Gallery.
Search for a personal using an old photo (Facial Recognition Search); just upload it to a search bar.
Numerous suggestions and real cases on how to avoid scams on Tinder, Match.com, KUK Messenger, and many more.
Extensive database of white persons with directories by state, city, or name.
Lists of the best people talented and extraordinary in different industries – accountants, agents, doctors, video production, and more.
Full access to all features is available for members with paid plans. There are several standard paid membership plans: Reverse search ($19.95 or $28.94) and image search ($19.95 or $28.97). In each subscription, there are options depending on your desired search plan. There is also a one-paid – Search Specialist ($397.00). All plans can be upgraded and canceled at any time.
Pros
User-friendly navigation
Different options to search people by name, phone, address, and many more
Many how-to-search videos on the official website
Quick and valid results
Recognize scam phones, emails, addresses
Possibility to use information for many purposes
All scam information received on the website can be reported to the FBI or police
Information about searches and users is not recorded
Possibility to request individual access rights to the search
Cons
Paid 3-day trial ($6.87)
Full access only to members
Provided search results are similar to many other services
Give information only from open public domains
Phone search only for Canada and the US
Social Catfish is a legitimate service with many options to search and verify information about people, but the service is paid and is limited only to public information. So, to understand if Social Catfish is worth spending money on, let's compare it with the top 10 alternatives.
| | Free search | Name Search | Email Search | Image Search | Phone number search | Address search | Username search | Vehicle search | Additional search |
| --- | --- | --- | --- | --- | --- | --- | --- | --- | --- |
| Social Catfish | Limited | | | | | | | | |
| PimEyes | Limited | | | | | | | | |
| TinEye | Limited | | | | | | | | |
| Usersearch.org | Limited | | | | | | | | Search on Dating websites, Crypto forums |
| BeenVerified | Limited | | | | | | | | |
| Spokeo | Limited | | | | | | | | |
| PeekYou | | | | | | | | | |
| Radaris | Limited | | | | | | | | Company search |
| Pipl | | | | | | | | | Social number search |
| Spytox | Limited | | | | | | | | |
| Cocofinder | Limited | | | | | | | | |

PimEyes is an alternative to Social Catfish in terms of functionality for Reverse Image Search. This tool searches images with faces similar to your uploaded one on the Internet. It uses Face Recognition Technologies, Machine Learning, and Artificial Intelligence to protect your privacy and defend you from all possible illegal usages of photos. You can check your online presence or verify the identity of your online speaker. It works similarly to search engines; for typed-in text in the search engine, you receive links to numerous websites; for uploaded images/photos into PimEyes, you receive a list of similar images with links to the websites where they are posted.
Features:

Search results include images with a similar person on a different background, with other people, or with a different haircut, as the tool mainly focuses on the face.
By request, you can delete your photo from PimEye's search results. For that, you need to prove your identity with ID – managing current and future results.
Alerts (PimEye alert) from the service if it finds your photo online (available only for paid subscribers).
The policy forbids the search of /images of other people; the service is only for personal use, and violation of these rules is equal to violation of the law.
Dedicated support for all subscribers through the Support Center using Dashboard (regular wait time is one working day).
All downloaded photos to PimEye are stored only for 48 hours; no data of users are stored.
For Advanced subscribers, there is a possibility to export results in PDF or CSV.
Service for removing your photos from the required websites (available in PROtect plan and higher) by sending and monitoring requests to the external website DMCA/GDPR notices.
Detailed guide on improving search results and uploading photos/images for better recognition.
No search in videos and social media (companies, influencers, people, brands, etc.) as data crawling there is forbidden.
The service is provided under three subscription plans – Open Plus ($29.99/month), PROtect ($79.98/month), and Advanced ($299.99/month). In all plans, you receive full access to search results, but in Open Plus and PROtect, you can perform only 25 searches daily, while the Advanced plan gives an opportunity for unlimited searches. Also in different plans, you receive various numbers of PimEyes's Alerts (from 3 to 500). If you are not planning to use the service for a long time, you can unlock results from one search ($14.99). But still, you can test the program by executing a free search, the links to the websites, and not all results will be displayed.

Pros
User-friendly interface
Several levels of search – standard or deep
Fast search in seconds (2-5 seconds)
Valid link to every found image
No advertisement
20% discount with an annual subscription
Free Opt-out request form to exclude your photos from the search results
Two ways to access URLs from your search results
Regular updates and announcements in the News section
Strict security and data protection
Cons
No free trial
Search for images only on the open web, not in social networks or video hosting
The quality of photos matters to the search
Possibility to search only for personal photos
Only search by photo/image

TinEye is a similar program to PrimEyes and is used for searching by image (reverse image search). You can download a photo and check if it is used illegally by Third Parties, modified, and is part of any illegal actions. It aims to find photos exactly that you downloaded; it does not have a tool for recognizing faces. You can use the search results in many ways – track original photo sources, find photos in better quality (higher resolution), find all resources using the photo, and collect information about photo modifications or editions. The tool has recommendations for downloaded images: file size (20 MB), file format (JPEG, TIFF, BMP, WebP, PNG, and more), resolution (100 pixels and more), and no watermarks.
Features:

Possibility to install extensions for Firefox, Chrome, Edge, or Opera and search images by clicking in the Browser.
Four ways to search by image – upload an image, search by URL with the image, drag and drop an image in the Browser, or copy and paste from the clipboard.
Search results are filtered and sorted – best match, most changed, biggest image, newest, and oldest.
Included results from archives, stocks, collections, and other Internet photo resources.
Possibility to compare the own photo and the found one with highlighting differences.
Six separate tools with paid subscriptions to track different areas (Labels, duplicates, colors, and more).
Tool for automatic wine, beer, and spirit label recognition, essential to find the best match, check vintage or varietal (paid tool WineEngine starts from $200/month).
Tool for searching duplicated, resized, and modified images (paid tool MarchEngine starts from $200/month).
Tool for color identification and analysis, ideal designers, art, fashion, retail, and more (paid tool MulticolorEngine starts from $200/month).
Daily updates for using your photos by Third Parties (paid tool TinEye Alerts starts from $300/month).
For large-volume searches, TinEye has paid accounts. It is recommended to use the TinEye API. There are five subscriptions – starter ($200/month for 5000 searches), basic ($300/month for 10000 searches), corporate ($1000 for 50000 searches), and enterprise ($10000 for one-month searches). For non-commercial use, TinEye has limitations of 100 searches per day and 300 searches per week (limits may be low for dynamic or shared IP addresses).

Pros
More than 60 billion images are crawled
Free for non-commercial use
High-level of security
Possibility to set permission for using an original photo
Uploaded images are not saved or indexed
No owner rights on searched photos
Possibility to collect detailed information about the photo (original, usage)
Free requests to remove images from TinEye
Many separate tools with unique features
TinEye support for searching image owner
Cons
Limitations for searches in social networks or password-protected pages
Different search results for iPhone, Android, and web versions
Limitations on image quality and size
Separate paid program for commercial use –TinEye API
Safari extensions are not supported
USERSEACH.org is an alternative to Social Catfish in terms of searching for a person via name. The tool gives access to all information linked to personal online ID – social network profiles, addresses, phone numbers, dating profiles, or any other related profiles and accounts, email addresses, and more. You can search via a username or email (Reverse username search and Reverse email search). Usually, the username search provides better results with fewer false positives than the email search. The service is popular; over 500,000 users constantly search for people (including police officers) in the public free version or commercial package (Alpha Version). The commercial proposal is still under development.
Features:

All searching campaigns are performed live; all processes are wiped every four minutes for better performance and security.
Username search on dating, adult, gamer, and gambling websites.
Possibility to check all open accounts per username, including the ones that should be closed per owner's request.
Technical support for all inquiries is available via email request on the official website within 12 hours.
Constant improvement of services from developers using Google Analytics for the most visited websites.
Possibility to view a search history of the recent activities within seven days; after that, the data is deleted.
Option to search email by a list of email addresses connected to the required one.
Search for emails that had been reported as hacked in the open and dark web; the search results contain all detailed information on when it was done and where.
The blog section presents an extensive choice of suggestions for performing better searches and how to protect user's identity online.
To use a complete list of services, you are obliged to create an account with accurate and complete information about yourself.
The service is available for free and for paid subscribers (Alpha version). The paid version has 24/7 priority support, has more platforms to search in, and all results can be extracted as spreadsheets. The list of features for paid subscribers is updated regularly. Now, there are three subscription plans: standard with a monthly payment of $8.97, yearly saver with a payment of $49.97 per year, and saver deal with $19.99 for six months. The saver deal is a limited exclusive offer. All plans have access to all features, but for yearly savers, there is a guarantee that the price will never change.

Pros
Free version
Five types of lookups
No limitations to social network searches
SSL encryption
Search for users on Forums
Check Bitcoin fraud reports
Online chat for all commercial and technical questions
Full refund any time
Servers are based in the USA
Tips on how to perform searches and see the profile details
Cons
A paid version is free with bugs
Limited search options
No clear information about preferences for a paid version
The website is not user-friendly

Because of the search options, BeenVerified is one of the closest analogs to Social Catfish. This tool combines seven products: email, address, people, vehicle searches, reverse phone, and unclaimed money search. You can search your own online records to check your reputation or check your business partners or family members. BeenVerified has strict rules for using the search information – there are certain limitations for professional use, mainly because the service is aimed at personal search. Even though the platform has received thousands of positive reviews after its launch in 2007. It collects information from multiple resources and shares the information in easy-to-read reports.
Features:

People search gives access to criminal and court records, violations of traffic rules, or personal bankruptcies.
Separate tool to search for information about property, its owners and other deeds, current and previous residents, property value, and more.
Vehicle search is executed by VIN number or License plate, which helps you make a better decision when purchasing a used vehicle.
A separate tool to check the availability of information about your votes and other connected personal information – Voter Records.
Person search provides public information about age, relatives, associates, email addresses, jobs, education, photos, current and former addresses, and professional or other licenses.
For those who regularly receive spam calls, reverse phone lookup should be used to check the name and location of the caller, spam scores, and other helpful comments are available.
Technical support every day from 6 a.m. to 11.30 p.m. via telephone number or email.
Help to find owners of billions of unclaimed money of state governments.
If it is possible to remove your personal data from People Search results, write a request, and your profile will be removed in 24 hours.
Username search to prevent catfishing, online frauds, and other common scans, helper to dating search safely.
BeenVerified proposes two options for a paid subscription – 1-month membership ($29.99/month for 100 reports per month) and 3-month membership ($19.49/month for 100 reports per month as well). With a paid subscription, you receive access to all seven search methods at a faster speed. Additionally, you can set notifications. A 7-day trial membership for $1 per month with 100 reports is available for newcomers.

Pros
Available for iOS and Android users
Chrome extension can be used to find additional data on LinkedIn
User-friendly design
Searches in court, public arrest, judicial records
Provision of best professional and personal information
Monitoring services
All searches are confidential to Third Parties
Search for possible relatives and associates
Part of an affiliate program with PeopleLooker, NeighborWho, PeopleSmart, etc.
Many blogs and customer stories on the official website
Cons
Search only through public resources and governmental databases
HR specialists can't use service to evaluate a possible candidate
Search works only for the US
Automatic renewal of subscription can't be canceled

Spokeo is a close alternative to the Social Catfish as it provides opportunities to search by phone, name, address, or email. It collects information from millions of property, social networks, court, consumer, business, and historical records. With this tool, you can receive information about accounts on social media, family members, current addresses, contact information, wealth data, criminal data, and some other personal details. This tool helps find relatives, prevent fraud, receive contacts for non-profit organizations, or purchase properties. All features are available for paid members. Every month, the website is visited by 20 million users searching for contact information and more.
Features:

Search for phone numbers, social accounts, and current locations via email search.
Email search in more than 120 social networks for checking a person's identity and online presence.
Automatic updates on search reports (only for lifetime paid members of the tool).
Technical support is available seven days per week without night hours via email and phone.
Assistance of adoption volunteers, local schools, toy drives, science, and technology.
Possibility to search for birth and marriage certificates to find lost relatives.
Free requests to delete your URL from Spokeo listings; for each listing, a separate request form should be filled out (the service is free).
Search for crucial property details such as number of residents, their contact information, homeowners, or other property statistics.
Evaluate future neighborhoods for sex offenders, criminal rates, and other safety statistics using address lookup.
You can contact the Customer care team or check the HELP center for complicated searches.
For complicated searches you can contact the Customer care team or check the HELP center.
Spokeo offers several paid options. While a basic search with limited results is available, you can purchase a full report for each search option for $0.95 (all users should open a membership account). This price is valid during a 7-day trial period; one report will cost $1.95 without trial. A one-month subscription costs $24.95/month. For enterprises, there is a paid subscription under which the contact info and other identity information will be available. However, the service can't be used for any purposes covered by the FCRA. The subscriptions work for the whole team with an advanced search filter. The request for the price should be sent on the official website; no prices are available. For advanced searches, all users should also pay.

Pros
Possibility for free search
User-friendly interface
Username search
No access to private messages or emails
Digestible reports
Fast search
Protection from phone cyberbullying by phone number phone search
Vast collection of stories and helpful information in the blog section
High data reliability
Possibility to purchase access to court and historical searches
Cons
Only for searches within the US
Results for free search are limited
Complicated deletion of personal information from Spokeo
Limited information about tool abilities on the official website

PeekYou is a simple alternative with the possibility of fast people searching only by first and last name or username. The main goal of this website is to help people find family, classmates, or friends. PeekYou only shows public contact information and is aimed at adults and children under 13 years old. If possible, you will get access in addition to personal information, social profiles, criminal records, participation in sex offending cases, history of addresses, list of related persons, weapon, pilot or other permits, governmental watch list records, property, vehicles and other assets and other associated with the searched person information. Received information can't be used for any credit scores, insurance, or employment decisions.
Features:

You will be asked additional questions about relatives, locations, and other information for better search representation.
Possibility to find profiles on escort sites, online dating profiles, or other social network accounts and images.
You can include associated persons or relatives in your search to receive a more detailed report.
All reports are saved only for registered users indicated by First and Last Name, ZIP code, and email address.
Two possibilities to cancel your subscription – via phone on business days or using the account dashboard.
Blocking of all suspicious requests to ensure a high website security level.
For each found person, PeekYou will advise their persons.
Before paying for the report, you can estimate the information available for the requested person in the preview section.
Free requests on "Do Not Sell My Personal Information" to remove all information from PeekYou via the official request form.
For registration on the platform, you need to indicate your contact data and gender; the platform records the search data, the IP address of the searches, service use data, etc.
TruthFinder subscriptions for PeekYou users provide access to unlimited background reports. There are two options – 1-month access for $28.05 or 2-month access for $23.28 per month. There is no possibility to pay only for one single report. You may be proposed to have trial access for $7 without limits.

Pros
Trial version for $7
Access to billions of records
Private information is encrypted and secured with an SSL certificate
Many precautionary pop-up messages to prepare for difficult or unpleasant content
Multiple state and national wide sources for creation reports
Unlimited reports for paid subscribers
Easy online cancellation
Search among the most popular social networks (Instagram, YouTube, Facebook, MySpace, etc.)
Technical support via email address
Easy search via directory
Cons
Total security of your personal data indicated during registration is not guaranteed
The website works in the US and is under US law
Presentation on the website's latest searches
No free searches
Long waiting time for search (5 minutes for the whole search)

Radaris has multiple search options, slightly lower than Social Catfish. Radaris can search friends, relatives, or any other people or yourself using a name (First and Last name), phone, address, email, or company name. Unlike many alternatives from this review, Radaris has free search options for public documents. It is suitable for checking backgrounds, neighbors, and verifying unknown numbers. All databases purchased by Radaris from open sources are constantly updated, ensuring only an increasing number of happy customers. In addition to all the pros, you may use a user-friendly web version and a mobile application with the most features, helping you easily navigate and find all the required information.
Features:

Own repository for 183 million people names, 224 million phone numbers, and 594 million records for fast people search.
Using 5 search categories, you can receive the requested person's full name, phone number, age, current email address, work experience, relatives, death
certificates, criminal records, videos, photos, social media accounts, marriages, and divorces.
Possibility to company background including bankruptcies, financial records, number of employees, credit risks, and many more.
Search per categories in the database of 26,000 US cities and states.
Erase all searched information on the official website within two business days per request.
Possibility to delete data from Radaris in the profile using the "Control your Information" option and following the instructions.
Regularly update all resources to provide only up-to-date and accurate information about people.
Mobile applications (iOS and Android) for checking unknown numbers and backgrounds, and searching people by name and location.
Technical support via request form on the official website or phone number (from Monday till Saturday during business hours).
Many helpful information in the Help Center about creating accounts, running searches, reading reports, and more.
All users can use the Radaris search engine for free. But for advanced searching options. you can choose one of the required options – Background check report $39.95 or Advanced People Search $5.95. For companies, there are two available subscriptions – Basic membership for $24.95/month (each background report $9.95), and Property Detail Membership for $24.95 (each property detailed report costs $5.95).

Pros
Free searches
App for iOS and Android
Easy-to-read reports
Fast people search
Sex offenders report
Possibility to filter results by state or city
Search tips and proposals for searches in other sources
Reverse phone lookup can be used for searching private, business, or mobile phones
Background check tool
Norton website protection
Cons
Search only for people from the US
List of the most popular searches from today
Unclear subscription options
No photo or image search

Pipl is also a tool to identify and find digital identities. The main goal of this service is to understand with whom you are talking online, to avoid scammers and fraudsters, and to target your products to the right people. The Pipl developers connect independent data sources to connect offline records with digital identity. It is successfully used by independent users and large enterprises like Financial Times, Sony, Vodafone, PWC, and many more. The service is developed for online marketplaces, communities, commerce, media, contact and search platforms, and providers, including hiring and digital marketing. The search is automated, and results are easily consumable.
Features:

Manual search per name, email address, social number, and phone number; to narrow the search, you can add the location.
Give the possibility to add identity intelligence to your website to block suspicious users and shorten the approval process for trusted users.
Collection of detailed information about possible customers (elements of online identity), gender, emails, social profiles, location, language) to target your products.
Separate crime and fraud investigation Pipl team to provide the complete picture of the dark side of digital identity.
Easy integration with the user's website on HubSpot, Salesforce, Maltego, etc.
All reports formed by manual search requests can contain up to 15 data sections; every element in the search has a link to the source.
All data sources have a card element with information on when and where the information was created (with other metadata).
For quick identity verification, all essential information about the correctness of the email address, including the location history map, is presented at the beginning of each report.
Link of searched results to the social media profiles with valid links.
Advanced search option with billing, shipping, and contact information for checking the safety of payment transactions.
Pipl has two pricing options – Pipl search (starting from $298/month) and API search ($0.10 per contact match, $0.20 per social march, or $0.40 per business match). Pipl search can be scaled from one user to 5 ($198/month per user) or 10 users ($148/month per user). For more users, you should request the sales team. For all subscription plans, all search options reports with metadata, and analytics are available.

Pros
Available index of more than 3 billion digital identities
Customer support via the official form on the website
Tool for online identity analysis (Identity Trust Score)
Support GDPR compliance
Fast sign-in option via Google account
Available manual or automatic search
Search reports can be saved as PDF
Pop-up data cards with detailed information about each searched item
Available as API for large-scale identity verification
Video tips to improve search queries
Cons
No typical free search of people by name, address, phone, etc.
Block of IP address for a day or two if performing a large number of search requests
Expensive solution for individuals
Advanced features require learning

One of the last top alternatives for people to search is Spytox. It allows the search of personal numbers, and cell phones for more than 250 million people worldwide. Every day, more than 3 million search requests are executed by this platform, which is why it has a top rank in search engines. The service is regularly expanding and improving search results. Spytox also forbids the use of research information for employment decisions; for violation of this rule, you will be banned. The service can be used only by a person older than 14 years old. Unfortunately, as with many other services, detailed results are provided mainly for the USA.
Features:

One of the phone number searches is based on the BeenVerified service; as a result, you receive a person's full address and full name.
Possibility to remove your information by entering the full URL in the special request form (Information Opt Out).
The detailed search reports include information: full name, photos or videos, date of birth, previous names, social media profiles, email, associates and relatives, material status, phone number, and other public information.
Free reports include basic information such as Full name, last addresses, and phones (sometimes also gender and age).
Detailed search of emails is performed for Yahoo and Gmail email users (Reverse Email Lookup); for other email, free service is provided.
For free, the phone database from 2000 telephone companies worldwide is available in full name; detailed information is paid.
All data is stored by third parties and hosting services, including renting of hardware and other equipment.
Before proceeding with the search, you will be notified about possible emotional or mental shock.
To create an account at Spytox, you need to provide your real name and accurate home address.
The paid report provides the relationship and cheating status of the searched person from Tinder, Match.com, and other 10 popular dating services.
Spytox proposes only one payment option. You need to pay $19.99 for a single detailed report. Unfortunately, no monthly subscriptions are available.
Pros
Free basic searches
User-friendly interface
Fast results in 30 seconds
Proprietary searching technologies
Two types of phone searches
All search and registration information is private
Affiliate plagiarism checker
All data is regularly updated
Data from court and public records
Technical support via email request
Cons
Availability for all website visitors' information about recent lookups
Advertising on all pages
Only basic free reports
No refunds


Cocofinder is our last top alternative for social catfish. It has a well-recommended people and public information search engine. With this tool, you can search for people via first and last name, city, phone, or address. You are able to find a lot of information (if it is available) such as contact numbers, social media profiles, arrest records, vital records, criminal records, traffic tickets, current address, photos, and many more. This tool is a perfect solution for many purposes – finding contact information of friends and former roommates or validating business partner's information. The service is fully legal and provides only public information about real people.
Features:

Easy search of people on the home page by entering first and last names; to narrow the search, you can choose a city and a state.
Possibility to search people through their neighbors or relatives.
You can erase your data from the platform by writing a request to a support team.
Access the people directory to check the most appropriate names matching the family members.
For free, you get access to the phone number, addresses, and list of neighbors.
Web service to track a phone number and identify the unknown number.
Service to check the used car's history via VIN Decoder and License Plate lookup.
Received information can't be used for stalking people, screening employees, spying on people, proposing insurance programs, or educational screening.
Wide tutorials to learn various aspects of finding people, checking criminal background or suspicious phones.
For detailed people search via quick links in Truthfinder, BeenVerified, Spokeo, or Intelius.
This service accumulates many other searching resources. For free, you will get access only to basic information; for more detailed reports, you will be redirected to other paid resources. For example, you need to pay $0.95 for one Spokeo report for this redirection.

Pros
Free basic search
Massive database of billions of public records
Superfast search
No private data and search history records
No limitations in search attempts
High accuracy of the searched information
Suggestions of other trustworthy search people websites
White pages for fast search of full name, address, and phone
Quick links for various searches
Top 1000 boys and girls' names
Cons
Search only for US
Advertisements of third-party websites and services
Other websites sponsor paid results
No monthly subscriptions
Conclusion
There are difficult to stay anonymous in the modern world. There are many public databases on the Internet with information about people's birthdays, marital status, criminal and court recordings, and numerous profiles on social networks and dating websites. Many websites accumulate this information to provide a service for people to search via different parameters. Social Catfish and the described top 10 websites are not the only ones, but the reviews have received many 5-star reviews and provide one of the excellent services on the market. You may choose the best tool based on your available information – phone, vehicle, or photo. Unfortunately, the detailed reports from all tools are paid, and the free search usually gives only full names, ages, addresses, and phone numbers.